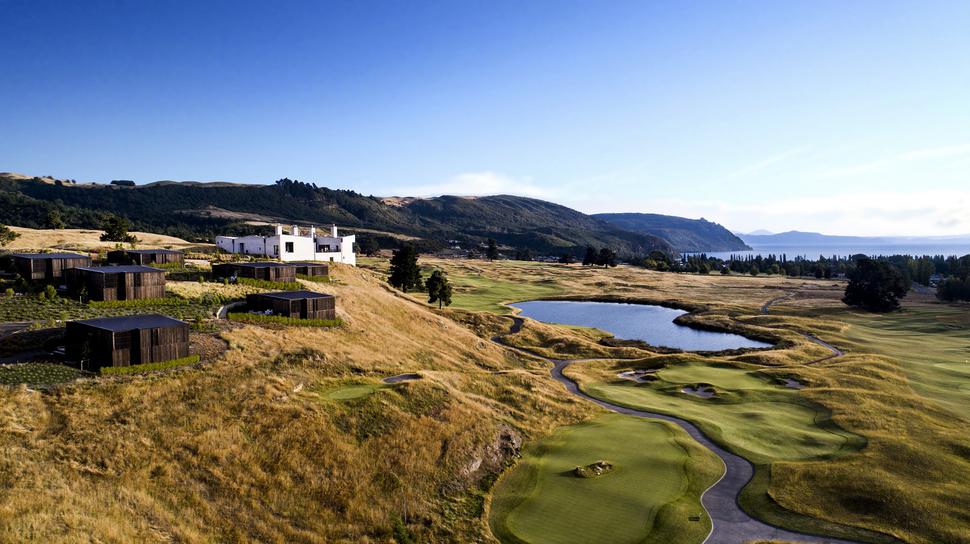 A Weekend Well Spent At Taupo's Luxury Getaway, Kinloch Club
This luxury celebrity hideaway is just the spot for a weekend of wellness and reconnecting with nature
Sunday Oct. 28, 2018
I am wrecked. The pressure of juggling three jobs, two kids, two dogs, a book launch, building work at home, and a rampant garden has left me worn out, strung out, and retreating nightly to wine, carbs and Netflix.
With winter on the wane, I'm desperate to get outside and away, to treat myself, and spend time with my family. When an offer lands on my desk for a weekend at the Kinloch Club, a luxury lodge set at the northernmost point of Lake Taupo, I seize it like a marathon runner grabbing a water bottle at the end of the race.
READ: The Best Road Trips for Foodies
I like starting a mini-break with a drive rather than a flight. New Zealand has spectacular scenery, and with a steady supply of snacks for the kids and a good Spotify playlist, the 3.5-hour drive to Taupo is a pleasure; a chance to cruise and chat rather than worry if the kids are bugging the people in the next row. After a straight run down State Highway 1, as we're on the final leg, we spot a sign for The Hidden Valley of Orakei Korako and make a detour to what turns out to be a magical geothermal landscape.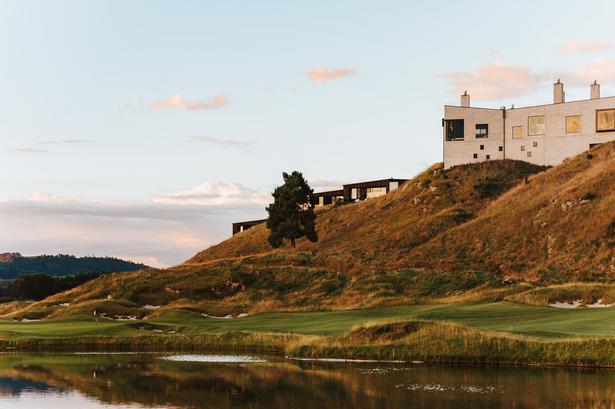 If you've ever wondered what the legendary Pink and White Terraces looked like, Orakei Korako is as close as you'll get. Set behind a small lake, it's a steam-swathed landscape of pink, white and yellow silica terraces, bubbling with hot springs and mud pools. It takes about an hour and a half to meander around, taking in jewel-coloured mineral pools, moss-lined paths through native bush, and if you're lucky, a burst from the Soda Fountain geyser. It's a perfect reminder of how extraordinary nature can be, and why it's worth taking time to stop and look.
Kinloch is a small lakeside village about 20 minutes west of Taupo township, through rolling pastoral stations and long roads lined with poplar trees. The award-winning Lodge at Kinloch, which sits high on a hill overlooking an 18-hole course designed by golfing legend Jack Nicklaus, seems born from another century ­— which is what the architect Andrew Patterson intended.
READ: Where To Go In The Coromandel
The estate owner wanted a building that looked like a modern Scottish castle (Kinloch being Gaelic for 'head of the lake'), and Patterson delivered a majestic white-and-grey speckled monolith with large windows that surveys the rolling tussocked terrain out to Lake Taupo. Inside, chainmail chandeliers, furred daybeds, roaring open fires, gilt brocade sofas and antique objets d'art create a sense of luxurious theatre.
You're treated like royalty from the moment you arrive, which isn't surprising given that Anthony Ludo-Sharpe, the lodge manager, once worked for the Windsors. He's also well-versed in celebrity handling — the lodge opened in early 2016, and almost immediately catered to Hollywood guests, because a stay was included in the winners' goody bags at the 2016 Emmy Awards.
Eight private villas dot the property. Photo / Supplied

A complimentary golf cart ferries us from the main lodge and restaurant to one of eight private villas (furnished in a style you might call 'opulent minimalism') to get settled in.

Service is laid on, from essential oil 'sleep scents' and handmade chocolates placed at our bedsides during the evening turndown, to laundry being discreetly taken care of and thrice-daily room refreshes. As someone whose mind is typically in seven places at once, this was the most stress-relieving aspect of the stay: having literally nothing to worry about. Everything from fresh-baked cookies to take on an outing to a roaring fire on your return from dinner is provided before you think of it yourself. There's nothing to do except pour a glass of wine or herbal tea, lie back on the couch, a lounger or in the deep egg-shaped bath, and enjoy the magnificent view, music, a film or a book.

READ: Simple Ways To De-Stress & Unwind, According To The Viva Team

You can't go to Taupo without going out on the lake, so after a good sleep and breakfast at the lodge restaurant (more on this later), we head out on a charter launch with Pete from Chris Jolly Outdoors. The trip is part-scenic cruise, part-fishing expedition, with the first stop at the incredible cliff-size Mine Bay rock carving.

Created over four summers by Maori artist Matahi Whakataka-Brightwell and four assistants as a gift to the Taupo area, it depicts the navigator Ngatoroirangi, who guided the Tuwharetoa and Te Arawa tribes to the region over 1000 years ago.

The local duck population has figured out that this is a tourist stop-off and they trail the boat enthusiastically in the hope of bread, which they take from your hand on the fly, a trick that utterly delights the kids. Captain Pete casts a couple of lines into the water and we wait in hope of a bite. The sun is warm and there's little to hear but bird calls and the gentle slap of waves against the boat. I sit back and gaze across the turquoise water to the snow-capped trio of peaks in Tongariro National Park and feel like I've finally slowed down enough to catch my breath.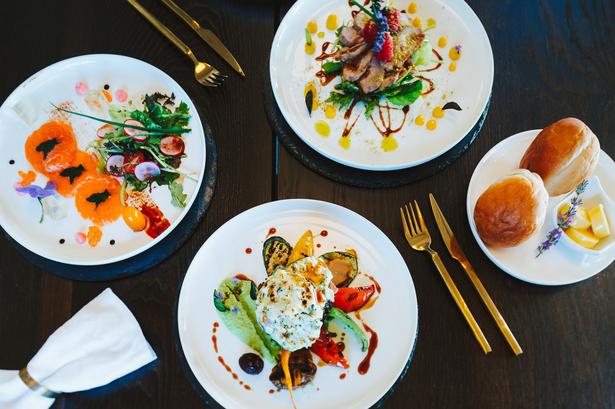 The lodge's restaurant changes its menu daily. Photo / Supplied

Unexpectedly, one of the lines starts to pull, and a few minutes later Pete helps my thrilled 6-year-old land a decent rainbow trout. When we're picked up at the Kinloch marina by Anthony, he promises to pass it to the head chef, Palash Saha, to be prepared for dinner.

Cocktail hour starts at 6pm, when guests filter into the West Lounge Bar for canapes and whatever beverage tickles their fancy. Dinner is served in the lodge restaurant, where the menu offers 'estate-to-plate' dining, changed daily to reflect the seasonal produce. The Kinloch estate itself produces a wide range of fruit, vegetables, herbs and edible flowers, as well as beef and lamb from stock that graze the backhills. Venison, pork and pheasant often come from the sister Treetops property in Rotorua and other ingredients from local producers, such as cheeses from the Over the Moon dairy at nearby Putaruru.

READ: 12 Restaurants Worth Travelling Across The World To See

The chef has smoked the trout as an entree, and it's tender and delicious. Duck, 63-degree hen's egg and eye fillet are also on the menu, with roasted root vegetables pulled from the garden earlier in the day. There's also a kids' menu, and better yet, colouring materials to keep them entertained.

The next day, I head to the lodge spa for a 90-minute Queen Bee treatment, which involves a massage and a facial using manuka honey sourced from the estate. The spa services are designed both for those looking for relaxation, and also for those needing relief after a day on the golf course. I'm always after the elusive perfect massage, and here, I've found it. Everything is seamless, from the comfort of the table (no dreaded rustly paper towels) to the subtle scent of the oil, the pressure of the massage, the unobtrusive music and even the perfectly balanced lemon-water at the end. The products used are from Verite Spa Organics, a small-batch luxury skincare brand made in New Zealand.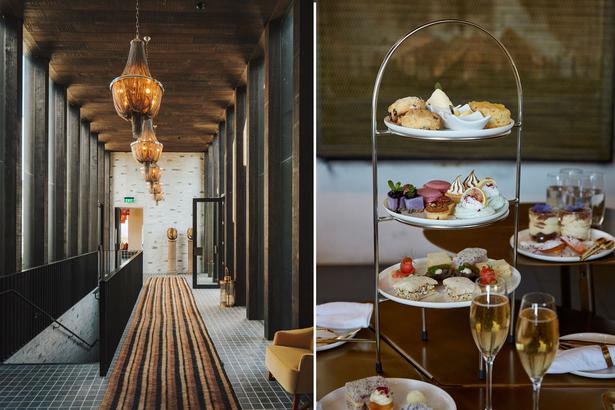 (From left) Inside the lodge hallways; high tea is served in the Grand Lounge. Photos / Supplied

Afterwards, glowing, I sit down to high tea in the lodge's Grand Lounge. A tiered tray is piled with everything from traditional sultana scones with homemade jam and cream, to egg mayonnaise ribbon sandwiches, savoury pastries and delicate cheesecakes and homemade chocolates. Paired with champagne, it seems to me to be a far better way to spend an afternoon than slugging at bunkers, which are notoriously challenging on the Kinloch Club course, though some enjoy that, I'm told.

At the end of the weekend, it's hard to say goodbye to the cosseted lifestyle we've been enjoying (the 6-year-old has to be relieved of the idea that we should get a golf cart for home use) but the break has left me feeling far better equipped for dealing with life's normal stresses, and reminded of how extraordinary nature is in this country.

• Melinda Williams spent time in Taupo at the invitation of Destination Great Lake Taupo.
Share this: