Celebrating Entrepreneural Women
In her new book, Grace Bonney celebrates entrepreneural women around the world who have blazed trails in business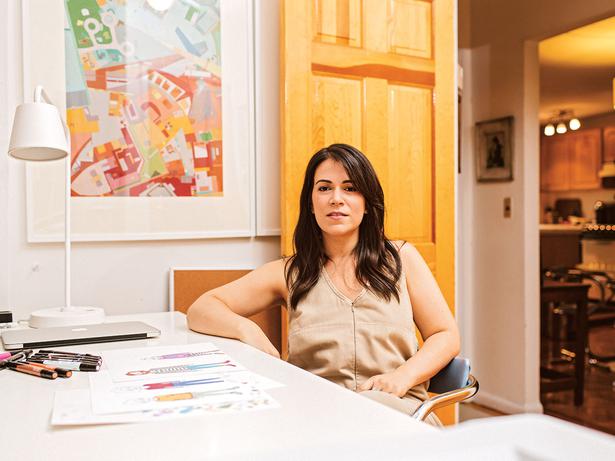 Saturday Nov. 12, 2016
ABBI JACOBSON
Writer, Illustrator, Actor, Comedian, Brooklyn, NY
What did you want to be when you were a child?
I think, bizarrely, I wanted to be exactly what I've become. I wanted to be an actor, but that always felt like this impossible dream. An artist was the other half, and as a kid I was always drawing. My brother and I were both art majors in high school and college and both my parents are ridiculously creative, so it was hammered into us from the get-go.
What characteristic do you most admire in other creative women?
I'm really inspired by being curious and going after ideas through all sorts of mediums. Someone like Maira Kalman - she has such a specific and beautiful voice that carries over into whatever endeavor she's embarking on. You can tell it's hers - her drawing, her painting, her writing, her compilations of objects - it always seems to stem from an intense curiosity for people and places and things. I try to look at the world in that way.
What is your favorite thing about your workspace?
I like having all my tools around me - all my pens and markers and rulers, etc. I like to decorate with tools so they hopefully inspire me to create more stuff.
What does success mean to you?
I'm realizing that being successful is less about money and more about confidence. I feel most successful when I feel most powerful in who I am and what I want to create and put out into the world. In part of my line of work I also get to have an instant success barometer: laughter. Laughter is the ultimate definition of success for me.
Has learning from a mistake ever led you to success?
I don't know if it was a "mistake," but a big part of the beginnings of the web series Broad City was Ilana [Glazer] and me not getting on house teams at the theater where we were training. I'd auditioned three years in a row, and gotten called back, and I just felt so close. I had such tunnel vision, and getting on those teams felt like the whole world and the only way I was going to advance my career as a performer. So after three years we were bummed.
We decided to make something ourselves. We thought we were geniuses; why were we waiting for other people to "let" us do comedy? So we made Broad City. Making that series taught me so much and gave me so much confidence, it's unbelievable. It's the old saying, "When one door closes, another door opens" - except you have to build the other door and pry it open yourself. When you do it that way, you're walking into a place of your own design.
What quotation or saying inspires and motivates you to be yourself and do what you love?
When I was in college, I went to a bookstore and copied down all the quotes off those quotable cards on display into a tiny little book. The one that really stuck with me: "Whatever you can do or dream you can do, begin it. Boldness has genius and power and magic in it. Begin it now."
What would you tell yourself ten to twenty years ago that you wish you knew then?
It's okay to not know exactly what you want to do. All your interests are important and you'll find a way to make them work together - so keep doing everything you enjoy! I tell myself that now.
Which of your traits are you most proud of?
I think I'm pretty versatile. I'm really proud of myself for continuing to do illustration work and incorporating that into my career in new ways. I wish I could do even more.
What's the hardest thing about being your own boss that isn't obvious?
Finding the right people to work with. Even though you might technically be your own boss, you're still going to have to work with a lot of different people. Finding smart, collaborative people whom you work well with is the key to any successful endeavor. I've found so far that it's the people who can be the best but also the hardest part of growing as a business.
Where were you when you came up with the idea for your business or discovered what you wanted to do?
In terms of my acting career: I went to see a show at UCB (Upright Citizen's Brigade) Theatre almost ten years ago, by myself, because my roommate at the time told me she thought I would like it. I sat there, completely in awe. I have never felt that way before. I knew in that moment that there was no turning back - comedy was the thing.
Name a woman (or women), past or present, whom you admire or look up to.
My mom. She never went to school for art, but you walk into her studio (talk about workspaces) and you are just overcome with a sense of joy and play. She used to sell pottery at craft shows when I was a kid, and it was such a fun experience to be there with her. My mom is also deaf, but she has a cochlear implant. You would never know, though, as she is so resilient and has never made it an issue for herself, but it's something I know she has to deal with. She has such a presence and unique spirit. I always look up to her . . . even though she's a little smaller than me.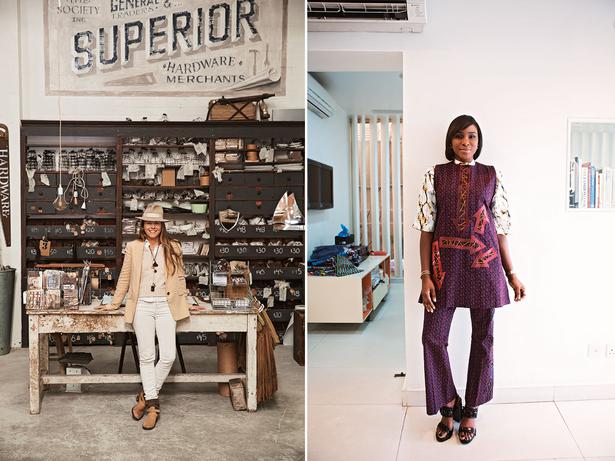 SIBELLA COURT
Interior Designer, Stylist, Author, Sydney, Australia
What did you want to be when you were a child?
I recently stumbled upon an autobiography I wrote in sixth grade. The teachers asked us to write stories that chronicled our young lives from when we were born. At the end it asked about the future and I said I wanted to live in a big house and have a shop. I don't have a big house, but I do have the shop!
What was the best piece of business advice you were given when you were starting out?
I'm not very good at taking advice. But the best thing I did, knowing from an early age that bookkeeping was not my forte, was hire a bookkeeper and an accountant right away. It created a tight infrastructure and a strong foundation so I could then do what I wanted and needed to do.
What is your favorite thing about your workspace?
I like that it is a working space. It is not always tidy, and it is forever moving and changing.
What is the biggest sacrifice you've made in starting or running your business?
I don't feel like I've made any sacrifices. I wrote my own job description to incorporate all the things I love to do.
Name a fear or professional challenge that keeps you up at night.
I have a fear of idleness. I often think of more skills I should master so I can lend a hand at all times, from carpentry to CAD (computer-aided design), upholstery, painting—you name it, it crosses my mind.
Name the biggest overall lesson you've learned in running a business.
I am continuously learning. Constantly working on and improving communication within a business is so crucial.
At what point in your life did you first learn about your field of work? What called you to it?
I was at university finishing my history degree in 1993. My best friend, Edwina McCann, who at the time was working at Vogue (and is now the editor of Vogue Australia), thought I might like to assist the former interiors editor at Vogue Living. Once I'd arrived in the industry, it was an instantaneous love affair. What I wasn't aware of was that my aunt, who had died of cancer not that long before, was one of the top stylists and editors in Australia. Photographers I worked with knew her and would come up to me with tears in their eyes. She had earned enormous respect in the industry. It is interesting how the world works.
What does the world need more of?
I love the Royal Society of London of the eighteenth century and how they questioned, experimented with, and rethought everything, never just accepted anything as it was. There is no inhibition in invention. Never say no to yourself.
What is your no-fail go-to when you need inspiration or to get out of a creative rut?
A go-to for me is nature, a beachcombing jaunt or a coastal walk. It never fails and always gifts me something incredible, whether it's the colors in the sky or sea, a bird's feather, a sea-tossed pebble, the flotsam and jetsam that has been washed ashore - it is the ultimate in color combination, shape, vista, proportion, layering, tactility. And there's nothing better for getting rid of the cobwebs than a bit of fresh air.
LISA FOLAWIYO
Fashion Designer, Lagos, Nigeria
What did you want to be when you were a child?
I wanted to be one of two things: a lawyer or a writer. With much persuasion from my parents, I went with law.
What was the best piece of business advice you were given when you were starting out?
Not long after Jewel by Lisa was established, my sister-in-law, who had dabbled in designing and tailoring in previous years, said to me, "Never say no. Whenever an opportunity comes, take it; difficult or easy, say you can do it. You will make your mistakes - learn from your lessons." This still serves me well. Of course, a few years on, I've learned to be more discerning and can detect a really bad opportunity a mile away. But even with that, I say more yeses than nos and have passed this piece of advice on to my team.
What is your favorite thing about your workspace?
The abundance of rich color and print against the white walls and minimal decor. Every time I walk into the work studio, I feel a rush of excitement bursting out of a cool, serene space. I absolutely love it. It depicts who we are: a great amount of seriousness with equal amounts of fun and youthful exuberance.
What is the biggest sacrifice you've made in starting or running your business?
I had my daughter the year before I started the label, and my son not too long after. It was quite hard to juggle two really young children with a new business. As with everything, it all balanced out, and although I continue to make sacrifices, it's not as difficult to prioritize these days.
Which of your traits are you most proud of?
Patience.
What tool, object, or ritual could you not live without in your workday?
My ritual would be prayer. Tool would be my iPhone. And of course some Instagramming is necessary.
Name a woman (or women), past or present, whom you admire or look up to.
Without any hesitation, it would be my mum. A young Trinidadian woman marrying a charming Nigerian in London, then moving to Nigeria, which she knew nothing about, and creating a wonderful life for her family. She worked her way to the top of the civil service ladder and achieved such great success. Even in retirement, she continues to pursue her dreams and goals. She is a Wonder Woman. She is amazing. If I can be half the woman she is, I'll be good.
What does the world need more of? Less of?
The world needs more love and less ignorance.
Has learning from a mistake ever led you to success?
I must say that creating the best customer experiences for our clients has seen us have a high rate of return clients who come not only to buy but sometimes just for that experience. I love that over the years, so many clients have become good friends.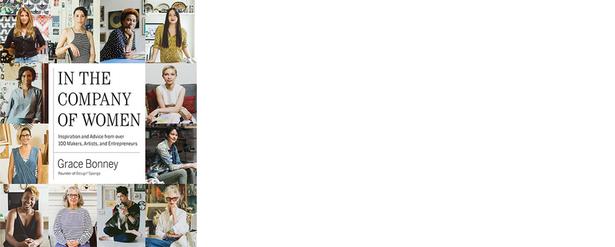 • Excerpted from In the Company of Women by Grace Bonney. $79.99, published by Artisan Books, distributed by Bookreps NZ.
Share this: