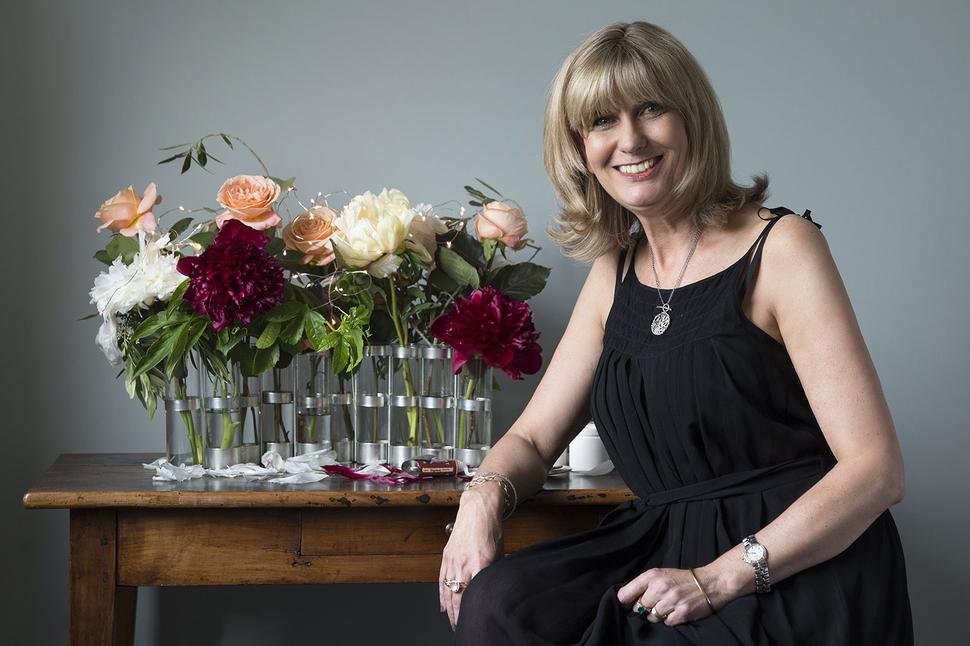 Let Me Entertain You: Ali McIntosh
Ali McIntosh shows her approach to entertaining and celebrating Christmas in style
Wednesday Dec. 2, 2015
Owner of the stylish luxury gift and homeware store Tessuti, Ali McIntosh has a sharp eye for mixing local finds with European designs. Prior to owning Tessuti she owned Mint Cafe in Meadowbank and is well accustomed to entertaining and hosting thoughtful, yet relaxed Christmas Day family gatherings. "Christmas to me, first and foremost, means family. Then there is the entertaining and relaxing, which I love but I also like to take the time to catch up with friends. Christmas is about sharing, laughing and reminiscing."
Christmas day entertaining tips?
1. Fresh flowers.
2. Ambient lighting.
3. Delegation of jobs.
4. Make sure you've included enough cold dishes to make cooking enjoyable, not laborious.
5. Enjoy yourself and have fun!
Christmas playlist?
I like to play old jazz like Sam Cooke, or anything with a Motown sort of vibe. Perhaps some old rock'n'roll as everyone starts to get noisier, something like Pink Floyd would suffice.
Christmas essentials?
I start with coffee, then perhaps an apron, music (to cook along to), candles, and the company of my spoilt labrador Monty.

Entertaining style?
Thoughtful, considered and relaxed. (There is a lot of planning to achieve this.)
Plan ahead?
As I work in retail and am always in store on December 24, the week prior to the big day, I set up my dining room and do as much food prep as I can in the evenings, so on Christmas Day it is just the cooking left to do. I like to take up on any help offered here!
Favourite festive tipple?
Champagne, followed by a mojito — both so summery and delicious.
I wear . . . Dresses, always dresses. Usually from Ingrid Starnes.
Real tree or fake tree?
I have done both, depending on my circumstances but a real tree is always my preference. Why? The smell, of course.
Favourite pudding?
Strawberry Cloud Cake. An Annabel Langbein recipe.
Once the table is cleared?
Relax and lounge around with coffee and liqueurs — with whoever is still awake that is!
Christmas breakfast?
Breakfast will always comprise fresh berries, French toast and maple syrup, and a mimosa. There's that Champagne again ...
On Christmas Eve . . . we watch Christmas movies and sip Champagne! An old favourite is The Holiday (I love the houses in that movie.)
Most memorable Christmas Day?
When the next generation decided to take over Christmas: My twin nephews had our family Christmas party at their flat, which had a beautiful backyard — it was a bring-a-dish-and-your-own-chair affair and we sat outside underneath their plum tree. It was a perfect summer Christmas!
Christmas Day games?
Not usually, but the winner would be Pictionary if we did, just because it gets so loud. We don't do Christmas quietly.
Favourite Christmas recipe?
Hot smoked salmon.
Ingredients: 
1 Whole salmon with skin on, bone out
1 cup brown sugar
4 Tbsp salt flakes
Method: 
Combine together 1 cup brown sugar, 4TBsp salt flakes Sprinkle fish fillets lightly with some of the brown sugar and salt mix.
The fish can be smoked straight away or can be left in the fridge 1-2 hours for a stronger flavour.
Serve hot or cold.
Share this: