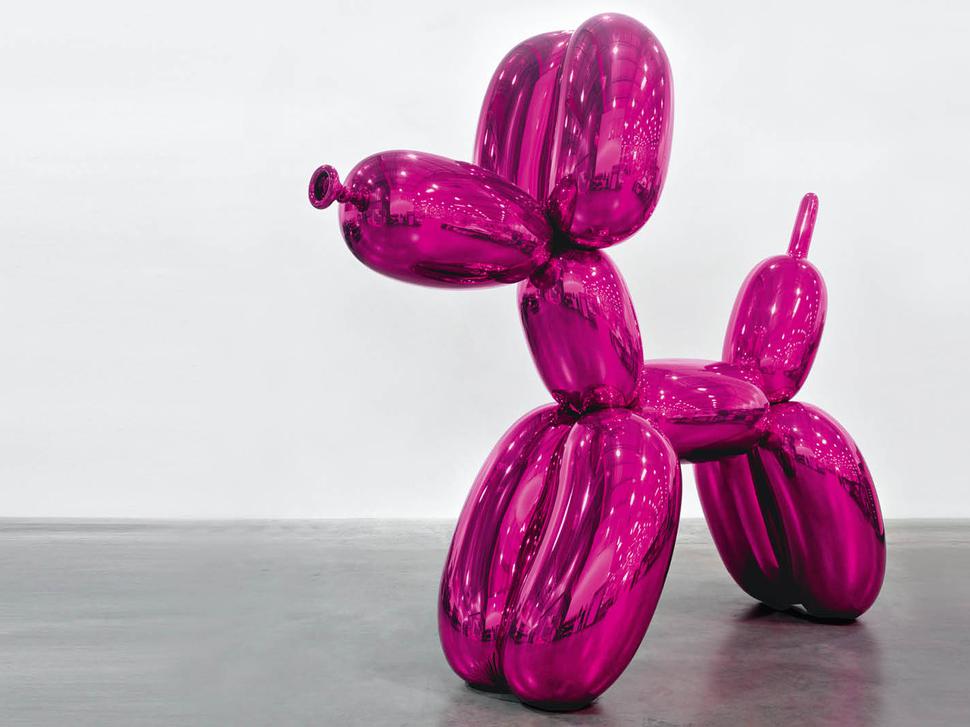 An American in Paris
The Jeff Koons exhibition is a fascinating look into one of the most polarising art figures of our time.
Friday March 13, 2015
He prefers you to look at his work as banal and not kitschy. You may also like to add gaudy, brash and vacuous depending on where you sit on the scale of like or dislike when it comes to the work of Jeff Koons. The scale itself could even be made from magenta coloured mirrored stainless steel and measuring 10 feet tall. Everyday items re-imagined by Koons and his army of assistants over the years, from sculptures, to paintings and re-appropriated advertising campaigns, make up a wonderland playground when displayed collectively, and I was just as enamoured by the brightly coloured Cat On A Clothesline (1994-2001) or the stainless steel Rabbit (1986) as every other wide-eyed petit-enfant passing by.
Love him or hate him, our present day version of Andy Warhol is a legend in his own time with his current retrospective taking place at the Centre Pompidou in Paris, with some of the works on display donated by private owners who've paid millions for their investment. If you're lucky enough to visit, be prepared for the eye-catching and the grandiose as the exhibition comprises pieces dated from 1978 to present day, with almost 150 objects (mostly large) on display.
The exhibition is divided into galleries of works such as the Equilibrium Series (1985) that includes encased hollow basketballs suspended in space, floating in distilled water; and the controversial Made in Heaven series (1990-1991), where oversized images feature Koons with his then wife Ilona Staller, also known by her porn star name "Cicciolina". One explicit image entitled Ilona's Asshole sees a close up of Koons in mid intercourse with Staller, blurring the lines of art and porn. Thankfully, a guard is at hand for some serious pre-warning for those with children.
Despite being seen as a significant artist who fervently explores the relationship of pop-culture and art as a commodity, there are of course those who see the artist's prolific brand of pop culture banality as narcissistic. He is after all the artist critics hate to love and love to hate. New York magazine art critic Jerry Saltz summed up this polarising attitude to Koons on the eve of the A Retrospective's first outing last year at The Whitney Museum, "Haters will hate, but A Retrospective will allow anyone with an open mind to grasp why Koons is such a complicated, bizarre, thrilling, alien, annoying artist."
Koons also adds in the exhibition notes, "My work is anti-critical. It represents a fight against the critical function as a necessity of art. I am aiming to abolish any form of judgment, so that you can look at the world and accept it in its totality."
Alongside classic all-American Hoovers encased pristinely in plexi-glass cabinet displays or the disturbing life-size porcelain sculpture of Michael Jackson and his pet monkey Bubbles, the look-at me nature of his work also highlights the subject of narcissism within an increasingly self-centred society, from the artwork itself to the way in which the modern art world operates today.
The pouty teenage girl standing in front of me trying to take a picture of her reflection in one of Koons' most famous works without even realising its significance (the mirror polished stainless steel Balloon Dog sold for an astonishing $58.4 million — the highest ever sold by a living artist), only re-affirms that there's method in this pop cultural commentary madness after all.
WHAT: Jeff Koons: A Retrospective
WHERE: Centre Pompidou 19, rue Beaubourg, 75004 Paris
WHEN: Open 11am-9pm. Closed Tuesday. The exhibition runs until April 27.
ADMISSION: €11-13
Share this:
More Culture & Travel / Going Places