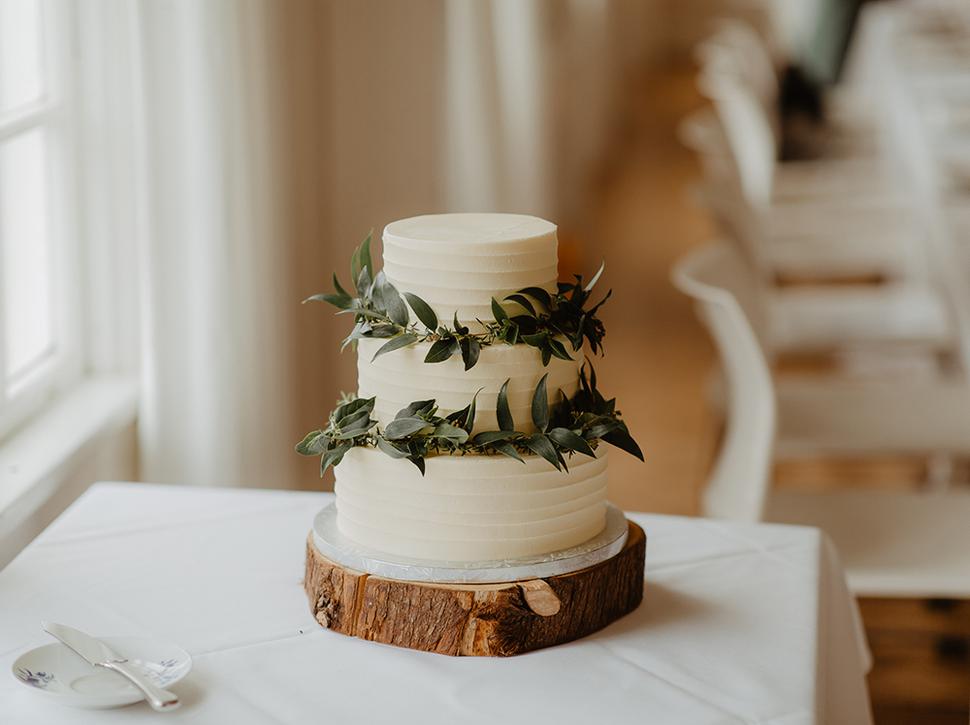 An Expert Guide To Wedding Cakes With Bluebells Cakery's Karla Goodwin
Learn the sweet secrets to five-tier masterpieces and how to make sure your cake doesn't melt in summer
Tuesday Sept. 11, 2018
What are your most popular wedding cake requests?
Our wedding cakes are fairly simple in design and usually, a florist will add gorgeous florals to match the theme of the overall wedding. The semi-naked design is still proving to be a popular choice, it has a slightly rustic look yet still really elegant and sophisticated.
What makes a Bluebells Cakery wedding cake unique?
Our cakes are made fresh to order and iced and decorated on the day before the wedding, this ensures the cake is super fresh and tasty. 
READ: How To Make Your Own Version of Prince Harry & Meghan Markle's Royal Wedding Cake
What trends for wedding cakes have you noticed recently?
We've noticed couples adding bold colours to their cake designs. Our watercolour design is a great option for adding colour.  
Coming into summer weddings, how do you make a cake that can withstand temperatures? 
Our cakes are finished the day before delivery so that it can have a good amount of time chilling in the fridge overnight.  We then keep the cake in the fridge until delivery and we deliver as close to the time of the wedding as possible. We make sure the cake is in a chilled room and never in direct sunlight. Our icing is stable too. 
READ: The Do's & Dont's For A Wedding
How long does it take to create one of your popular tiered cakes?
It depends on the size of the cake but it's a two-day process whereby we bake the cake and prep the tiers then the following day we do the final coat and place the tiers on top of each other.  Every detail needs to be perfect so it's not something that can be rushed, we need to make sure the icing is well chilled between the layers and this can take a bit of time.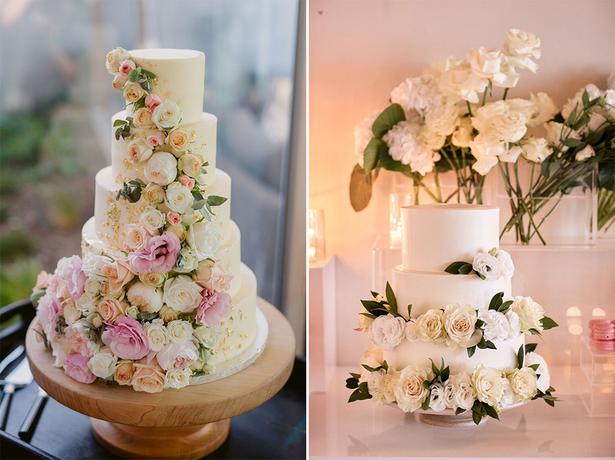 Custom-made wedding cakes by Bluebells Cakery. Photo / Supplied

What floral trends are you seeing for spring and summer wedding cakes requiring floral adornments?
Lots of deep pinks and burgundys, and green foliage is being used with and without flowers which I love.

READ: Why Dried Flowers Are Wedding Fresh

When it comes to cake stands, what's your advice on what to use? 
Something big and sturdy. They're hard to find, but generally, most venues have stands available or hire shops.  It's definitely great to have the cake elevated on a stand, but often sitting flat on a table works well too. 

Talk us through what clients can expect when it comes to selecting a cake from you. What is the process?
We hold wedding cake consultations Wednesday to Saturday at our Kingsland store. It's a great opportunity for the couple to come in and discuss ideas with our consultant and try the flavours too. Our consultant will show the couple photos of cakes we've done in the past and they are welcome to bring their own ideas and photos too. The quote is sent through to the couple for approval and once they have decided on their cake we book it all in. It's an easy, stress-free process.  

READ: Five of the Latest Floral Trends for Weddings

What was the most challenging wedding cake to create?
The most challenging is by far the five-tier cakes. They are very tall and very heavy! In fact, we need two people to carry them in and out of the fridge and into the delivery vehicle. We put a dowel rod through the centre of the cake and we need to stand on a step ladder! It's always a big moment in the kitchen when we have a cake of that size, and everyone helps out where possible. 

Why is wedding cake such an integral part of any wedding day?
Traditionally the wedding cake is to symbolise the union between the couple and their commitment to providing for each other. 
Share this: