The Manifesto Interview: Andrew McAlpine
Kiwi film production designer Andrew McAlpine knows a thing or two about flowers
Monday Nov. 30, 2015
Having masterminded sets for films including The Piano and The Beach — to name just a few — New Zealand-born but London-based McAlpine launched Rockflower, his very own "vending" flower business in 2013. Ideal for forgetful boyfriends rushing to a date — or midnight breakups and make ups — Rockflower (pictured) brings beautiful flowers to the masses 24 hours a day, seven days a week. His first vending outpost is located at London Blackfriars Underground 'Tube' Station.
The ingenious idea to "vend" flowers came out of frustration with access to flowers when living in California some years ago. "I was living in LA (pre-farmer's market days) when trying to buy fresh flowers was a constant problem, so I thought, 'Andrew you are a designer do something about it'."
The rest, as they say, is history. In the coming months he's set to expand to a further three London Stations: Knightsbridge, Notting Hill and Piccadilly, with six locations planned in 2016. "It's the democracy of beauty", says McAlpine. "Fabulous beauty at your finger tips 24/7!"
McAlpine recently extended his talented wings to design the setting for fashion designer Ed Marler during London Fashion Week.
"He's the new McQueen," enthuses McAlpine. He's also just finished filming You Before Me starring Emilia Clarke (Game of Thrones), Sam Claflin (The Hunger Games) and Matthew Lewis (Harry Potter), a film from JoJo Moyes based on a very successful novel of the same name. He's currently working on a new film, Denial, starring Rachael Weiss, Tom Wilkeson and Jude Law with a script by David Hare.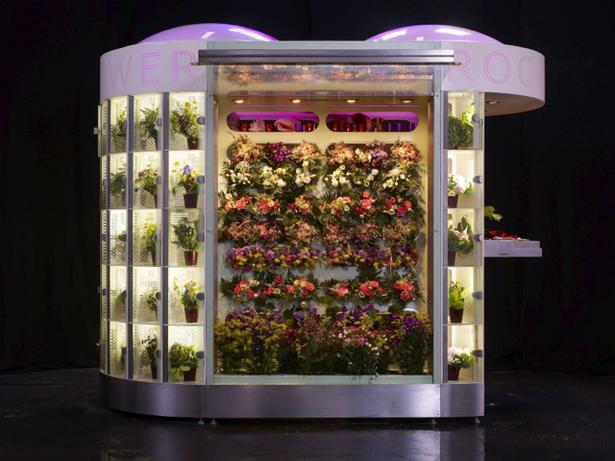 TRAVEL
Favourite city: London
Favourite destination: Agua Amarga
Never been to but want to: Buenos Aires
Never been and never will: Jakarta, too much pollution
First, business, economy, private? Business
Airline: British Airways
Luggage: Selfridges Hard Case
Favourite Hotel (city) Covent Garden, London
Favourite Hotel (holiday) Barcelo Formentor

CLOTHES
Shirt: Comme des Garcons
Jeans: Nudie
Sunglasses: Moscot
Underwear: Davis Beckham for Hand M
Trainers: Paul Smith
Wallet: Bulgari
Watch: Rolex… My dad's 1920 one

FOOD & DRINK
Coffee or tea? Strong black coffee
Cocktail: Dirty martini
Wine: Two Paddocks
Cuisine: Peter Gordon
Restaurant: The Providores
Cafe: D1. In Little Venice
Bar: Claridges
Fusion or confusion? Fusion

LIFESTYLE
Stationary: Moleskine
Sheets: Hungarian linen
Books or kindle? Both at the same time
Uber, taxi or driver? Taxi

FASHION
Boxers or briefs? Briefs
Trunks or speedos? Both... Trunks to the beach and speedos for those long swims in Agua Amarga
Flat front or pleats? Flat
Single or double breasted? Single
Bootcut, skinny or straight leg? Straight
Designer: Ed Marler
Photographer: Rankin
Magazine: Prospect
Stylist: Katie Grand
Editor: Bronwyn Maddox

GROOMING
Moisturiser: Kiehl's
Perfume: Hermes
Shampoo: Kiehl's
Toothpaste: Colgate
Masseuse: Daniel Strong acupressure massage
Do you have manicures / pedicures? Yes
Shave or trim? Daily Shave
Barber or salon? Salon

THE ARTS
Artist: Vanessa Jackson
Sculptor: Cornelia Parker
Architect: Zaha Hadid
Musician: Eno
Writer: Robert Bolano
Author: Karl Ove Knausgaard
Film: The Piano
Director: Jane Campion
Actor: Michael Fassbender
Model: Rita Ora
Reality TV star: None
Share this: