Meet Environmentalist Antoine Gillod
Environmentalist Antoine Gillod talks grooming routines, EcoMatters, 90s Levi's denim jackets and searching for the seemingly elusive Superga shoes in New Zealand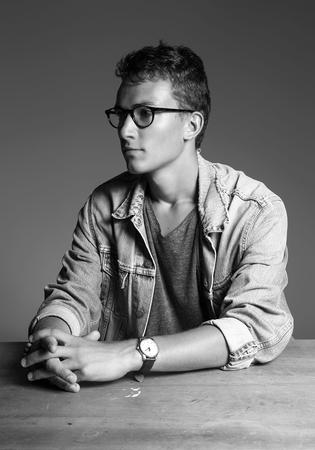 Antoine Gillod has always had a passion for the environment, and studied political science in France. "As far as I can remember, I've always been concerned about human activities and how this impacts on the environment," he explains. Hailing from Rennes, the 20-year-old has been in New Zealand for six months on an internship with EcoMatters — an Auckland-based trust dedicated to encouraging communities to make a meaningful difference, with projects focusing on waste minimisation, permaculture, water conservation, and more.
Tell us about what you do? 
I studied political science in France, and have specialised in sustainable development since last year. Our third year is dedicated to studying abroad, either by going to a foreign university, or undertaking a long internship. So I seized this amazing opportunity to go far away, and I eventually landed in New Zealand to do a six-month internship at EcoMatters Environment Trust. It's a non-profit organisation that drives many projects to get communities involved in the protection of their own environment. As an intern, I'm mostly doing research, exploring fields of study related to environment in New Zealand on which debates can be raised or initiatives undertaken to improve the current local and national situations.
When did you first become interested in the environment, and why are you so passionate about it? 
The real trigger that made me seriously contemplate the possibility to work in this field was when I watched a documentary dealing with the industrial exploitation of sand. Lots of people ignore it, but sand is the third-most-used resource in the world — after air and water — mainly because it's massively employed in concrete and glass manufacturing.
As a consequence, numerous islands and beaches disappear because of coastal landslides, not to mention the destruction of seabeds. However, I don't share a pessimistic standpoint. I see this alarming observation as a good way to address today's challenges: reinforcing our social fabric, turning our economic model into a more human shape, and protecting the natural balance. We do not lack ideas and that's the exciting thing! I am deeply convinced a sustainable way of development is the answer to tackling poverty and inequality.
Whose personal style do you admire most?
Steve McQueen was all class. Not just his clothes, but he had a lot of charisma. Charisma is what makes style look good, regardless of what you're wearing. Clothes enhance a person's personality.
What's your daily grooming routine? 
A short, cold shower to wake myself up in the morning. Then I get dressed and I change three times about 15 minutes before leaving home! I usually spray some on cologne, but that's it. I really like the fragrance Bleu de Chanel, which I wear every day. I also use a bit of wax in my hair every now and then.
Three favourite items in your wardrobe? 
An old 90s Levi's denim jacket that actually used to be my mother's, a French sailor-style striped shirt ("mariniere"), and a pair of original two-tone derby shoes from French brand M. Moustache.
What do you wear when you go out? 
I try to find a balance between being casual and well-dressed. That can be through wearing a pair of plain sneakers such as Superga or Vans, and wearing a shirt and a tie with a light jersey. Or sometimes I like the contrast of wearing a pair of chelsea boots with a plain white T-shirt.
What do you wear day-to-day? 
I like to alternate my outfits according to my state of mind in the morning. One day I can wear casual clothes like a T-shirt and shorts, and dress up the day after with a shirt and tie. Usually I try to avoid flashy colours and have a preference for plain clothes with few patterns or brands on it. The idea is to make the overall aspect look consistent, with well-matched colours. The bag I wear is a Napapijri, which is a brand established in Italy, contrary to what the use of the Norwegian flag would lead you to believe. My father gave it to me just before I left France. And I have two rules: no more than three different colours, and one original piece, otherwise it would look too overwhelming.
Your favourite brands? 
Love Superga shoes, and quite disappointed to see how hard it is to find some in New Zealand! I've always had a pair in my wardrobe over the years.
Currently reading? 
Claude Levi-Strauss' Tristes Tropiques. It's a wonderful lesson on cultural relativism, compelling the Western reader to put his vision of the world into perspective. He died in 2009 and was an ethnologist and one of the most influential French intellectuals of the 20th century. For relaxing times, I'm also reading The Hunger Games in English. I'm looking forward to getting through it so I can allow myself to watch the film versions! I'm the kind to not tolerate the discrepancies between movies and books.
The last movie or TV series you watched? 
BBC's TV show Peaky Blinders, a marvellous drama about post-World War I gangs in the industrial world of Birmingham in the early 20th century. Based on a true British gang nicknamed the Peaky Blinders living around that time, it's broadly fictionalised but highly captivating.
Share this: