Meet Art Collector Sir James Wallace
Sir James Wallace is the man behind one of New Zealand's most important art collections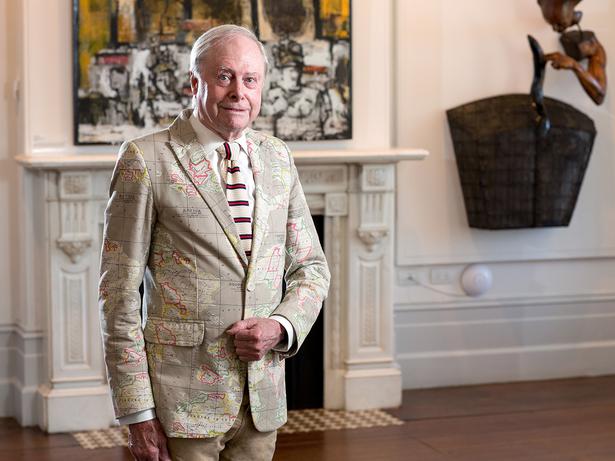 Saturday Sept. 9, 2017
The gentleman who appears on the grand wooden staircase, rather theatrically, wearing a flamboyant map print jacket is without doubt the character presiding over this manor, and all its artful contents.
There's no mistaking Sir James Wallace, who in his late 70s, still cuts a fine shape in his dapper slimline pants, hemmed fashionably at the ankle, and beige winklepicker brogues.
He looks like he belongs in this whimsical Italianate mansion known as The Pah Homestead, now owned by Auckland City Council. Since 2010 it has housed the burgeoning Wallace Arts Trust Collection — a treasure trove of over 7000 works by New Zealand artists.
Sir James' office is on the upper floor of the homestead, and has sweeping views of the farm-like gardens below and beyond to One Tree Hill.
His own residence is an arts and crafts mansion in Mt Eden named Rannoch (he has a long line of Scottish ancestors) and the house and owner was recently the subject of a moody photography tome by Simon Devitt, titled Rannoch.
Not one to mince his words, Sir James is certain of one thing.
READ Where to Eat: Homestead, Hillsborough
"Without art and culture, you are a vegetable."
And then, once you take it into your life, it's like "a cow lifting its head to see the sky", he says.
Sir James has been surveying the New Zealand landscape for art for the past 50 years, amassing thousands of works. He is also responsible for one of the largest arts patronage programmes in the country.
"We spend around $2 million a year on the arts," he says. This includes purchases for the collection and prize values of the annual Wallace Art Awards, now in its 26th year.
This is the country's most lucrative art prize for New Zealand artists, with more than $220,000 in prizes, mostly in artist residencies offshore.
This year's Paramount Award winner, Mangere artist Andy Leleisi'uao, will jet off to New York for six months, while other winners will head to San Francisco, Switzerland, Vladivostok and Vermont. The prizes are sort after by artists, as a win can often catapult their career onto the international stage.
Today, a most fitting exhibition is on display — the past 25 years of Paramount Award winners from the annual Wallace Art Awards. In the main drawing room, a lush, acidic toned work by Bill Hammond, (who was an unknown until he won the award, Sir James tells me) gleams over the fireplace.
Jeff Brown's large scale work on metal fuses thousands of paint blots in pastel tones, and Jae Hoon Lee's digital photograph of a glacier mounted onto a box, beams from a corner. The winners are a mix of well known and lesser known artists, but all the works on display have that special something, corralling viewers back for another look.
What's extraordinary about the process behind this annual award, is anyone can enter and there is no interview process.
READ: Three Women Who Combine Memories With Art and Objects
This year there were 428 entries, the judging panel culled that to 83, and any works not selected for the touring exhibition, will be exhibited as part of the Salon des Refuse (a nice way to say non-winners), whose works are also displayed on awards night in a separate room from the finalists.
Sir James ensures as little bias comes into the judging process as possible — he is never on the judging panel, but he will end up purchasing the winning works and often picks up other pieces from the Salon de Refuse.
The judging panel consists of 12 people from around the world — and at least one representative from the countries where the prize-winning residencies are based. Some are artists, others art professors or curators.
None of the judges are able to confer and each work is rated on a point system. So, some years a relative unknown will be thrust forward into the spotlight, but more often, it's a mid-career artist.
"To be a serious artist, you have to devote a lot of time to your practice. Sadly we lose a great many artists to domesticity," he laments.
To illustrate the point, there are many works in his collection by artists who no longer practice.
"I think many get frustrated with the limitations that come with art-making, they might not continue their popularity, or they might not earn enough to continue."
Life getting the better of art hasn't been a problem for Sir James, who took music and art into his life in the form of opera at the age of 16.
"Art or music weren't considered formal subjects when I was at school [at King's College], but I was very interested in singing."
He won at scholarship to Boston to study for his last year of school, and while he was visiting places like New York he became taken with opera and also spent time visiting galleries and museums. Later he hitchhiked his way around England and Scotland, visiting relations, and dropping into as many galleries as he could.
Back in Auckland, he joined the renowned Dorian Choir, a training ground for many top singers in New Zealand, directed by conductors of international repute such as Peter Godfrey. But the choir took its toll.
"You had to keep re-auditioning every year to keep your place."
READ: See Inside the Iconic Seymour Apartments, St Marys Bay
And by this stage Sir James was busy studying law, which led him to the United States again, this time to New York for a year of work experience.
With a flush family business in tanning hides and agricultural by-products, SIr James had a plush financial cushion, but initially went out on his own in commercial law, then, according to reports, left his own career to join the family business.
He was ranked at 95 on the NBR Rich list for 2016 and has a net worth of $150 million.
While some might be able to rest on wealth alone, Sir James couldn't live without art and so his obsession with collecting and philanthropy began in the early 1960s. The first artwork acquired for the collection was a watercolour by Toss Woollaston titled Otago Cob Cottage (1964), a loose abstract watercolour on paper.
He began by collecting young, emerging artists — the likes of Toss Woollaston, Pat Hanley and Philip Trusttum, whose works now command huge prices. Philip recalls the first time he met Sir James.
"He was a very neatly dressed individual looking closely at the paintings. James is a true collector. He has a drive to observe, read, travel and meet people. When he see sees something he likes, he must have it. This hunger for new work keeps the collection alive."
Sir James continues to oversee each purchase his trust makes, and spends most Saturdays visiting galleries — up to 20 most weekends, including art schools and dealer galleries. He says exposure to art is the only way a young collector can expect to develop a good eye.
What catches his interest?
"Often if I react to a work straight away, that might not necessarily be the one I buy. Often it's the artworks that are more difficult to interpret are the ones I go for."
And if you're thinking there's nothing wrong with that decorative giraffe print on your wall, Sir James has this to say.
"Facile or decorative artwork is like wallpaper, after a while you tend to ignore it."
Quite the opposite of Sir James and his diverse collection of artwork, that will be just a little bit richer this month with the addition of the 26th Wallace Art Award winner.
• For more information on the awards visit Wallaceartstrust.org.nz/2017-finalists. The exhibition will tour to the Wallace Gallery Morrinsville, as well as the Academy Galleries in Wellington.
Share this: