Live Like a Local: Artist Martin Poppelwell
Artist Martin Poppelwell share's his lifestyle secrets and favourite spots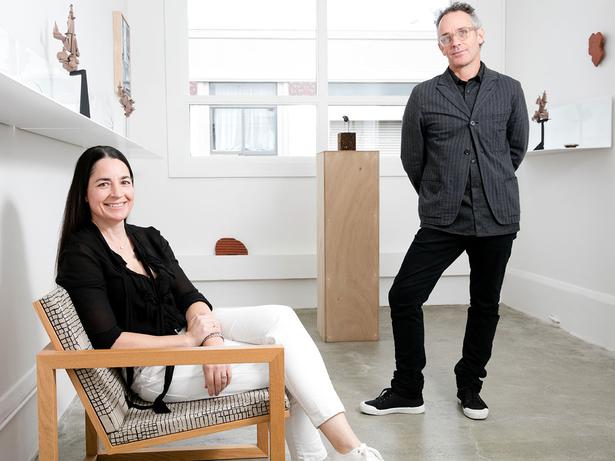 Wednesday Sept. 21, 2016
Building is the word Martin Poppelwell uses to describe how he creates his artworks, with their witty combination of grids, literary quotations and pop culture references.
"They're quite clunky and reflect my immediate environment," he explains. "Whether it's the old weatherboards off the side of the house, or pulling bits and pieces out of paintings and putting them back on."
Before his career as a painter and ceramicist flourished, and after years in other parts of New Zealand and overseas, Martin returned to Hawke's Bay to work in the wine industry. He's still passionate about wine, although these days his involvement is design-related — he created the labels for The People's Wine, and contributes works to its annual charity wine auction.
Now he and his wife, Megan, are in the process of rebuilding their 130-year-old cottage on Napier's Bluff Hill, overlooking the Centennial gardens. It's positioned above the former prison and they've discovered the roads and paths were made by prisoners put to work in a quarry. All of which is inspiration for Martin's work.
"There are all these markers that dissolve time and that's the sort of thing I seem to be working with and thinking about," he says. "It's not so much what a place looks like, but the sense that a place has. I guess I'm more like a dog. I'm attuned to what the reality is by using my nose more than my eyes."
Megan has had a hand in reining in his loose tendencies, establishing the Space Gallery in Napier two years ago. Initially, it was set up to archive Martin's prolific body of work. After the closure of the Black Barn Gallery in 2014, it has also provided an exhibition space for other artists; upcoming shows include work by Dick Frizzell, Derek Henderson and Gavin Hurley.
From home, it's just a two-minute walk to the beach where Martin surfs, and a five-minute amble into town or to the Ocean Spa lane pool where he starts every morning with a swim — even in winter.
"I'm spoilt because I don't really drive a car, I just ride my bike and walk everywhere."
We are so well catered-for with eateries and bars that indecision is common. We like Mister D, Bistronomy, and the Masonic Hotel Emporium, which has a fantastic atmosphere. There are some great restaurants on Marine Parade. Wine-wise, I really admire Gordon at Esk Valley, and the Villa Maria and Elephant Hill crews are doing amazing chardonnays, Tim Turvey at Clearview Estate is making a different style of beautiful white wine, Stonecroft are making exceptional syrah, as are Squawking Magpie. Hawke's Bay is a big village and everyone in the wine industry knows everyone and is very approachable. These winemakers are at the top of their game. They're really on to it, super-passionate and, as an artist, I like being around people like that. It's inspirational.
I also get inspired visiting the Hastings City Art Gallery and MTG Hawke's Bay [Museum Theatre Gallery]. I love to take a drive in the countryside, usually around the Tukituki [Valley], especially as the seasons change. This often involves dropping by to visit one of the many wineries or winemakers.
I'll often visit the beaches south of Cape Kidnappers, Ocean Beach and Waimarama. A good friend often lets us stay at a very early John Scott bach so we can stretch out for a few days. It's an octagonal timber bach, one room essentially, with a couple of panels to demarcate some bunks, and windows. It's 30m from the water, all on Maori land, and leasehold. It's nice because it's a gift, the local iwi are giving you the opportunity to stay there. You can't help but feel part of the wider community.
Share this: