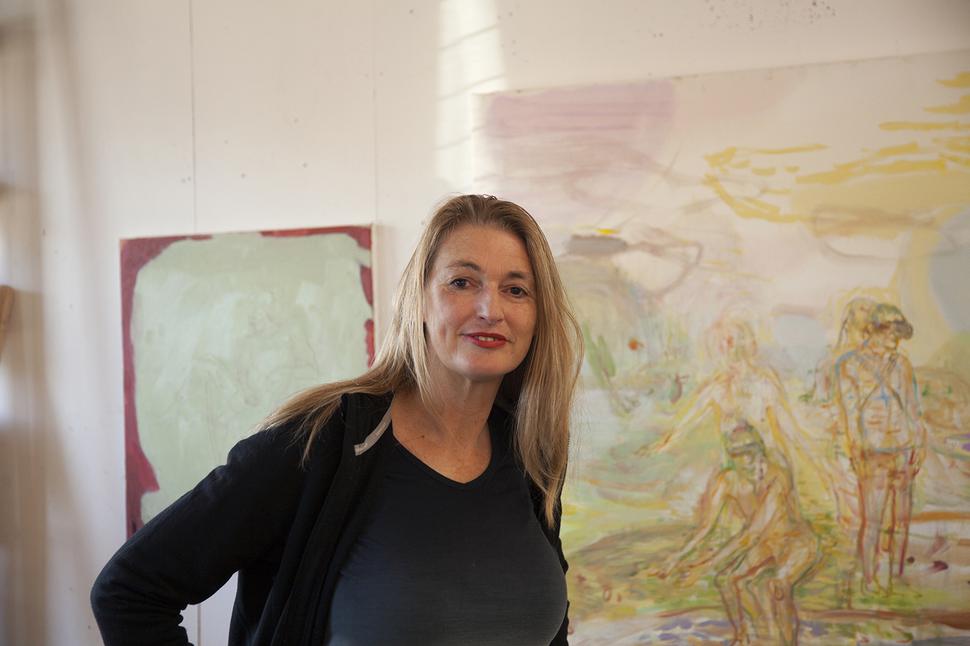 Artist Seraphine Pick on Her Latest Solo Exhibition
Renowned New Zealand figurative painter Seraphine Pick explores images of humanity, connection and sometimes isolation in her latest solo exhibition
Thursday May 2, 2019
It's a typically dingy Wellington day. In Lyall Bay the seaside grasses are buffeted flat as the southerly wind funnels through. The industrial enclave of the bay, nestled in beside the airport runway, is where I discover the "lime green door", through which I find painter Séraphine Pick.
Séraphine ushers me to her 70s vinyl sofa and we plonk ourselves down to chat. We are surrounded by art books, bottles spilling over with brushes and a table full of oil paint, plus the usual, unusual, objects artists collect — such as a lampshade frame stuck to the wall.
We hear the thwack, thwack sounds of the upholstery studio next door, but it's like white noise to Séraphine, who seems very much at home here.
"I won't be here that much longer though," she laments of the light-filled studio that is conveniently close to the family home she shares with husband Rob Cherry, also an artist and art installer, and teenage son Joe. Like many other creative enclaves in larger cities, artists eventually get shunted out and replaced by larger, less interesting businesses that can afford rising rents.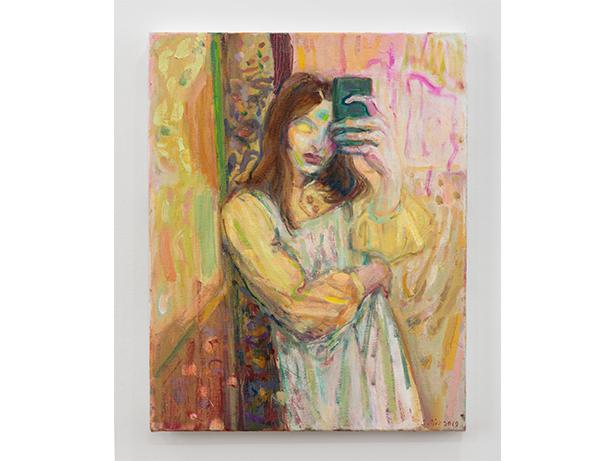 One might presume that Séraphine, 54, who is still riding a wave of success in her painting career as one of New Zealand's most prominent and awarded figurative painters, with works in major public institutions throughout the country, might not be worried about rising rents, but even she admits it's challenging being a full-time artist.
"It's not secure at all, and the need to make a living out of art does put pressure on the art-making process. It seems the more you make, the more it costs." She's referring to taxes, gallery commissions, even the cost of paint.
Nevertheless, Séraphine seems pleased to have her latest batch of work packed and sent to Auckland for her latest solo show at Michael Lett Gallery, and for her appearance at the Auckland Art Fair where her works will be the only artworks on the Michael Lett stand, which speaks volumes for her stature as a painter.
READ: How Interior Designer Kate Gillespie Uses Art To Bring Her Home To Life
Her new body of work is a logical progression from her last major show White Noise in 2015, held at the Dowse Art Museum in Lower Hutt, where she looked at the cultural impact of the internet, our image-soaked lives, fascinations with celebrity, endless selfies and the search for happiness.
The new works are smaller, more impressionistic, more abstract. This time Séraphine delves into new painting explorations through drawing with paint, a process that emphasises the human mark-making process.
"This show really explores what it is be human," she says. "Particularly in this age of virtual reality, where technology is capable of distorting our perception of reality." She adds of the virtual experience: "The way you lose sense of your body and how your brain perceives this experience — painting is a bit like that actually."
In some of her works, figures wear virtual reality masks and seem to float in their own imaginary worlds; some seem lost in a trance. Those without face masks find connection; these figures are entwined, embracing, joyous.
Séraphine has chosen a loose impressionistic style to represent these ideas and the result is floaty, beautiful figures existing in a fractured, pixelated world. "Funnily enough pixelation is a painterly concept," she adds.
The idea that this generation loads so much of their lives as imagery on Instagram also interests Séraphine. "It's like they are creating their own visual histories, yet so much of it is fakery. There's so much pressure for perfection."
And that's where she senses a loss of humanity, a loss of connection and reality.
Her last show featured high-key colours — think pink, acid greens and yellows, all of which she says are challenging to use and require the right mix of neutral colours. For this series the palette is softer, dreamier and emotive — wistful yellows, peaches and lilacs.
READ: Sculptor Francis Upritchard Says She's Way Past Following Rules 
The face, or lack of it, becomes a question of identity in this series. The masks worn by virtual reality users cover most of the face. "But how many features do we need to recognise a person?" asks Séraphine. "That's interesting to me, as I love to paint faces."
Then there are the hands — many of her figures have their hands out in front of them. "I find the hands integral to the concept of humanity. We search with them; we use them to stop us falling. The hands also facilitate the beginning of art."
Séraphine's artmaking began in childhood. Both her parents went to art school. Her father was a potter, and while growing up in Northland she was surrounded by artists, such as photographer Peter Peryer and painter Tony Fomison.
Her mother even named her after well-known naive French painter Séraphine Louis.
She was introduced to the work of surrealist painter Francisco Goya when she was just four. She recalls the somewhat disturbing painting Saturn Devouring his Son and it left a mark on her — in the way Goya could paint his own fear and be so confident in his expression.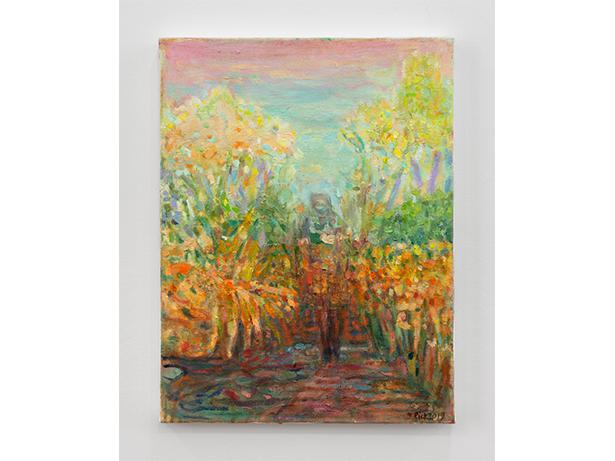 On her bedroom wall a print of Paul Gauguin's The White Horse also fascinated her — although the title implied the horse was white, it was in fact green and red, that introduced her to the idea that there were really no rules when it came to colour.
She's known in the art world for her dedication and hard work and continues to be a prolific painter, sometimes managing two shows a year. Séraphine confirms she paints "all day and all night", when she's preparing for an exhibition.
Collector and longtime supporter of Séraphine's work, Paul McArthur, first discovered Séraphine's paintings at City Gallery in Wellington and now enjoys a considerable number of her most important works, including White Noise, which features a striking Gauguin-like horse.
"I was struck by her incredible mastery of paint. She really is a painter's painter who makes extraordinary pictures of ordinary people, in moments they're unaware the camera is looking. Her paintings have jolie laide — French for pretty-ugly — they can be grotesque, unsettling and yet lyrical and magical at the same time."
READ: The Sculptor Exploring The Capability Of Bronze In Her Work
When I ask her if it's tough juggling motherhood and artmaking, she admits it can be challenging being a full-time painter. In contrast, she says many of her male painter friends have wives that run their businesses.
But what has and will continue to change, she says, is her approach to painting, having moved from heavily layered, darker canvases dotted with memorabilia from her past, to lighter more transparent works that look to current issues in the world.
Next year she's keen to look at sculpture as a way of informing her painting. She wants to make use of found things; she wants to keep using her hands. Maybe that's how you'll use that lightshade frame. I suggest. "Possibly. I have plenty of stuff to make use of here before I leave!"
Whatever she ends up creating you can guarantee it will be very much Séraphine. In her words: "I have to be true to myself. I don't want my art to be pretentious."
Share this: