Why Painter Imogen Taylor Is An Artist To Watch
The Elam graduate is undoubtedly on an artistic roll after winning the prestigious Frances Hodgkins Fellowship for 2019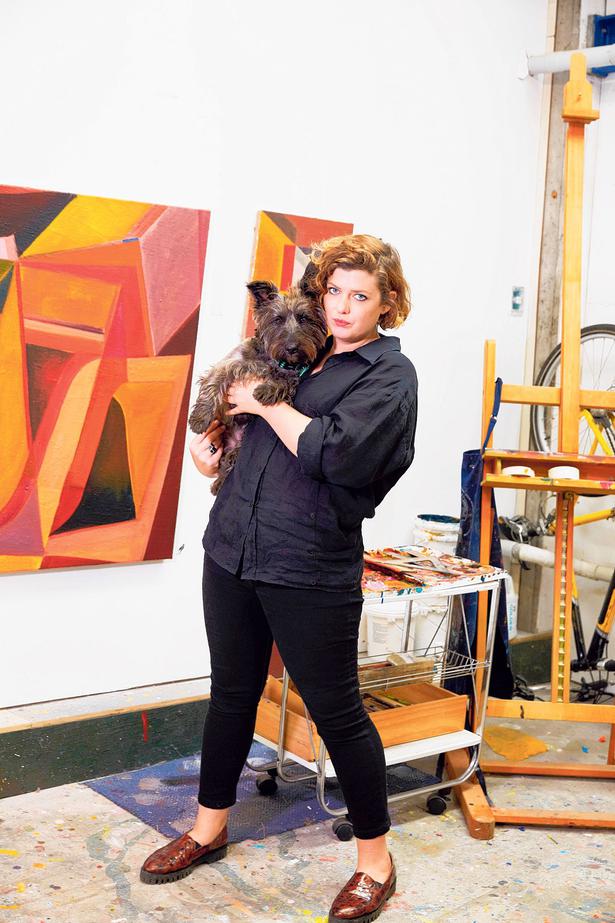 Monday Dec. 31, 2018
Painter Imogen Taylor thought it was the bank or IRD calling when she reluctantly picked up her phone back in September. Quite the opposite: it was Otago University, ringing to let her know she'd won the prestigious Frances Hodgkins Fellowship for 2019. It provides an artist with a studio on campus in Dunedin for a year as well as a stipend to pursue creative projects. "All I could do was walk the dog for a few hours, trying to process what the time and money would mean for my work," says Imogen.
It hadn't sunk in all the way when she heard her name announced as the Paramount winner of the Wallace Arts Awards at a ceremony at Pah Homestead. The judges praised her assured handling of colour and composition and references to Bauhaus, Cubism and Modernism in her piece Refusal To Yield (2018), which won her a six-month residency at the International Curatorial Programme in New York alongside 30 artists from all over the world.
READ: Get To Know Rising Wellington Poet Tayi Tibble
"Following the feelings of joy and excitement came some more intense feelings of responsibility and commitment," says Imogen. "Not just for my own practice but for projects that support other voices within my wider communities. It feels like a huge vote of confidence from two major institutions to select an openly queer woman painter for these awards; historically both awards are male-dominated."
The artist, who is currently based at Corbans Estate Arts Centre in Henderson, will head to Dunedin in February accompanied by girlfriend Sue and their dog, Dusty. In the mix will be a couple of solo shows, including a presentation of new paintings for Art Basel Hong Kong in 2019.
"This will be my first international art fair outside Australasia, which is exciting. I'm hoping to escort the work over with my art dealers Michael Lett and Andrew Thomas."
While in Dunedin she hopes to focus on Femisphere, a zine she creates with artist Judy Darragh. "My zines used to be more angsty and satirical; exposing prejudices within the art world by illustrating my own first-hand experiences. Now rather than taking people down for being jerks, I'm interested in propping people up for being geniuses."
READ: Favourite Things: Artists Ophelia Mikkelson & Ryder Jones
Straight after Dunedin, she'll fly to New York in January 2020 to take part in the ISCP programme, her first time working in a studio outside New Zealand. "Like any residency, the new surroundings will shift the work along and present me with broader artistic networks. Some of my favourite contemporary painters, such as Nicole Eisenman and Ella Kruglyanskaya, live in New York, so I'm excited to be immersed in a world of painting which is both expansive and political."
The Elam graduate and recipient of 2017's Colin McCahon residency is undoubtedly on an artistic roll, although she's loath to put it this way, "my intent is to have a longer, slower career — I don't know if I've made my best work yet."
Imogen says there is still work to be done. "It's become clearer to me over the years that sustaining my independent practice is not enough, and that it's important for me to use my position to support and praise others who need their voices heard."
Share this: