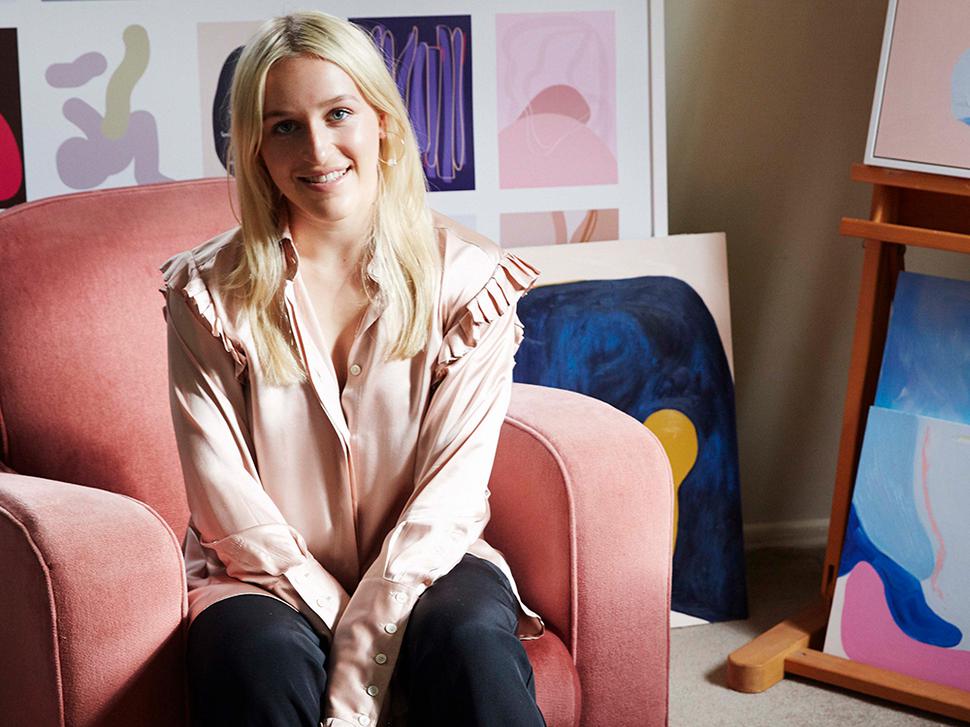 Auckland Art Fair: Emerging Talent You Need To Know
A newly formed section, aptly named Piki Mai, will showcase up-and-coming artists
Thursday May 24, 2018
Floating above the main floor at the Art Fair, a group of emerging artists will be strutting their stuff in a newly formed section, aptly named Piki Mai, or Up Here. Viva talks to a handful of early career artists and the Auckland gallerist intent on nurturing them. 
READ: Where To Find: Auckland's Best Art Galleries To Browse
JACOB RANIERA, gallerist
Emerging Auckland gallerist Jacob Raniera isn't one to mince words. "The art world can be very cut-throat. People in positions of power can dictate your success."
Add to this the shock of how you're supposed to make a living from your art, and that many fine arts graduates aren't aware of how the art world operates, means learning on your feet — fast — he says.
As a response to these realities, Jacob, an articulate architectural masters graduate with experience working in dealer galleries, opened Mokopopaki Gallery in early 2017. This pint-sized, friendly-feeling space on Karangahape Rd has Maori values at its centre, and it's here Jacob hopes to make art accessible to viewers and artists alike.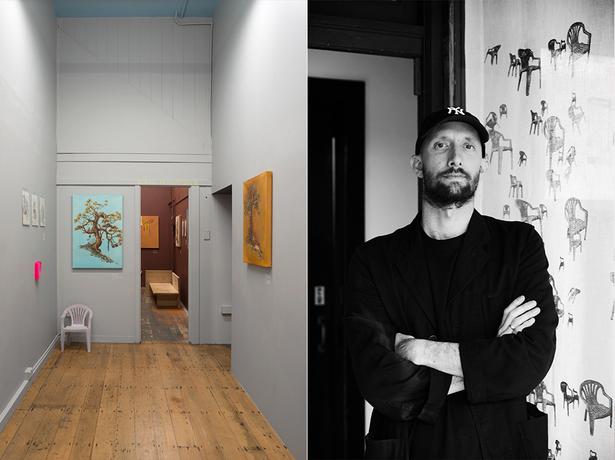 "I think we've all had that experience in a cold, white gallery, where we don't feel that welcome," he says from his cubby-hole office under the stairwell.
This is certainly not your white box-type gallery. The single yellow door on "the sunny side" of K Rd, leads to two modest gallery rooms, the first an informal "salon des refuses", painted in a soft grey, where artists often mingle to rowdily strategise art projects, or show new works, then to the heart of the gallery, the Brown Room, a space where commissioned work is shown and where the Maori centre comes to life.
READ: Favourite Things: Artists Ophelia Mikkelson & Ryder Jones
Fittingly named after his Maori grandfather, Mokopopaki — popaki means clear, fine night, and Jacob's goal, apart from operating as a dealer gallery, is to nurture clarity of purpose in his artists' practice.
What makes Mokopopaki unique, is that Jacob plays a part in the actual commissioning of the artworks, even in the naming of the works.
The current show by Whangarei-based Carol Prentice is the story of the artist's grandparents, who owned a delicatessen and bakery on Karangahape Rd in the early 1900s.
"Her response to our gallery space was to look at the history of K Rd, and how her family were linked to this area," Jacob says.
READ: Get To Know Instagram Influencer Zara McKenzie
In her other paintings that feature chinoiserie-style native trees occupied by figures Carol touches on other narratives based on her life as a Pakeha in Northland.
"See the tiny little plastic chair in each of the works, that's symbolic of Carol and her feelings of whiteness," says Jacob, who adds that Maori bloodlines are not a prerequisite for representation, it's really more about an artistic process that involves collaboration, encouragement and a slow pace.
This year, another one of Jacob's artists, PANiA, features on the Piki Mai, or Up Here floor. Expect to see Jacob appear live in PANiA's installation work, but you might not see PANiA. Intriguingly, she has chosen to remain anonymous, irking if you want to interview her, but perhaps crucial for her as an artist, because it allows her to make art unhindered by the element of personality or mainstream intervention.
This is all we know about PANiA thus far: "She's a country girl at heart, PANiA! likes Pina Coladas, and getting caught in the rain. She's not into yoga, and she has half a brain. If you like art made at midnight, and a thick slice of cake, she is the love that you've looked for," reads her introductory Art Fair note.
However Jacob is happy to be her mouthpiece. He explains her anonymity is a resistance to elitism in the art world. He also represents another brother/sister duo, Yllabro, who also remain anonymous.
"They want to be themselves, by themselves," he says. "They're resisting the idea of the artist as a superstar; to them the art is more interesting than the artist."
READ: 10 Stylish Instagrams to Follow Right Now
Jacob says his job is diverse and rewarding. He gets the creative energy he needs from collaborations and enjoys helping artists by acting as a conduit to the larger art institutions, or collectors.
"Working with large institutions is very procedural, and sometimes that's not what all artists are good at," he smiles. Luckily for them, ticking boxes is something in which Jacob is very well versed.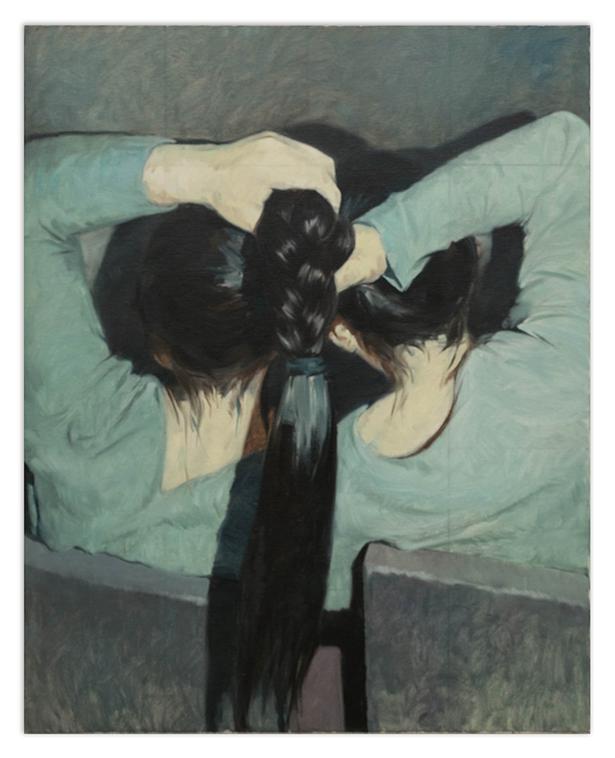 SHAO TONG, oil painter
Swimming in a much larger art market, are talented Chinese emerging artists who also appear in Piki Mai with the Young Artists Foundation, a group set up to support young, talented artists in New Zealand and China, and to complement cultural exchange. Beijing-based artist Shao Tong paints exquisite figurative oils, usually without faces. His Art Fair works feature the napes and backs of Chinese women, their hair inter-twined in black, glossy plaits.
He says Michael Borremans has largely influenced his work. "I have always liked figurative surrealism. Absurdity and uneasiness always shock."
He's referring to Borremans' pictures of strange figures; a girl with a scuffed face, a torso disappearing into a table or a sleeping child's head that disappears under a sheet at the neck. His trick is to leave some of the canvas open, to emphasise that the work is an illusion.
READ: Favourite Things: Sulieti Fieme'a Burrows & Tui Emma Gillies
Shao also likes the idea of illusion but is under no illusion about how hard it is to work as an artist. "In China, successful people are a minority, the pressure of competition is obvious. As an artist, everyone wants to be unique but originality is almost impossible to achieve. How to have your own label is the biggest dilemma faced by many artists. Then there is the issue of survival. Without economic support it's very difficult, especially in a city like Beijing, as the cost of living is immense."
He began drawing when he was just seven years old. "Both my parents are artists, I really fell in love with drawing."
Shao was accepted to the national art academy and graduated in 2008, but in order to live in Beijing permanently he had to have a stable income, so he has worked as an art teacher ever since.
He says many of his peers are anxious, not only with making a living but with the idea of how to make the work resonate with your audience and have meaning.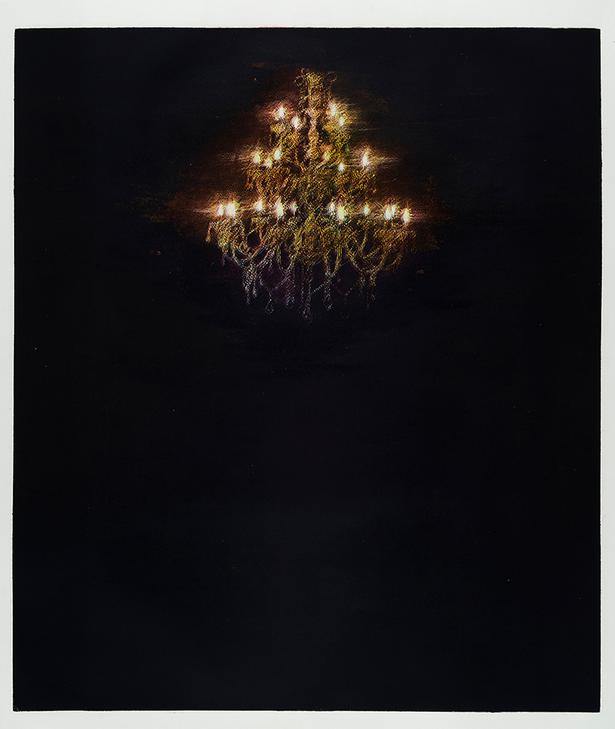 PAN XU, ink painter, printmaker
Another talented Chinese artist with work at the fair is ink painter and printmaker Pan Xu, 31, from northwest China. Pan studied printmaking at Xi'an Academy of Fine Arts and then worked as a tutor before going on to achieve a masters. He's currently working as a printmaking teacher and an artist in his own right.
A master of both printed works and ink painting, Pan considers light and night and the beauty of the two in unison. His ink painting of a white chandelier light is marvellous in detail and striking in its subtle contrast, while his printed work is rich in painterly detail.
He fell into artmaking through a show of strength and defiance. "When I was 10, my classmate was showing off a portrait he drew, he said: 'Pan, look at how good my sketch is!' I only nodded, but felt his portrait was horrible and many shapes were inaccurate.
On the same night, I tried to sketch the same one, after it was complete, I found it was exactly the same as the original work. From then on, I realised I had more of a talent at this than others, so I took the initiative to tell my family and began to learn drawing."
READ: Favourite Things: Artist Rohan Hartley Mills
However he adds it's tough to treat art as a profession in China. "On one hand I think creating art itself is difficult. On the other hand, there are art education and societal problems within the art industry in China. There are approximately 400 people graduating with a printmaking degree every year! Persistence in art is rarely seen in students, because they know how testing it is to become a professional artist in China."
Currently Pan is an "academy artist" with a double identity."I teach on one hand and create art with the other. I don't know if this identity will affect my artistic creation, but my simplest desire is to maintain enough enthusiasm just to keep going."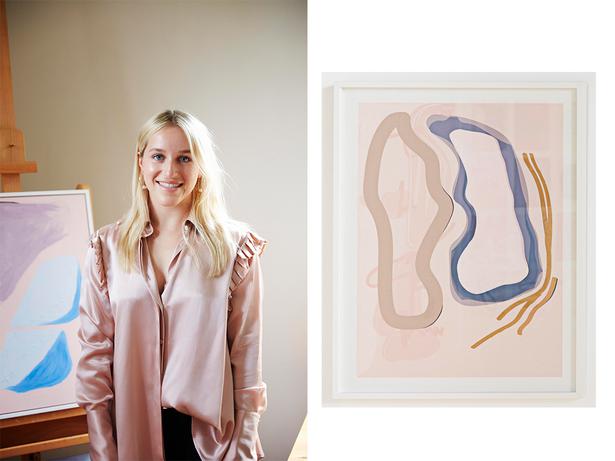 LUCY GILL, painter
Although many artists struggle to forge a career after graduating, 23-year-old Elam graduate Lucy Gill knew exactly where she was headed before completing her degree. Lucy has already notched up a group show with Sanderson Gallery and is due to appear in another group show next month at the Vivian in Matakana, featuring female abstractionists.
She is one of many graduates who will be represented at the Elam booth on the Piki Mai floor. Elam has also just launched a helpful tool for collectors they'll be promoting at the fair — elamartists.ac.nz is a comprehensive online archive of graduate projects and a must if you're hunting for future stars.
Lucy's paintings are feminine and restful, she uses shapes, symbols, and gesture to visually convey personal thoughts and uses digital methods — she'll often sketch in the program Illustrator before she starts, and print a base before layering oil paint over the top.
READ: Favourite Things: Monmouth Glass Studio
While completing her degree, Lucy managed to live a double life, studying and working with Jo Knight from Knight Collective, a boutique fashion consultant business that nurtures emerging designers and presents their work in Paris four times a year.
In her daytime gig, she is able to use her creative skills to help new fashion designers build their collections and she often makes use of her illustration skills for invitations and brand stories.
"I'm so lucky I get to work in a creative environment every day," she says from her home studio cottage in Auckland.
But having two jobs has its challenges. She's time poor and has to find time for art making in the evenings and weekends. "Being a full time artist is quite a solitary practice, it would be hard for me to make that work. I have peers who might have a job they are less invested in but for me it just hasn't worked out that way."
READ: Favourite Things: Designer Rose Ackland
For now Lucy is happy to keep her day job and continue making her abstract sketches and paintings when she can. "What I like about abstraction is I draw what I want, I make any shape I want, I like the freedom of it, and to an extent, people see what they want to see."
That sounds like a young woman who has found her creative footing lightening fast.
Share this: