Winning Auckland Cup Day 2016 Style
Creativity and femininity were to the fore at the Viva Prix de Fashion event on Auckland Cup Day 2016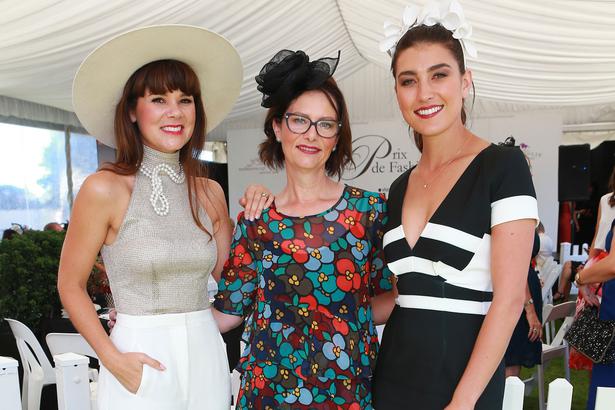 Monday March 14, 2016
What do you do when someone much better presented than you asks if you have any tips about how to improve what they are wearing? Mutter platitudes mostly, but actually mean them, in saying they should keep up the high standards and rightly retain their self-confidence.
Judging the top Fashions in the Field winners from around the country gathered at Ellerslie on Auckland Cup Day for the Viva Prix de Fashion was no easy task. All were beautifully groomed and elegantly outfitted which, I guess, should be a given for the country's top race-wear fashion competition. Better yet they all showed confidence and personality. The combination is always attractive and deciding who best brings together these individual attributes on any given day — when doing it well at all is an achievement — is a thankless task. So thank you to my fellow judges, model and equestrian Rebecca Stoneman, who travelled over from Melbourne as an ambassador of the Victoria Racing Club, and Auckland television presenter and fashion fan Amber Peebles, who both made our assignment easier.
Congratulations to all the finalists and to supreme winner Stacey Hanley. The Pukekohe hairdresser won the Derby Day qualifying fashion competition a week earlier in the same outfit. Not surprisingly, a quote about a quinella came up after her second win and wishes for a trifecta when she heads off to Melbourne in November to compete again at Spring Carnival at Flemington as part of her $30,000 prize package.
"All eight contestants could easily grace the catwalk at Melbourne, said Stoneman. "The winner ticked all the boxes and understood the key trends."
Over the years I've judged enough Fashions in the Field events to say that is not always the case. Standards can vary widely. Often one aspect will let down an otherwise terrific outfit, be it anything from poor millinery to poor pressing, underdone hair to undone hems. The level of competition in Auckland is now so high, however, that this is no longer the case on the big fashion days. None comes bigger than the Viva Prix de Fashion. As the finalists and the judges stood around chatting during the obligatory photographs afterwards a few quizzed me on what else the needed to do. Truly, not a lot. Luck of the draw and all that.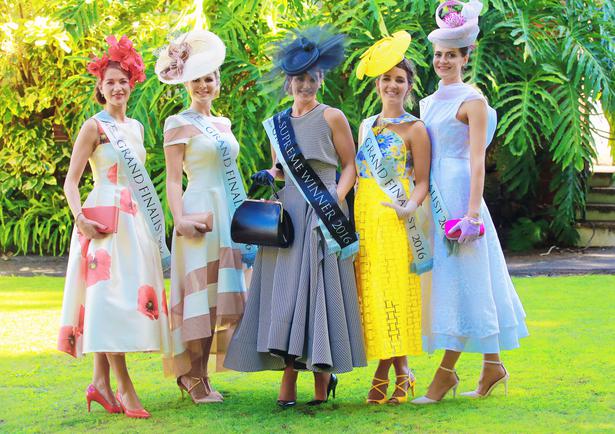 One told me she had realised standing out the back waiting for us judges to get on with it, that she was over being nervous given that she was surrounded by potential winners. Another said she genuinely enjoyed the company of her fellow finalists, a number of whom are regular competitors who relate to the challenge of creating an outfit from scratch. One finalist was sewing into the early hours, another had several headpieces on standby, another had a grandmother who helped out.
No-one went to a designer store and bought an entire top-to-toe look in one go, instead they combed the internet for finds, sourced vintage jewellery and had millinery made, or made it themselves. They put together outfits like real people do, a mix of bought, borrowed and crafted. With more forward planning than most of us display, but with the same sense of serendipity.
That creativity is what I enjoy most about race-wear dressing. To some it may seem a world of arcane rules, but in New Zealand this is hardly the case. Other than respecting the tradition and sense of occasion, it offers a rare opportunity to go all out. Pulling together an outfit also suits our do-it-yourself mentality. There's nothing elitist about canny creativity.
The idea of competing in a race wear fashion event will not be for everyone, but most women enjoy dressing up and most are generous in spirit towards others who do so well.
The finalists' outfits did conform to a prevailing fashion for feminine shapes (which next season I expect we will see in for some reproportioning), but in their colourful variety they offered plenty of inspiration. The winner's black and white ensemble stood out to the judges in making a particular play of proportion, from her Toni Maticevski dress to her petalled saucer hat and boldy structured handbag.
But as I said when we announced Stacey Hanley as the 2016 Viva Prix de Fashion winner, it was a day of many victories, both on the stage and in an audience where women made the effort not just to dress well, but to do so with flair and for fun.
Share this:
More Culture & Travel / Summer of Racing