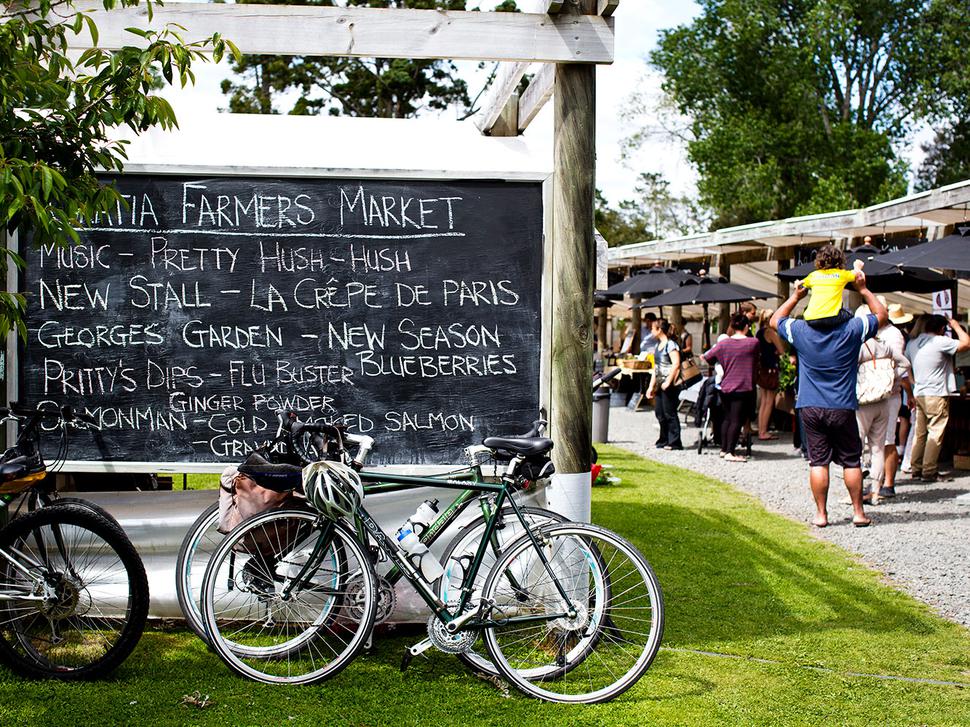 Auckland Markets To Visit
Pack a bag and an empty stomach, and escape to these top Auckland markets
Wednesday Jan. 10, 2018
CITY MARKETS
The Factory Markets
From hand-made bags, clothes, ceramics and stylish glasses, to doughnuts and crumpets, The Factory Markets are well worth a browse. You're bound to find something that's one-of-a-kind and supporting local creatives is always a good idea.
When: Usually once a month, 10am-2pm  Where: 31 Arrenway Dr, Rosedale  Visit: Factorymarkets.com for exact dates. 
Cross Street Market
For one-off treasures, Cross Street Market is quickly becoming a firm favourite. This quirk-filled market runs for four days each month bringing together local and talented makers. Wood-fired ceramics, jewellery, garden tools and herbal potions are just some of the handmade wares available, which sells alongside a curated selection of vintage clothing and retro furniture. Find the eccentric space just off K Rd and there are coffee and vegan pies onsite.
When: Thursday-Sunday, once a month, 10am-5pm  Where: 4 Cross St  Visit: Facebook.com/The-Cross-Street-Market
Mt Albert Market
It's food truck Friday in Mt Albert courtesy of their weekly market's Street Food Station. The ever-changing rotation of food trucks means there's plenty to choose from and the onsite bar pours craft beer and organic wine. Come to the same space the next morning for a farmers market stocked with fresh produce, smoked meats and artisan bread.
When: Fridays, 5pm-9pm & Saturdays, 9am-1pm Where: 847 New North Rd, Mt Albert  Visit: Facebook.com/mtalbertmarket/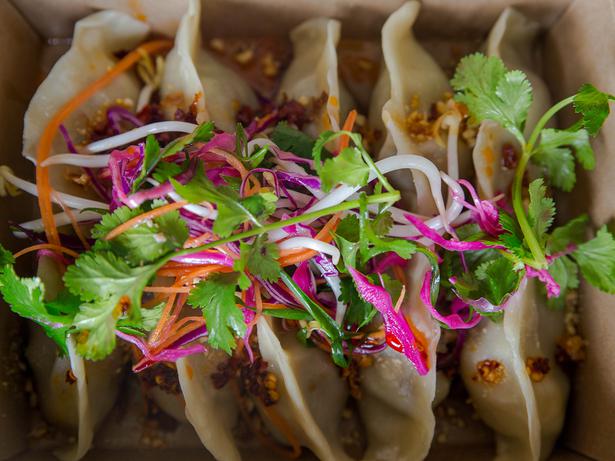 Takapuna Market
This market makes for a bright start to Sunday, hunting for great produce and bargain prices. Takapuna Beach is practically across the road and is perfect for walking off pastries and other goods consumed at the market.
When: Sundays, 7am-12pm Where: Anzac St, Takapuna
La Cigale Britomart Market
For country feels without leaving the city, head to this market in Britomart. Cheeses, crusty bread, dips and pastries provide temptation, along with an abundance of fresh produce. The market descends onto Takutai Square, making it the perfect spot for post-market picnic in the sun.
When: Saturdays, 8am-1pm Where: Takutai Square, Britomart Visit: Britomart.org/la-cigale-market
Green Bay Street Food
This foodie fiesta runs every Friday with some of the best food trucks in Auckland. Look out for the resident food truck, the popular Mediterranean Mama Tahina, as well as vegan burgers, dumplings, grilled cheese and hand-crafted gelato. Plonk down on the grass and enjoy live music. 
When: Fridays, 6pm-9pm Where: 1 Barron Dr, Green Bay Visit: Facebook.com/Greenbaystreetfood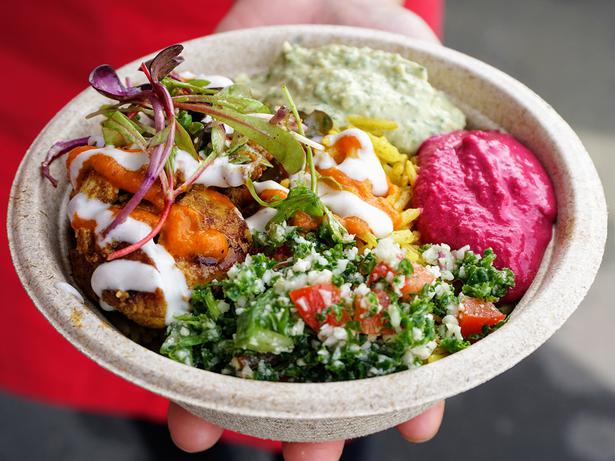 Arabian Chook goodness bowl from Mama Tahina at the Green Bay Street Food Market. Picture / Supplied

Grey Lynn Farmers' Market
This community market showcases local growers, farmers and makers every Sunday. It's also Auckland's first zero-waste market, so no plastic bags in sight. Gather up smoked salmon, local honey and free range eggs. There's pizza from Napoli Central, loaves from Bread and Butter Bakery, and Bowl and Arrow's signature smoothie bowls to slurp up. 
When: Sundays, 9am-12.30pm Where: Grey Lynn Community Centre, 510 Richmond Rd Visit: Glfm.co.nz

La Cigale Market
For weekends that start with buttery pastries and coffee, La Cigale Market is just the ticket. This Parnell favourite has an undeniable French flare — croissants, baguettes and crêpes are on offer, alongside fresh produce and a range of other cuisines. There's also vintage clothing to buy and great musicians to listen to.
When: Saturdays, 8am-1.30pm & Sundays 9am-1.30pm Where: 69 Georges Bay Rd, Parnell Visit: Lacigale.co.nz/french-market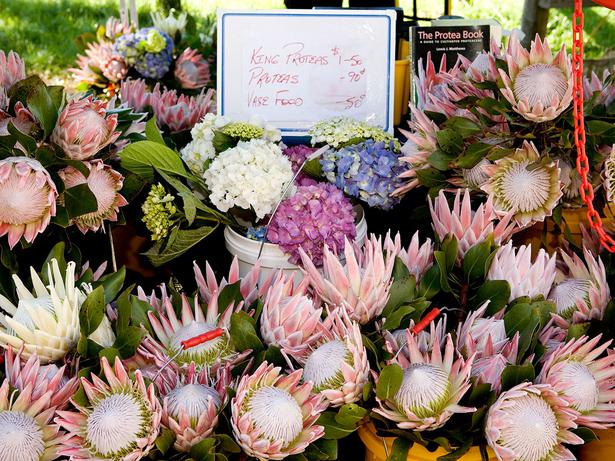 Take home a bundle of flowers from Clevedon Market. Picture / Babiche Martens

DAY TRIP MARKETS

Matakana Market - About an hour north
Just up the road is the booming settlement of Matakana which is most famous for its Saturday farmers' market (8am to 1pm). Local artisans, growers and farmers gather to create a slice of foodie heaven. You'll also find a wider burgeoning foodie scene here as well — pop into the Village Butchery or the Matakana Coffee Roastery for some goodies to take home, or relax over a meal at the renovated historic pub here or at a local vineyard.
When: Saturdays, 8am-1pm Where: Matakana Square, 2 Matakana Valley Rd Visit: Matakanavillage.co.nz/market

Catalina Bay Farmers' Market - About 30 minutes northwest
Another market worth a look is at Hobsonville Point, which is undercover in an old airport hangar and open both days in the weekend from 8am-1pm. Here you'll find fresh produce, bread, meat, fish, dairy products, eggs, coffee, honey and more. Also worth a look is nearby Catalina Cafe, housed in a historic building used by the RNZAF as part of Hobsonville's airbase.
When: Saturday & Sundays, 8.30am-2pm Where: Hudson Bay Rd Extension, Hobsonville Visit: Cbfarmersmarket.co.nz

Ostend Market, Waiheke - About two hours by ferry
A ferry ride away — travel time can be eased with a gelato from Island Gelato — venture over to Waiheke for the day trip starting with a market stroll. Every Saturday the Waiheke Market on Ostend Rd has local olives, honey, vegetables and meats to buy. Pack an appetite as well for the jaffle truck on site, crepes and market favourite — Hungarian fried bread topped with tomato, feta and basil.
When: Saturdays, 8am–1pm Where: Ostend War Memorial Hall & Reserve, 76 Ostend Rd Visit: Waihekeostendmarket.co.nz

Clevedon Market - About 40 minutes southeast
Sundays are the day to head out to Clevedon for its farmers' market at the A&P Showgrounds and its Village Market at the Community Hall from 9am to 2pm. Go straight to the queue for a bacon and egg bap and then stock up on and fruit, meats, cheeses and homemade goods. While you're out that way, poke your nose into the Cammell's Honey store, artisan bakery Aristocakes, Ness Valley Nut Co. for locally grown macadamia nuts. 
When: Sundays, 8.30am-1pm Where: Clevedon Showground, Monument Rd Visit: Clevedonfarmersmarket.co.nz  When: Sundays, 9am-2pm Where: Clevedon Community Hall, at the Roundabout Visit: Villagemarkets.co.nz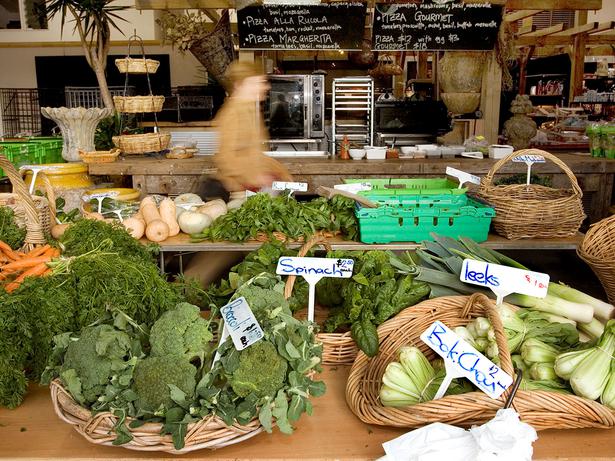 Stock up on fresh produce at La Cigale Market in Parnell. Picture / Babiche Martens

Coastville Market - About 30 minutes northwest 
When it comes to outdoor markets, Coastville is one of the best. This West Auckland gem is home to over 100 stalls selling fresh produce, wares from local makers and artisan food. Second-hand goods are also for sale including crockery, rugs and quality furniture at good prices. Please note this is a mostly a cash-based market.
When: First Sunday of every month, 10am-2pm Where: Corner Mahoenui Valley Rd & Coatesville Riverhead Highway, Coatesville, Albany  Visit: Facebook.com/coatesvillemarket

Oratia Farmers' Market - About 25 minutes south-west
This is the only farmers market in Auckland that is actually on a farm. Come for the full range of fresh produce grown in Oratia on offer along with Turkish bread, salmon, locally roasted coffee and more. There is live music every Saturday morning to add to the ambience.
When: Saturdays, 9am-12am Where: 99 Parrs Cross Rd, Oratia Visit: Oratiafarmersmarket.co.nz

CULTURAL MARKETS 


Te Atatu Night Market
Wind down from the week at the Te Atatu Night Markets with their great line-up of street food. With Mexican, steamed buns, vegan burgers and homemade pasta, there's something to cater for everyone. Kids can enjoy free face painting and the nearby playground. 
When: Friday, 5pm-9pm Where: Te Atatu Community Centre, 595 Te Atatu Rd Visit: Facebook.com/teatatu.nightmarkets

Auckland Night Markets
The Auckland night markets attract up to 10,000 people a night for its bustling atmosphere and serve up some of the best authentic and cheap eats around. Find it in underground carparks in seven locations around Auckland and sample authentic eats from every cuisine you could wish for.
When: Wednesday-Sunday, 5.30pm - late Where: Glenfield, Pakuranga, Papatoetoe, Sylvia Park, Henderson, Botany Visit: Aucklandnightmarkets.co.nz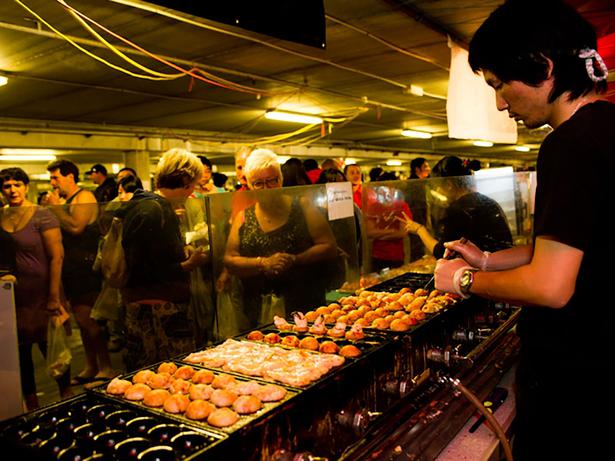 Lively scenes and smells at Auckland's famous underground Night Markets. Picture / Babiche Martens

Otara Markets
From hangi, Filipino pork belly and Cook Island doughnuts, the Otara Flea market is the place to go for a taste of the islands. This iconic market has stood the test of time; opening in 1970's it's one of Auckland's oldest markets. It has fresh produce, clothing and arts and crafts too.
When: Saturdays, 6.30am-12pm Where: Behind Otara Town Centre on Watford & Newbury St Visit: Otarafleamarket.co.nz

—

HAVE WE MISSED SOMETHING? 
If you know a great market that you'd like us to share, let us know below. 
Share this:
More Culture & Travel / Going Places