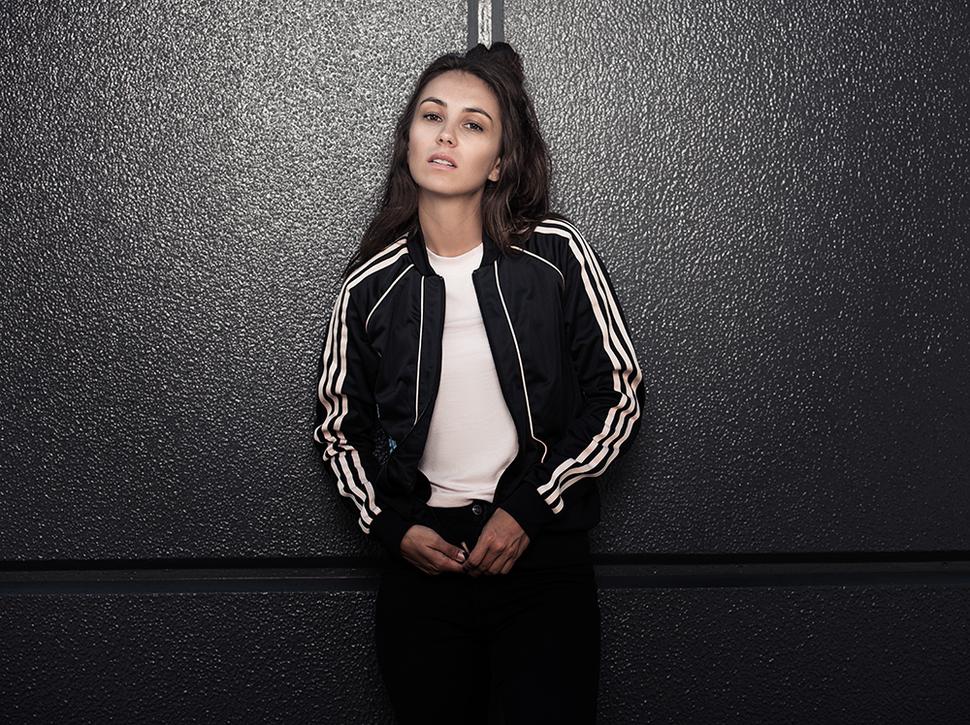 Why Australia's Biggest Indie-Pop Star Almost Didn't Make It
Singer-songwriter Amy Shark on her debut album, Love Monster, and the time she nearly gave up on music
Thursday July 12, 2018
Amy Shark was just a ripple in the industry the day her song Adore hit radio wave success.
"I was out there all alone with no agency, no management and no label."
Her phone and emails soon blew up as a global bidding war took place for the unsigned artist. "I'd been trying to get these people attention for years," Shark recalls. "All of a sudden they were desperate to fly me all over the world."
READ: Meet Billie Eilish, The 16-Year-Old Pop Star Prodigy
By the start of 2017, just six months after Adore was added to rotation on Australian station Triple J, the indie-pop singer-songwriter was signed to Sony's Wonderlick Entertainment, and Adore shot to number two on the station's countdown only to be beaten by Flume's Never Be Like You. Her debut EP Night Thinker followed and an extensive tour across Australia and the US.
Quite the turnaround for an artist who was ready to give up on music altogether.
Shark — born Amy Billings — grew up in the seaside paradise of the Gold Coast, a tough spot for aspiring musicians, she says. "People from the Gold Coast don't go out. We don't have many venues to perform or places to showcase. There are so many great artists coming out of the big cities too so for someone from the Gold Coast to score an opening slot it's really difficult."
She spent most of her 20s slogging through "soul destroying" cover gigs to empty rooms and being pushed around by record labels. "They told me I needed to be more pop or more bubble-gum. I took that on board at the start and wrote songs that I was really embarrassed about."
READ: Singer-Songwriter Nadia Reid's Essential Winter Playlist
Fed up, Shark intended on pursuing her interest in filmmaking via her day job as a video editor for the rugby league team the Gold Coast Titans. "The dream wasn't alive for me anymore. In my mind I'd walked away already," she says.
Things began to change, however, when she started adding electronic beats to her guitar sounds and listening to artists like Lorde and Broods. "I realised these guys are writing how I like writing and people are loving it," says Shark. Another Kiwi connection includes her "biggest supporter", her husband Shane who hails from Nelson.
Shark went on to write the song Spits on Girls which got played on Triple J and Golden Fleece which won a Queensland Pop Award giving her a much-needed confidence boost and the reinvention as 'Amy Shark'. "I'm just a big shark fan. I love sharks and Jaws," she explains. "I wrote down the name Amy Shark and it looked big and bold. If anything that happened to my music that's what I want it to be."
Ahead of the release of her debut album Love Monster on July 13, she's is "counting down the seconds" to it finally being heard.
The 14 tracks, created with producer Jack Antonoff, A-list collaborator Mark Hoppus, and Joel Little (Lorde, Khalid), include the already platinum single I Said Hi which Shark describes as a "passive-aggressive song towards my struggle in the industry".
"I didn't hold back on this album," she says. "I tackle a few ugly topics that don't get spoken about too often. If you graduated from Night Thinker then you're ready to handle Love Monster."
It's been a whirlwind few years for one of the most in-demand pop stars in Australia who seemed to come from nowhere after the breakthrough of 'Adore'.
Now in her early 30s, she's had to get used to being labelled as an overnight success. "I had to stop being bitter about that. There's a reason why it didn't happen then and it's happening now," she says.
The six years spent waiting on radio play has given Shark the right kind of perspective, she says.
READ: Pop Sensation Halsey on Her New Single and Evolving Style
"I think I just get it. I understand the industry and that comes with knowledge and maturity. I watch so many young artists now get caught up in it. They've had success since 16 and they just don't understand what it's like. To go from playing years of shows to nobody to now walking out and have people waiting to hear your music.
"If you haven't had those empty rooms you just don't get it."
— Check out Love Monster at Amyshark.com
Share this: