Must-See Exhibition: Balenciaga: Shaping Fashion
Understatement brought matchless simplicity in the Spanish designer's influential creations for the French fashion house, as this jaw-dropping exhibition reveals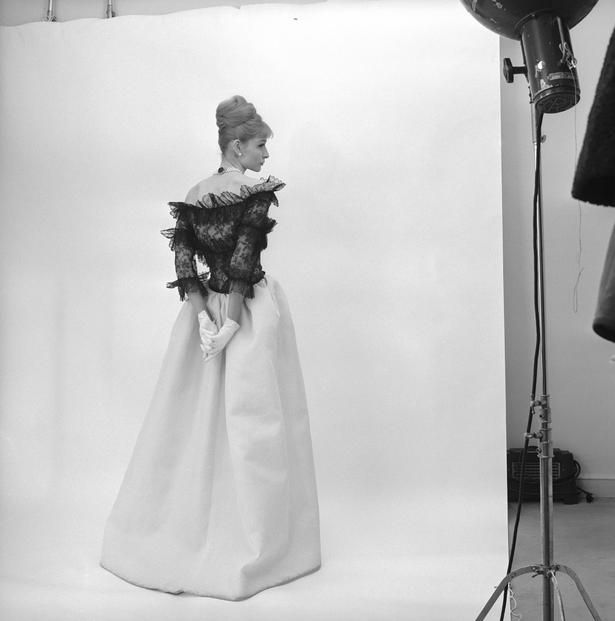 Monday May 29, 2017
Looking at clothes of a certain vintage can be extraordinarily intimate. Once, after all, dresses and coats were cherished rather than disposable, irrespective of the wealth of their owners.
If I understood this only vaguely as a child, thrilling to the touch of my grandmother's homemade gowns, I felt it more forcefully last week in the gloom of the V&A's costume galleries. Contemplating a dress of pink gazar whose first owner was Ava Gardner, it was almost blush-inducing to realise that the corset stitched into its bodice was not the work of its designer, Cristóbal Balenciaga, but a foreign import ("Lady Marlene, 36C", reads the label). What to think about first? The fact that Gardner had "improved" the work of the master, or the tender notion that when it came to the transformative possibilities of underwear, she was as human as the rest of us?
In fact, Gardner was no stranger to such tweaks. The museum's small but mesmerising new exhibition about Balenciaga's life and work includes several of the pieces it received as donations after his famous client's death (in her last years, Gardner lived nearby, a mere hop from Harrods), among them a full-length lace evening coat from 1964 that she enlivened by attaching ostrich feathers to its sleeves, and a black gazar evening dress and cape, dated 1965, to whose hems and neckline she, or someone acting on her instructions, added artificial flowers.
READ: Why Balenciaga Shaped Fashion
Alas, we do not know what the designer made of these embellishments. But displaying them alongside his original designs, as the exhibition's curator Cassie Davies-Strodder has done, is instructive, for while his client did not precisely ruin them, Balenciaga was indubitably right where she was wholly wrong.
Whatever fashion writers may say about the designer they still revere above all others – "sculptural" is a favourite word – his genius has as much to do with understatement as with architecture. If these clothes have daring, they also come with an unmatchable simplicity. A child could draw their outlines: so sleek, so bold, so unapologetically straightforward.
Balenciaga, who had trained as a tailor, did not start with a sketch. "It is the fabric that decides," he said, of the way he "built" a design.
Such utterances were, of course, on his part rare. This son of a Basque seamstress was born in 1895, when women's arms were still encased in leg o'mutton sleeves, and died in 1972, long after hemlines had risen above the knee (he showed his first couture collection in Paris in 1937, the civil war having forced him to close his Spanish boutiques). Yet in all those years, he gave only one interview (in 1971, to the Times).
Thanks to this silence, there is a tendency – one in which this exhibition indulges just a little – to attribute a certain mystery to him. People see darkness in his devout Catholicism, in his paralysing grief after the death of his partner, the milliner Wladzio Jaworowski d'Attainville, in 1948. Can this be right? I'm not sure. His reticence seems to me to be all of a piece with his work. A dropped jaw, after all, makes no sound. Sometimes, there is nothing to be said but "wow".
But if the exhibition totters through the biography, it strides more purposefully into his Spanish roots, carefully drawing out the influence on his designs of Catholicism, bullfighting and flamenco. I've always seen the matador in his hats, the mantilla in his dresses. But now I was able to grasp the full extent of the pull of the church: here, suddenly, was a soutane, and there, in a flash, was a mozzetta (another reason why Gardner's flowers don't work on her cape).
READ: How Rei Kawakubo Changed the Way We Dress
Unlike the Alexander McQueen retrospective the V&A staged in 2015, the dead hand of commerce cannot be felt here. The clothes on display come from collections around the world: Balenciaga the brand, reborn in the 1990s and now selling trainers by the shedload, has not interfered.
The exhibition, then, is free to focus on craftsmanship and skill, rather than on beauty alone. X-rays are used to reveal the weights in a hem; a 1950 evening coat praised by Vogue for its resemblance to a toga looks that way, we're told, thanks to the manipulation of an internal ribbon.
Upstairs, further displays explore Balenciaga's much-vaunted influence on later designers, from Rei Kawakubo (yes) to Rick Owens and Calvin Klein (in their dreams). But these are a distraction, a frill where there should probably only be a perfect buttonhole.
You want to be back downstairs, swooning after, among other things, the stunning wide-winged cocktail dress from 1967 (oh, that my flesh could just once be skimmed by a construction as immaculate as this). Wandering around, a kind of lustful madness sets in, and it makes you silly as well as acquisitive.
When I read, for the second time, that Countess Mona Bismarck, a client so devoted even her gardening shorts were Balenciaga, did not leave her room for three days on hearing of the designer's death, I didn't laugh. I sympathised.
- The Observer
Share this: