Bali hot spots
You're in Bali: what to do now? From the bustling shopping strip of Seminyak to the cultural mecca of Ubud, we asked a few stylish Bali locals, and frequent visitors, for their insider tips.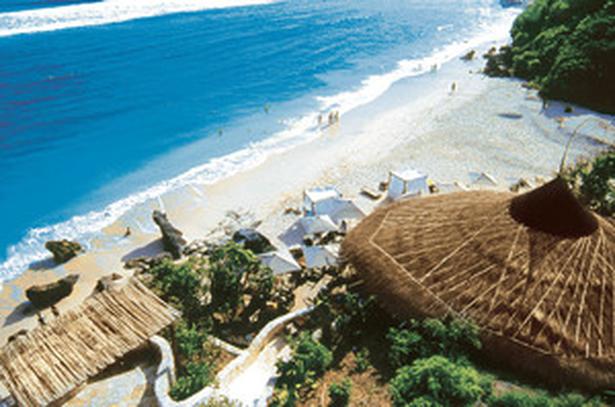 Friday April 13, 2012
PHILLIP DAVENPORT
Wellington-born Phillip Davenport is the corporate executive chef at iconic Bali bar and restaurant Ku De Ta, and has lived on the island for more than four years.
Warung Bambuku: 98 Jalan Sunset Rd
My favourite local restaurant. I think Warung Bambuku, a lunch restaurant, has the best local food in Bali. They have a combination of traditional Indonesian food not just from Bali and Java, but from all over the country.
Sunset at Rock Bar: Jalan Karang Mas Sejahtera, Jimbaran
If you are looking for an amazing place to watch the sunset, Rock Bar is incredible. It is the ultimate romantic cocktail spot - apart from Ku De Ta.
Driving to Amed
The drive to Amed is very special. After an hour's drive out of the Kuta area, you follow the road all the way up the coast with a spectacular view of the mountains ahead, rice fields and rivers on your left and the ocean on your right. It's a four or five-hour drive but it is amazing.
St Regis: Kawasan Pariwisata, Nusa Dua
The Sunday brunch is a great way to spend a Sunday morning/afternoon with family and friends. The quality is very high and seating is limited to only 96 persons. St Regis has the best buffet and breakfast a la carte in Bali.
Summer parties at Ku De Ta: 9 Jalan Kayu Aya, Seminyak
Without a doubt, Ku De Ta's summer parties are hard to beat in Asia. The amount of money and time preparing a venue for these wonderful parties are quite something else.
Day at the beach at the Bukit
There is nothing like taking your loved one for a day at the Bukit. There is a handful of beautiful hotels and beaches down there and the choice is yours: Padang-padang, Bingin or Uluwatu beach. It's a great place to surf or watch the sunset.
JYOTI MORNINGSTAR
Jyoti Morningstar of the label We'Ar splits her time between Waiheke and Bali, where she works with a number of small home workshops and factories in the Changgu area to produce yoga clothing. Her first visit was at age 12, and she started working there about six years ago.
Betelnut Cafe: Jalan Batu Bolong, Canggu
Super-tasty and fresh organic food, great view and decent Wifi. This morning I started with a glass of coconut water and feasted on their breakfast special of perfectly ripened tropical fruit (pineapple, papaya and dragon-fruit), followed by free-range poached eggs on mashed avocado and toast served with their oh-so-delicious signature sambal - roasted tomato and chilli sauce and a mean double espresso. I like the smallness of Betelnut, the cute furniture, the view of the golden ripe rice fields and their awesome little pup called Betel who my dog loves to wreak havoc with.
Desa Seni and The Yoga Barn: 13 Jalan Subak Sari, Pantai Berawa, Canggu; Jalan Raya Pengosekan, Ubud
Desa Seni and The Yoga Barn in Ubud must be two of the best yoga studios on the planet. Both places have exquisitely beautiful open-walled shalas built from natural materials that feel harmonious in the tropical landscape.
The thronging masses of visiting yoga teachers to Bali means there is an abundance of workshops and master classes in addition to yogasmic daily schedules of up to eight different classes, and both places have onsite restaurants with raw food menus as well as more traditional healthy, tasty meals.
The bonus of Desa Seni is definitely the large salt water pool you can plunge into after a sweaty class.
Jari Menari 47 Jalan Raya Basangkasa, Seminyak
For a good massage. They practice esalyn style massage that is both deep and amazingly relaxing. The signature "amber oil" is divine. They have decent showers with their own products - I love the ginger shower gel.
Tugu Beach
Tugu Beach in Canggu has awesome deeper water breaks that are satisfying without being totally terrifying like lots of Bali's better known reef breaks. If it's too big or too small, you can grab a coconut in the morning or charcoal roasted chilli corn at sunset - so good with cold beer at the end of a hot day.
JESSIE WHITE
Designer of the label Shakuhachi, Australian designer Jessie White lives and works in Bali.
La Barca
Low-key, so it's great to drop in at any time from afternoon to night - with great espresso martinis and frozen margaritas.
Ubud
A retreat to the mountains - works wonders to relax, it is so peaceful and tranquil. It soothes the soul!
Echo Beach
Down the road from my house - a great place to meet friends, have a meal and a surf.
ADELE JOHNSTONE
Based in Auckland, where she runs the boutique La Madu with Gaybrielle Binning, Adele Johnstone has been manufacturing in Bali and buying resortwear labels, homewares and furniture from Ubud and Seminyak over the past decade.
La Lucciola: Jalan Petitenget, Seminyak
On the beach. Although this place serves breakfast, lunch and dinner, it would be our pick for breakfast as you can enjoy the beautiful view and the fresh morning air. The atmosphere is that of old Bali and an opportunity to escape the hustle and bustle on the street.
Karma Kandara: Jalan Wijaya, Kusuma
This is a good out-of-town experience, one hour from Seminyak on the Bukit. You arrive to a totally stunning cliff top surprise, then dive into the infinity pool and catch the cable car down the cliff to the private Nammos beach club that provides luxury day beds and matching towels. Wood-fired pizzas and cocktails served all day.
Nur Spa: 28 Jalan Hanoman, Padangtegal
For an old-fashioned traditional Bali massage followed by yoghurt body wash and rose petal bath. Get your knickers off and go to Nur Spa in Ubud.
Prana Yoga: 118X Jalan Kunti, Seminyak
At The Bali Villas opposite Bali Deli in Kunti St is the very well known Prana Spa that offers daily yoga classes.
Mama San: 135 Jalan Raya Kerobokan
A fabulous new restaurant, owned and operated by the people who also have the famous Sarong restaurant. This hip new place has a delicious menu and great interior styling. Booking is essential.
Cafe Bali: Jalan Laksmana, Seminyak
A favourite lunch spot, with great Somerset Maugham styling, food and a cool escape from the madness of street. Ideal after walking the strip shopping. Excellent profiteroles.
Potato Head Beach Club: Jalan Petitenget, Seminyak
Down the road from the very established bar and restaurant Ku De Ta is Potato Head. On the beach, with three different restaurants, it has the best sunset drinks with great international DJs. The architecture is a mix of Asia and 1950s retro L.A. It's a great place to people-watch too!
RICKIE DEE
Co-owner of New Zealand fashion boutiques Superette, Rickie Dee has spent 20 years visiting Bali on a regular basis and loves the constant change. "Amazing new restaurants are popping up each month and I love the fact you can have one day of full on activities or a day of nothing but sun."
Prisoners of St Petersburg: 942 Jalan Laksmana, Seminyak
A great collection of old and new; vintage scarfs, handbags, jewellery and homewares alongside great clothing from Bali-based designers. You can never walk out of there empty handed.
The Corner Store: 10A Jalan Laksmana, Taman Sari, Seminyak
A great cafe and place to stop for coffee and bagels and a spot of work.
Mojo's Flying Burritos: Ubud Main Road, near Tebesaya
For a casual bite to eat. More like sitting in a shack, but has the best Mexican and margaritas around. For a lunch on the go, I enjoy Warung Asia - their rice paper rolls are perfect in that Bali heat. And for more of a fancy meal, you can't beat Sarong.
Andari: Gang Bulan, Legian
It's hard to pinpoint one villa as they are all amazing, but Andari is an all time favourite that we do keep heading back to.
BROOKE FAIRGRAY & SHERNA KNOCK
Aucklanders Brooke Fairgray and Sherna Knock travel to Bali several times a year, where they source leather and oversee the construction of pieces for the accessories label Saben.
Naughty Nuri's: 41 Jalan Batubelig, Kuta
The place we miss most is Naughty Nuri's, a dirty side of-the-road barbecue and warung (restaurant) just out of Seminyak. Their barbecue pork ribs are next level! The wafting smoke from the street barbecue will seduce you in to a finger-liking pork rib frenzy, that is, true to their name, so naughty yet so very nice. Partnered up with a lethal martini and friendly Balinese service, it is a hidden piece of heaven.
La Lucciola: Jalan Petitenget, Seminyak
The best lychee and lime granita can be found at La Loucciola, lovingly nicknamed "La Looch" - a dolls-house looking beachfront restaurant in Seminyak. Stroll along the sand and up over the dune to La Looch and find a perch upstairs to take in the Indian Ocean view while you sip on an ice and fruit blend of goodness. They have a special weekend brunch menu - so make this a Sunday spot to best utilise the breakfast menu.
Warung Kolega: 98A Jalan Petitenget, Seminyak
Eating local can be a risky business, but Warung Kolega hiding under the blue awning on Petinget, is a swarm of locals, backpackers and international businessmen; when the queue is out the door, you know it is a winner! To grab a bite of the local flavours you join the queue, there are a variety of dishes on offer and, in school cafeteria-like fashion - you point to what you want and they load your plate.
Mostly we had no idea what was on our plates, but if you want to play it safe order nasi campur meaning "rice mix". It would be easy to be a vegetarian in Indonesia (Naughty Nuri's aside) - the flavours are so delicious. Each dish and drink has a value and you are given chips which equate, and at the end of your meal you take all the chips to the counter to pay. We had an Indonesian feast with plenty of lemon squash which came to a grand total of $3.20. each.
Bodyworks day spa: 2 Jalan Kayu Jati, Petitenget
There is nothing like a Creambath from Bodyworks day spa in Seminyak to welcome you to Bali. Book in and go straight from the airport. It is 45 minutes of total relaxation. It is a hair treatment and head massage that instantly takes away the aches and pains of working and travelling, moving down your neck and kneading your arms into a massage-induced state of nirvana that will leave you totally zen to embrace your Bali experience.
Prisoners of St Petersburg: 942 Jalan Laksmana, Seminyak
On the main strip in Seminyak is our favourite store The Prisoners of St Petersburg, a wee 3m by 2m explosion of colour, print, and inspiration. An emporium in which we could spend an hour just looking. The owner sources everything on his travels, and has the best collection of original mint condition vintage sun-glasses we have seen. One-off pieces of art, accessories and clothing that are worth every rupiah.
* Check out Viva's brand new Facebook page, the place to find out what's hot in fashion, beauty, food, wine and design.
Share this:
More Culture & Travel / > International