Bali: Swapping the rat race for sunshine and bare feet
A Kiwi weary of the corporate world has radically changed her way of life.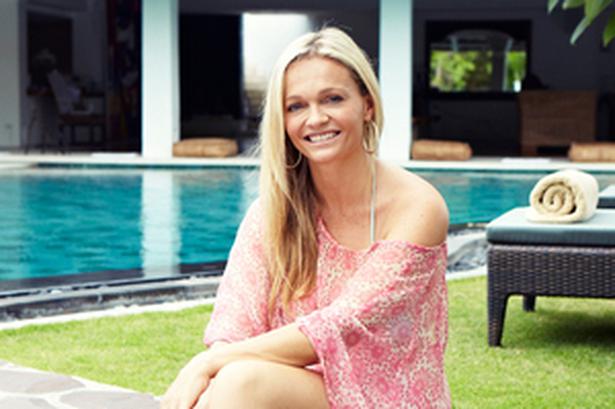 Wednesday April 11, 2012
There are not many people who go to work each day in a flowing silk kaftan and bare feet - but that's exactly what Janine Hall does. As the owner of Surf Haven Bali - an exclusive retreat for women - she glides through her day with an elegant sense of serenity; quietly easing away the stresses of her guests, who have come from all around the world for a touch of rest and relaxation and a whole lot of pampering.
Travel is a wonderful thing. One day you are battling against the rain and wind on city streets, the next you're sitting cross-legged by a pool in Seminyak, Bali, making offerings to the gods. This is exactly how Hall plans it and where I find myself on my first day of her week-long Rejuvenation Retreat.
I have been in Bali for less than a few hours; Hall has ensured I was met with a cool and hydrating coconut drink, before succumbing to the healing touch of master Balinese masseuse Hendra whose firm hands ease away the tensions I've brought with me from home.
From here I join my fellow guests - there are never more than 10 at one time - for a gentle session of vinyasa flow yoga on the lawn in the evening sun.
Any thoughts of work or jet lag slip away as we are joined by a local priest, Nyoman, and priestess, Iluh, for a ceremony where we set our individual intentions for the week. Incense fills the air as we give thanks to the gods with small offerings of flowers and sweets. Hall talks about being present and mindful and this brings me right to the place I want to be - away from the stresses of daily life.
Hall knows from experience how easy it is to let the fast-paced world of work take over your life.
A high achiever, this New Zealander studied marketing in Otago, did a post-grad degree at Waikato University, and then a masters in international marketing which saw her living in Japan.
Her corporate career took off when she was accepted on the IBM graduate programme, before travelling to London where she worked as group marketing manager for the Arcadia Group which owns brands such as Topshop. From there she went to Selfridges as the head of marketing.
"That was a dream job with lots of travel. I was involved in communications marketing, working with all the top brands," reminisces Hall. "I was the classic high achiever. It was only after a relationship break-up that I realised how hard I had worked all my life. I really needed to take some time off and think about what I wanted."
So what does this glamorous career girl do? Joins the crew of a yacht and sails across the Atlantic to Miami and then on to the Caribbean, where she fell in love with island life.
"Lots of sunshine and being barefoot," she laughs, describing its biggest attraction for her.
"After living in the fashion world where it's all about what you're wearing and high heels, it was just good to take my foot off the pedal. Leading a more bohemian beach life really appealed and resonated with me at a much deeper level."
But the corporate world beckoned again and Hall found herself working long, crazy hours for David Jones in Sydney. Again, she took a break, this time heading to Ubud in Bali for a three-week wellbeing retreat.
"At the time something like that was completely foreign to me. I didn't really like the process, the yoga hurt, I felt like a whale having all the hot oil poured over me, it was a strange style of massage, and very unusual food which I had never been exposed to before.
"What I did remember was how I felt at the end of it and that was quite transformational for me. It was a very solitary experience - it gave me time for self-reflection and I thought back to being in the Caribbean and loving the island lifestyle and that concept. [I thought] surely there is a way of joining the two. There must be other women feeling the way I felt - realising that career had always come first, driving yourself at a crazy speed... So that's where the idea for Surf Haven Bali was born."
However the opportunity to head up marketing for The Warehouse in New Zealand was too hard to pass up and another three years went by.
"It was just the same thing, the same pattern," Hall sighs. "It was so easy to fall back into it. And then it just got to a point where I had to do this, because I wasn't fulfilling my vision of this island lifestyle, of having an international community of friends, sitting out under the stars on a balmy evening talking about things that mattered - philosophy, life, love - opening the mind to so many other things."
The only clue to Hall's previous life as a high-flying career woman is the spreadsheet I am handed on my arrival in Bali.
On closer examination it's a timeline and, fortunately, the only deadlines I have are when to turn up for my spa treatments, yoga classes, guided meditations or meals. Delightfully this programme considers everything a woman - whether travelling on her own or with friends - wants to do on a holiday: lots of lounging around the pool, eating healthy organic food over long lunches, shopping, gentle excursions and plenty of pampering.
This includes almost daily visits to nearby Bodyworks; a spa that offers everything you can imagine and beyond when it comes to pampering. Highlights include the traditional Mandi Lulur exfoliation massage where the body is painted in a paste made up of turmeric, sandalwood, cinnamon, ground nuts and rice. It is then gently massaged, washed, coated in fresh yoghurt, washed again, and then you are left to soak in a fragrant flower-filled bath.
Another day we all have our nails painted and receive a L'Oreal Spa Creambath for the head which leaves us looking super glam and glossy for our outing to drink cocktails at the chic Potato Head Club on the beach. It's details like this that Hall knows every guest will love.
Since she set up her business in March 2010, more than 320 women have passed under the soaring ceiling of her luxurious Balinese villa.
"Originally we started out with just surfing, but we've realised how important the rejuvenation factor is."
Throughout my stay lean and supple yoga instructor, Australian Amanda-Jane Williams, takes us on a journey of self-discovery with a range of styles. We do flowing vinyasa, kundalini, yin yoga, pranayama breath and meditation, power flow and radiant heart yoga.
On the first day I find myself crying quietly at how stiff and unyielding my body is. You used to be able to do this, my inner voice calls out. What has happened to you?
By day three, I am glowing with satisfaction and warmth. My body feels supple, strong and, well, more feminine.
I am amazed that by letting go of so much pressure and stress my body can respond so quickly.
Diet is also key to wellbeing and this retreat acknowledges the joy of food - good, healthy food. Every meal is a celebration: tables are set beautifully, the presentation of each dish is a work of art, and the array of flavours on offer makes it difficult to hold back. The focus is on organic, seasonal food. Most is gluten-free, dairy-free and vegetarian. All is delicious.
Another member of the villa team is the relaxed and easy American Lisa Esposito who drops by most days to take yoga and mediation lessons and to hold a cooking workshop. Here we create a menu based on raw foods whisking up dishes such as pineapple and cucumber gazpacho and a raw chocolate torte with a nut and coconut crust.
Another day, we head to the cool calm interior of the island and Ubud where we eat a vegetarian lunch at Sari Organik - a restaurant which sits on stilts in an organic garden in the middle of the rice fields - before getting off the beaten track on a bike ride that takes us through small farming villages.
"One of the most important lessons I've learned from the Balinese people," shares Hall, "is if I'm not in the moment I miss things. If you get caught up in that busy to-do list or multi-tasking in your head you miss out on so much and I think that's such a big contributor to personal happiness. The Balinese look at life as a celebration, rather than a challenge or a hardship to be conquered. It's seen as something to embrace and not be too serious about. So there's a lot more laughter here than in my former corporate life."
Amanda Linnell was a guest of Surf Haven Bali.
* Check out Viva's brand new Facebook page, the place to find out what's hot in fashion, beauty, food, wine and design.
Share this:
More Culture & Travel / > International