Bali: Yoga paradise found
On yoga retreats in Bali, the emphasis is on relaxation, surrounded by lush landscapes and luxury.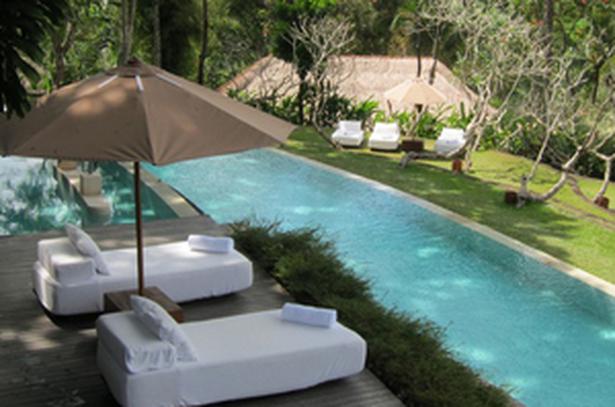 Monday April 16, 2012
I wake to a miniscule, rustling vibration just outside my window. Peeping out into the sunrise, I find there's a beautiful boy on my porch, and he's flicking water over some fresh flowers and knitted leaves on a shrine beside my front door.
It matters not whether I'm a believer, this is Bali and the local and ancestral spirits of my house must have their first ceremonial appreciation of the day.
The boy tiptoes away, and I'm left to make sense of a fairytale dawn. Instead of just a room, my partner and I have an old teak Javanese meeting house - one that's been brought, plank by plank, from Bojonjero. It looks like something from Tolkien, all pointy roofs and scalloped balconies. Beyond our verandah there's an exuberant vegetable garden, hedged with crimson passionfruit and unfeasible flowering trees.
Our furniture is a collection of Indonesian antiques. We've unpacked into a 1920's armoire; our bedhead is intricately carved from a Toraja rice storage house circa 1800; our bathroom is open to the sky, has its own grove of ginger plants and a stunning panel from Nias, depicting the rites of manhood.
Through the shutters, I hear distant instructions to salute the sun.
Desa Seni is an antique-lover's folly, an organic arboretum and one of Bali's best yoga places. If you stay here, it's tempting to lounge by the saltwater parallelogram pool, eat fresh-picked goodness, and stare across the rice paddies beyond. It's delightful to doze among sculptures and endless cut flowers. Fortunately the yoga here is compelling too - the programme of classes varied, the teaching strong.
Local yoga aficionados flock to Desa Seni. Classes are pitched for yoga lovers, and I relished five seriously good teachers of five different forms. We had a pacey Anusara teacher from New York, who managed to express spiritual concepts with lashings of contemporary humour. A Chilean Vinyasa teacher took me to the very edge of my flexibility; and beyond my mat, purple basil and spinach gardens promised breakfast in a comfortable antique daybed before too long.
The waiters look me in the eye and call "hello, Miss Rosie" as I pass. Where service is this attentive, there's often an undercurrent of servility. But here, staff attend special yoga lessons, and school parties sometimes use the shady meeting house.
Gardeners clip and pick around us in full view. Wearing stylish uniforms and carrying handsome woven baskets (never an unsightly plastic wheelbarrow or a noisy machine) they are part of the scene.
I adore the crazy unique antiques, inspired cooking, fresh flowers everywhere and challenging yoga. Other places boast "exclusivity" but ultimately, this inclusiveness makes Desa Seni feel wonderful - an exceptionally elegant yet integral little ecosystem in which to replenish and rebalance.
Stepping forth into the cocktail-and-shopping frenzy of Seminyak is a shock. Can there ever be enough people to buy all those giant stone fake-antique lions? Pollution, traffic jams and tourist crowds threaten to consume the west coast.
Seeing our horror, Eka, our driver, steers us towards Amed, the quieter east coast. Inland, traffic disappears and acid-green paddies cloak the hills.
Pointy roofed temples peek out above every compound wall. Clouds reflect between vibrating tendrils, and paddy-boundaries trace the contours so closely that farming moulds intimately with the land.
In rural Bali, villagers live in constant devotion to their Hindu gods. Twice in one afternoon we encountered processions. Gamelans rang out, women carried stacked offerings of paper art, roasted chicken and flowers on their heads. We even joined a community processing to a beachside cremation. Clearly, frequent ceremonial contact matters at least as much as addressing earthly issues like road repairs and pollution. Far from the sullied tourist centres, Bali's famed reverential harmony is exquisite to behold.
We eat in a ramshackle workers' cafe, impressive in its intense use of spices, none too clean. Driving on through a forest of dark spiky palms, Eka stops to pick scaly, brown orbs with armadillo skins. "Snakefruit" become my new favourite exotic food.
Amed is low-key and peaceful. I snorkel, my partner reads and watches the peculiar fishing boats from our rocky beach.
Nothing prepares us for the imposing grandeur of Como Shambhala. There's a lofty white-marble threshold and then one's in a rarified, thoroughly exclusive other world. Our butler, Ningshi, leads us past a grid of cooling pools, formal plantings, and minimalist spa buildings. At the hill's crest, we step through an ornate stone gateway and suddenly the land falls down to lush river gorges, both left and right. On this auspicious headland, a sybaritic estate was built by a British jewellery tycoon 150 years ago.
Como hotel group has adapted this grand old place into a modern temple to the twin gods of luxury and wellbeing. We are shown across a moat of koi carp to one of five private residences.
There's 96sq m of panelled bedroom, 100 stems of orchids, an oversize four-poster bed sporting the finest linen my skin has felt. Our indoor bathroom opens to an outdoor courtyard with more bathroom and pool-sized stone jacuzzi under flowering trees. Below, we have a long infinity pool to ourselves.
For those on fitness and detox missions, there are mountain bikes, tennis courts, yoga, Pilates, endless massages. All are in swish, state-of-the-art studios dotted around the 9ha. We join a hydrotherapy class, skipping in currents from eight jetbeds, which are supposedly stimulating different meridians.
Afterwards, we're wrapped like mummies on loungers - we've used six fresh towels before breakfast. The teachers are sexy, their classes geared for newcomers - perhaps designed to seduce debauched stars and reluctant business magnates into a more wholesome life.
Certainly, discretion is the name of the game. We wander lichened stairways throughout the grounds, seeing almost no one. Our favourite hang-out is a crystal-clear mineral water pool fed by a holy spring.
We dawdle in curtained bales hidden in glades, on loungers beneath jacarandas and wherever we go, iced water and fresh white towels appear as if from nowhere, without a word.
Como Shambhala's restaurants are an inspiration to eat well - or even raw. Extravagant ingredients are laced with Asian zings like ginger, live sprouts and fern tips. Cooking is clean and lean: steaming in leaves or griddling. Tastes and textures are sublime.
If you're on a diet, a special, edited menu will appear, so there's no experience of deprivation. There's no question of unfolding your own napkin. Everything is impeccable.
Swathed in sensory pleasure time-consciousness slips. When our meanderings promise to delay lunch, Ningshi appears, suggesting she'll postpone my massage appointment. She pre-empts every need, finds us wherever we are, and organises everything. I conclude that I need a butler in ordinary life.
One afternoon, we ask for a car to nearby Ubud. It's a fabulous town, full of ancient buildings, creative enterprises, amazing shopping. The Como Shambhala staff say pityingly "you have to go out?" as though it is hardship.
For us, the forms of delight in Bali were so many and various, the only hardship was going home.
YOGA RESORTS
Desa Seni (near Canggu): Antique houses between US$165 to US$385 (house sleeps 4), includes multiple yoga classes daily.
Private driver Eka Merta Sedana (or his brother) charge 450 rupiah per day: mrtsdn@yahoo.com.
Como Shambhala (near Ubud): Rooms from US$500 a night including breakfast and some health activities. Full board packages with three to seven nights targeted wellness programmes from US$3705 a person.
* Check out Viva's brand new Facebook page, the place to find out what's hot in fashion, beauty, food, wine and design.
Share this:
More Culture & Travel / > International