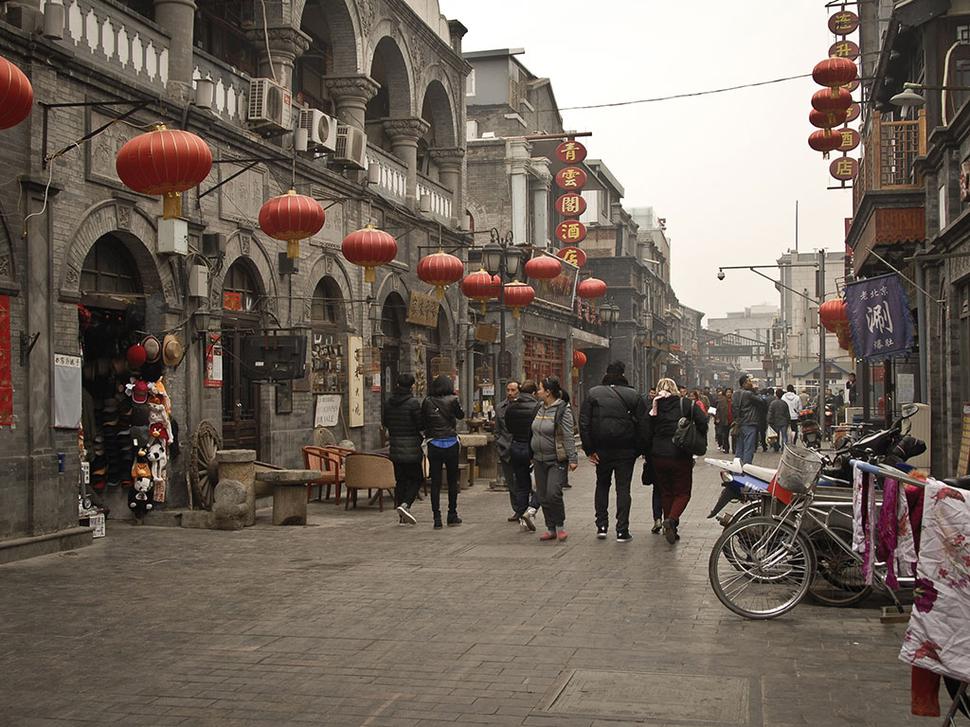 Dining out in Beijing
There's so much more to eating out in Beijing than the obligatory feast of Peking duck
Thursday April 9, 2015
Hong Kong is considered China's culinary height, Shanghai has the bright lights, but Beijing — mostly toured for its historical landmarks — is well worth a good graze. Befitting its capital city status, there's a range of regional cuisines and showy signs of an international influx but, handily, snack foods are a local specialty.
Private dining rooms are popular with powerbrokers after a Communist Party crackdown on conspicuous consumption at official functions. That still leaves more than 40,000 licensed restaurants and plenty more unofficial ones to choose from.
A food tour is a great way to gain kilos and perspective. In just one day I had numerous nibbles and two especially memorable meals. None involved Peking duck — the usual calling card for cuisine in the capital.
The first meal was a food challenge in a respected specialty tripe shop, where I sampled beef innards of an aroma and consistency that required a cast-iron constitution. The Muslim hosts at Baodu Man (Mr Man's tripe restaurant) were so welcoming it would have been impolite not to have had at least a nibble of what looked like shredded bike tyre.
This flash-fried rubbery black stuff was nothing like the sloppy white tripe I remember stewing on granny's stovetop, but, to me, it was equally unappetising. Once it was doused in sesame sauce and coriander I could get it down, but others on the wander of an inner-city hutong [neighbourhood] were less game.
That evening, tucked in the narrow back streets near the Forbidden City, another vista of dining in Beijing was revealed beyond a gated high wall. The courtyard of a 900-year-old former Buddhist temple is now winged by an art gallery, a boutique hotel and the minimalist high-style of Temple Bar and Restaurant. With its modern French menu, this restaurant is truly international, down to New Zealand sauvignon blanc.
The swishy space attracts an affluent mixed crowd for degustation dining that includes suckling pig and olive oil-poached black cod. For an affordable entry point book for brunch.
Temple Bar & Restaurant is one of the recommendations that the centrally located five-star Peninsula Hotel Beijing offers its guests. Another equally stylish choice is Duck de Chine, which boasts its own Huang Ting restaurant, with renowned dumplings.
In the elegant purple-tiled interior, crispy skinned duck is supplemented with seafood and fresh greens and innovative takes on traditional food, such as baked wagyu and truffle bun dim sum. Spicy fried bullfrog and sea whelks are a la carte options, but the set menu, which costs about $100 for appetisers, five mains (including the signature duck dish) and mango pudding is an approachable introduction to the finer side of modern Beijing fare.
For something cheaper, the licensed night food stalls a few blocks back along Wangfujing Rd, will fill you up for a few dollars, plus you can take snaps of the scorpion and starfish skewers to show the folks back home. Among the mostly Chinese customers at the stalls, few were buying bugs, rather more ordering tripe similar to that I had struggled with earlier.
On the food walk, I learn from our host, American-educated Adlyn Adam-Teoh that Mongolian hotpot dishes go down well in Beijing as do spicy Sichuan-style cooking and braised dishes. Seafood is less of a feature.
South of the Yangtze River, much more rice is eaten, but here, in the colder north, it's millet and grains and food is generally saltier, with condiments typically vinegar and chilli oil rather than soy sauce.
A good spot to sample the authentic side of Beijing eating is in a local cafeteria. These no-frills establishments originated to feed workers cheaply, but are now mostly privately owned. Grab a tray and order at the counter, with food photographs to point to.
My visit to a cafeteria on Hu Guo Si Da Jie (Food St) was made easy by Adam-Teoh selecting, starting with sesame flavoured porridge, a traditional breakfast fare, with salted root vegetables and pickles. Less popular among the younger generation, she says, is fermented mung bean porridge. We try a tasty bowl of tofu and mushroom and moreish little pancakes with a carrot filling, followed by slices of courgette omelette.
A selection of glutinous sweets, of the type once devoured by Empress Cixi, follows. There's a yellow pea cake and the evocatively named Donkey Falls Over, a red bean paste patty dusted with soya bean powder. A non-sickly doughnut is reminiscent of choux pastry.
From the cafe, a meander through side-street food stalls and specialty shops ends at Si Huan market, with its array of unfamiliar vegetables. One-thousand-year-old eggs turn out to have been preserved for about a month. Across the street, stands sell sesame biscuits, another snack-happy local specialty.
My favourite find was a bargain of old Beijing. For loose change you can buy a popular, delicious yoghurt drink. It is sold in a small earthenware bottle, with a paper label of a cow's head, attached by a rubber band. Sadly, the bottles, which are recycled from stores like glass milk bottles once were in New Zealand, are set to be replaced by plastic ones.

• Janetta Mackay travelled as a guest of Cathay Pacific and The Peninsula Beijing. Cathay, with Dragonair, offers a daily one-stop service from Auckland via Hong Kong.
Peninsula Beijing room rates start at $342, with dumpling-making courses and food walks bookable.
Eat: Temple Restaurant Beijing and Elite Concepts for Duck de Chine. Hias Gourmet culinary excursion details.
Share this:
More Culture & Travel / > International