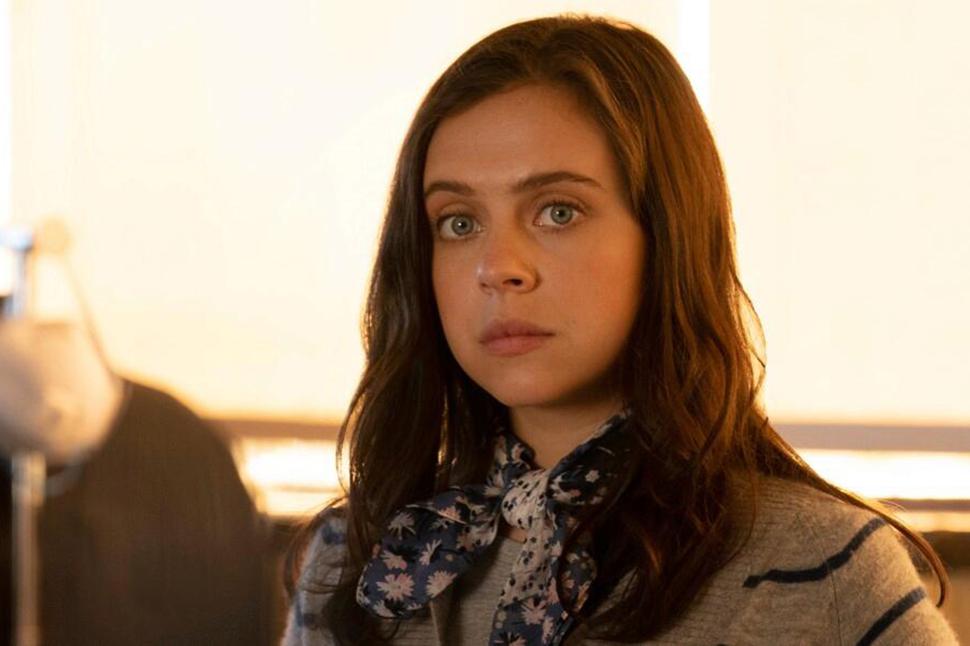 Bel Powley On Hook-Up Culture & 'Everything I Know About Love'
The actor steps into a new role in Dolly Alderton's memoir turned warm, funny and wincingly accurate TV drama about female friendship
Tuesday June 14, 2022
"I'm definitely the organised, angsty, anal, nervy one," says Bel Powley, "and she's the brave, free [one]."
She is talking about her real-life best friend, Lola, and how their relationship mirrors the 30-year-old actress's new BBC drama series, Everything I Know About Love — which presents female friendship as something deeper than the most soul-stirring romance.
It's certainly not the first show to mine the intensity of female bonds. Powley cites Lena Dunham's Girls as feeling "really true to us as women", though she notes that the sex in Dunham's show is "really dark".
Recent high-profile adaptations of novels such as Sally Rooney's Conversations with Friends and Elena Ferrante's My Brilliant Friend have also explored the ­element of toxic co-dependency.
This new drama, in stark contrast, firmly bucks the trend with its sunny, celebratory tone. It's more like a Bridget Jones for the 21st century: a chaotic trail of bad dates, temp jobs and boozing, but always finding the relatable humour and heart in that journey through early adulthood, in which lovers come and go, but friends are the rock.
Everything I Know About Love is based on The High Low podcaster and Sunday Times columnist Dolly Alderton's popular memoir. Powley plays Birdy, based on Alderton's real-life bestie, Farly. Alderton becomes Maggie in the series (played by Emma Appleton); Powley equates that character to her own best mate, Lola. Yes, there are more aliases to juggle than the average le Carré novel, but stick with it.
Powley, who chats to me over Zoom from Vancouver, seems like a natural fit to play Birdy: bubbly, warm, eager and endearingly polite. She's just come off a night shoot and apologises for jumping up to get a second cup of coffee ("I've already had one cup, but it wasn't enough!"). She's shooting an indie movie, which takes her back to her breakthrough, 2015's The Diary of a Teenage Girl, "which we made for, like, a million dollars in 20 days".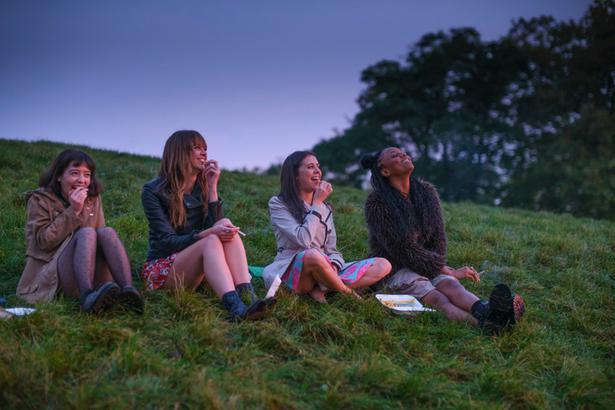 That film won Powley a part in the BBC thriller Informer, and then her big Hollywood break, starring opposite Pete Davidson in Judd Apatow's The King of Staten Island. This year's batch of high-profile projects should propel her to stardom, with two very different, big-budget American TV series on the go, as well as her captivating turn in Everything I Know About Love.
It was Powley's bosom friend, fittingly, who introduced her to Ald­erton's funny yet bracingly honest book. "I was doing a play in New York, and Lola came to visit me and we had the best weekend ever, and she said, 'I've just read this amazing book, I'll leave it here for you,'" she recalls. "I remember thinking, 'If this ever gets made into a TV show or a film, I want to play [Birdy].'"
The character's neurotic time-keeping definitely hit home. "When I was younger, I got to auditions like an hour and a half early, and was just outside reading my lines over and over and over again," laughs Powley. "I find spontaneity really difficult — it makes me anxious. I like to know what's going to happen. I've never been one of those people who can just get on a plane and go somewhere."
Birdy is one of a 20-something quartet who move into a decrepit pile in Camden in 2012. At the start of the show, she's never even had a boyfriend. Then, while her millennial housemates experiment with newfangled dating apps such as Tinder, she meets a guy the old-fashioned way — in real life — and plunges into a serious relationship, to her childhood friend's horror.
"They love each other deeply and know each other truly to their core," explains Powley. "But when you're a teenager, your best friend is your whole world and you base your identity off each other. Then, as you're catapulted into adulthood, suddenly there are these external influences: your love life, your job. They're struggling with that and they drift apart, which I don't think is uncommon. It exposes their differences."
Like Birdy, Powley has "never been a big 'dater'. I've never been on a dating app." Last year, she got engaged to actor Douglas Booth, whom she met filming the movie Mary Shelley in 2016. Her current workload means it's not wedding time yet, but she's looking forward to "getting into planning mode".
She and Birdy also share Jewish heritage, though Powley likes that it is a side detail in the show. "We've had so many great shows like Unorthodox or Friday Night Dinner, but just having a Jewish character in a story that's not about being Jewish is quite a new thing for me."
Did Birdy's guilt-tripping mum ring true? "One hundred per cent! I was just FaceTiming my mum and I said, 'I'm going to lunch with so-and-so', and then she ended the conversation with, 'Make sure you eat.' I'm going to lunch, you don't need to tell me that. She said, 'Well, darling, when I'm dead and looking down on you and you're telling your daughter to make sure she eats, I'll be laughing at you.' I just thought, 'That's the most Jewish-mother thing to say.'"
READ: All Hail 'Triangle Of Sadness', Ruben Ostlund's Stinging Class Warfare Comedy
The big talking point will be the show's depiction of casual sex. ­Louise Perry's new book The Case Against the Sexual Revolution has sparked a furious debate by arguing that women have lost out in our liberal, permissive, hook-up culture, left increasingly vulnerable to rape and rough sex, and, unlike men, seldom satisfied by one-night stands.
However, the show offers a racy rebuttal with its memorable Tinder date montage; these girls, at least, are having fun. "Because of the way my brain has been conditioned, my internalised sexism, when I first read that I thought, 'Ooh, that's going to be quite seedy and dark,'" admits Powley. "But it's so joyful. You're watching these young women explore and enjoy themselves. That's not something we've seen much on screen."
She also loved the nostalgic pleasures of Alderton's early 2000s world, from the Made in Chelsea spoof — "I used to watch it all the time" — to the costumes. "It really took me back," Powley exclaims. "The Kate Moss for Topshop line — Birdy wears two dresses from it and I owned them in real life. I was sending pictures to my girl friendship group, and they were like, 'Oh my God, these outfits are so triggering!'"
Wearing a striped halter top during our chat, her brown hair in a loose bun, the fresh-faced, blue-eyed Powley — who peppers her sentences with "likes", "oh my Gods" and animated expressions — could be her young character, except she has much more confidence and resolve. That came with turning 30: "I spent my 20s working it out, getting to know who I really am."
That translates to work choices, too. She did several projects in the past that "I felt maybe I should, or someone else told me to." Now, she says, she's not scared to turn things down. "For women, it takes longer to learn to say no. You grow up constantly trying to please everyone."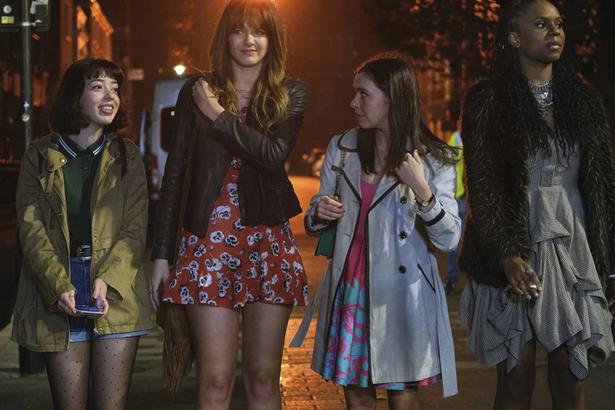 What about when something is less well received, such as Apple TV+'s £12 million-per-episode — but largely derided — flagship drama The Morning Show? "That was a really incredible experience for me," states Powley. "I'd never worked on a big American project with these big-hitter actors before."
She describes Jennifer Aniston and Reese Witherspoon as "complete powerhouses. They were hands-on producing the show and obviously they're the leads in it." As for the critical response, she never reads reviews. "I try to stay away from that s***," she says wryly. "Whether what people are saying is good or bad, it's going to be damaging for me knowing either."
Powley grew up in Shepherd's Bush with a casting director mother and an actor father, Mark, best known for The Bill. Acting didn't feel glamorised; it was just a job. "But I guess subconsciously it influenced me," she admits.
Powley never went to drama school, so ­theatre was her training, she says, such as doing Tom Stoppard's Arcadia on Broadway. She would love to tread the boards again. Until then, she'll be all over the small screen, starring in the Disney+ series A Small Light, in which she plays a courageous Dutch woman, Miep Gies, who hid Anne Frank's family from the Nazis.
READ: 'Nine Perfect Strangers' & The Rise Of The Twisting, Eat-The-Rich Mystery
She has also just finished another Second World War tale, on an even grander scale. Apple TV+'s much-hyped series Masters of the Air is a sequel to Band of Brothers, produced by Tom Hanks and Steven Spielberg, and one of the series' directors is Cary Joji Fuku­naga, who helmed the latest Bond film, No Time to Die.
"In terms of scope, it's one of the biggest shows I've ever worked on — like the gadgets they have, because it's all about the air force, they have crazy stuff," says Powley. She plays a British spy, "which was really cool".
The only downside to being so in demand is that she isn't home for the Platinum Jubilee — though she actually played Princess Margaret in the British film A Royal Night Out, featuring the young princesses sneaking off to join the public's VE Day celebrations.
Powley describes Margaret as "the funny one, for sure". Just to twist the knife, her fiancé, Booth, is going to be in tomorrow's Platinum Jubilee Pageant, sighs Powley, "and I'm going to be here working. I'll have to go off social media for the weekend because I'll be really jealous!"
The Daily Telegraph
Share this: