Sails Force: Benedikt Horber Is Making The America's Cup An Exciting Spectacle
The marketing executive and keen sailor looks after Prada Cup's key sponsors — and if there are VIPs to be hosted on the water, he's there to ensure they have an experience to remember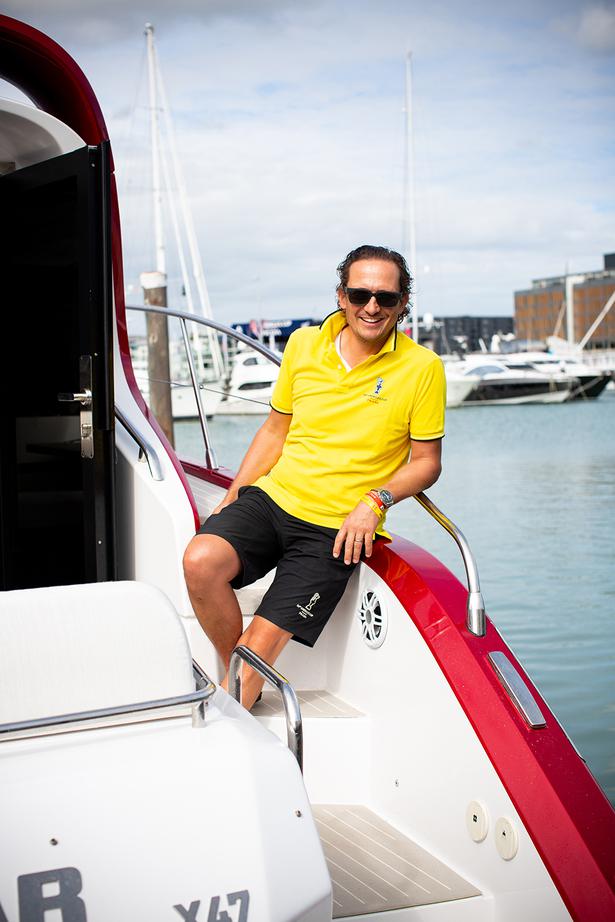 Saturday March 6, 2021
"We have two kinds of guests, the corporate guests and the sailors — and they're all excited to be out on the water. You know the sailors straight away, you see it in the way they're dressed. Popular questions I'm asked are, 'What's the wind speed today?' and 'When do we start lunch?'
"You have to know what you're talking about while also respecting people's privacy — they've been invited to have a lovely day in the Prada hospitality programme, so it's about finding a balance between engaging with them and giving them freedom.
"It's always satisfying when they give you a big hug and tell you they've had the best day of their lives.
READ: Viva's Comprehensive America's Cup Cheat Sheet
"I've been doing this since 2005. I started in Valencia, then was sent to San Francisco, Bermuda, then Auckland — it's been an interesting journey.
"You have to be open and like talking to people. I feel very privileged to interact with the customers for one of the biggest fashion houses in the world.
"I am interested in fashion but I don't have to think about it here because we wear the team gear: black trousers, white shoes and yellow polo shirts.
"Home base is Germany, close to Munich, where I run a marketing agency. You can't rely only on the America's Cup since it has no consistency.
"Race day is the best place to be in the world. But there's also a lot of office work in the background: making sure the service works, the spectator boats are catered to, checking the food quality.
"I started sailing at age 6 and in Europe I'm involved in Dragon sailing; nearly every one of my colleagues is a sailor.
"I consulted for the first German America's Cup's team and was hired by Oracle Racing for three campaigns, always working on the team/racing side.
"This is my first time on the event side. It's interesting — with the team it's more of an emotional roller coaster as today we represent all the challenging teams. Of course my heart beats for Luna Rossa Prada Pirelli.
READ: Meet Paloma Gomez, The Fashion-Forward Creative Making The America's Cup Chic
"I haven't had a chance to go sailing in Auckland but I'd like to get my kids into an Optimist to give them a feel for it.
"I started working on the Prada Cup two-and-a-half years ago and arrived here with my family in December.
"The place we're living in is next to Peter Gordon, who was fun to meet in the elevator. My wife asked him, 'Where do we take the trash?' He was very polite and showed us around.
"Now we visit his restaurant, Homeland, regularly. We've tried traditional New Zealand dishes such as paua, interesting Māori dishes. Or we go to the Royal New Zealand Yacht Squadron.
"It's interesting, flying all around the world for 36 hours and feeling at home.
"New Zealand is not as exotic as I thought. I thought the world must be a different place but here we could be in Europe; it doesn't feel strange or foreign.
"People are so open-minded and casual and friendly. Two weeks ago I asked someone I had just recently met, 'What do you do on Waiheke? I want to take my family there.'
"They said, 'Take my house, here's the key.' That would hardly happen in Europe!"
Share this: