5 Unmissable Adventures To Have This Summer, According To Outdoor Lovers
Coast along a cliffside, head to the river - creatives detail time spent in Aotearoa's lush backyard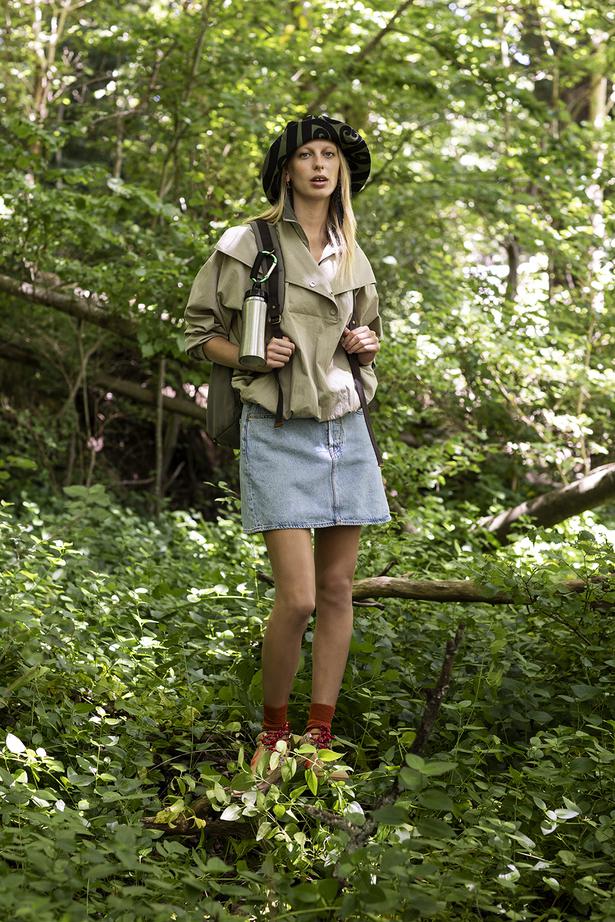 Sunday Dec. 26, 2021
River escape
Broken Hills, Hikuai
Recommended by Gareth Hemmings, designer and founder of Beach Brains

Anyone that heads to the Coromandel beaches for summer passes over small streams and rivers on their way. I'm normally at the beach chasing surf with friends but if a flat spell turns the Pacific Ocean to a saltwater lake we have a second option. We head inland, away from the crowds and heat. My friends and I will follow goat tracks up rivers that we've found on Google Earth. Looking for sheltered sandbanks, overhanging trees and deep pools.
One of our favourite river escapes is accessed by heading up the gravel roads in the Broken Hills, behind Hikuai. Only 10 minutes from Tairua or 25 minutes from Whangamata. There are marked tracks that let you wander up the various rivers and if you have a tent or a camper the DOC campsite is a low-budget place to stay. Just remember insect repellent.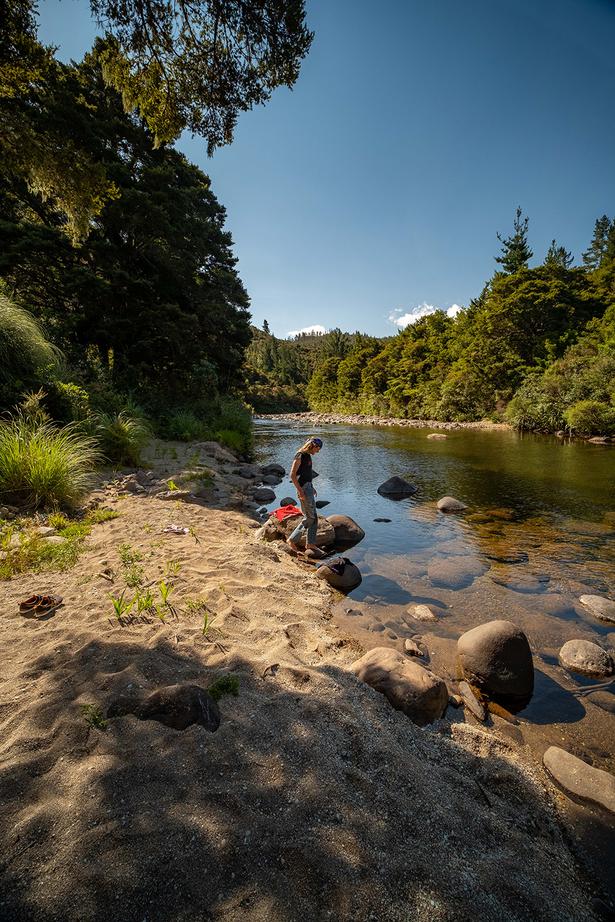 Pancake Rocks
Raglan
Recommended by creative and photographer Rob Tennant

I spent a weekend in Raglan in February and it was such a calm and creative town. There are these beautiful rock formations called Pancake Rocks which require you to rent a kayak and cross the estuary. We actually went at low tide and got stuck in the middle of the water and had to carry ourselves to the deeper part, but once you get to these rocks, it's a pretty incredible spot.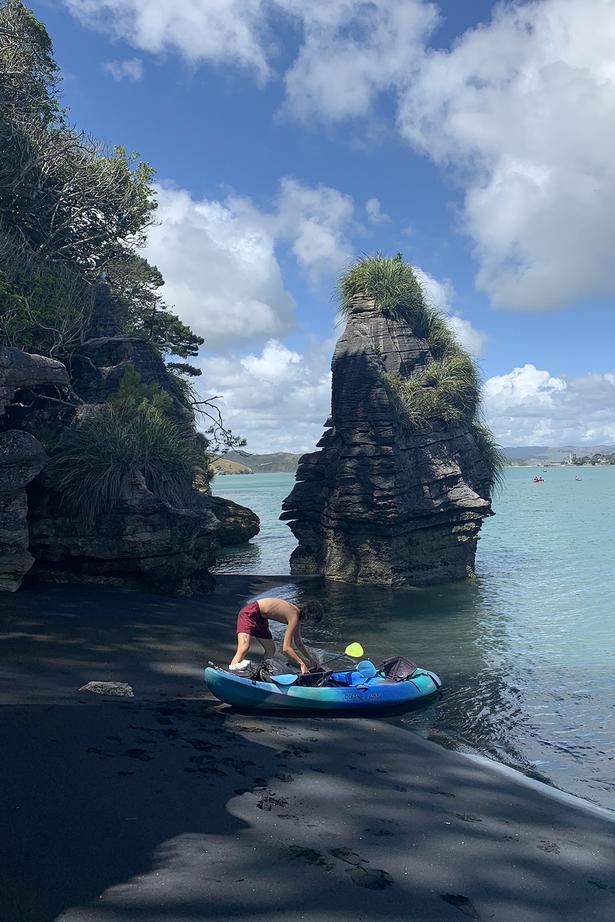 From Fletcher Bay to Waikaway Bay
The Coromandel Peninsula
Recommended by Waves Vintage founder Helen Young-Loveridge
After the social overload that comes with working pre-Xmas retail and trying to fit in all those catch-ups before the year runs out, I like to take my trusty steed, the Deliboy, for a little one-on-one camping time to reset my mind before the New Year. I think consciously blocking out time to spend alone with your thoughts occasionally is really important to do in a world filled with constant connectivity. The last couple of years I've headed up to some DOC campsites towards the top of the Coromandel. There are quite a few dotted around the coast, all a little different and special in their own ways.
Fletcher Bay, at the northernmost point, is incredible, though a bit of a hairy drive along a 1 1/2 lane gravel road along a cliffside, so be ready to concentrate and make sure your vehicle is fit for a bit of a mission. The payoff is a multi-zone campsite, right on a small stony beach, and the ultimate key feature — no cell phone reception. I like to take a couple of days to read, swim, cook, look at the stars, and recalibrate the programmed inclination to constantly pick up your phone that comes with doing business digitally. Put it in the glovebox for the whole trip — you won't need or want it.
Further south, on the east coast of the land, Waikawau Bay is an excellent starter for a trip like this. The drive is much more straightforward and the campsite is set back from a long, pristine, white-sand beach, sans any buildings along the coastline. This site has a small store for basics, so you're covered if you forget anything key, need ice, or get a hankering for an arvo icecream. This time of year the sites are pretty packed out, but there's usually room for one at short notice if you call and you're flexible on dates — the benefit of cruising solo.
READ: Great Beach & Coastal Walks Around Auckland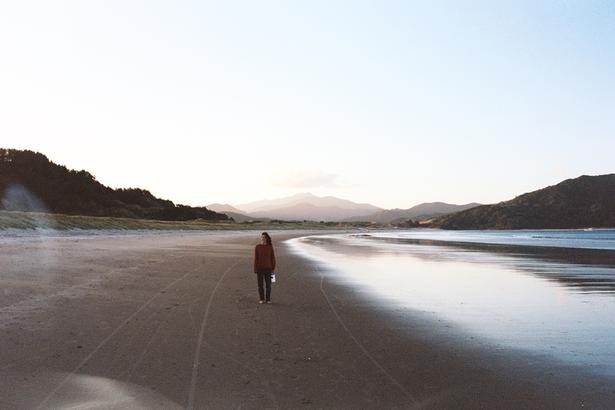 Piha
Recommended by model and surfer Dune Kennings 
Piha is one of my most favorite places. I feel lucky to live in such a beautiful small town and how it has so much to offer. You never run out of things to do in nature's playground, whether it's hanging out on the beach with your mates, or going out for a surf or two while having a beach day.
If the beach gets too hot you can go for a walk on the tracks and swim in the freshwater streams to cool off and refresh. It's got so many rad viewpoints to look out over the ocean and watch the sunset to end the day. Awesome place if you want to feel connected to nature.
Octopus Bay
Onemana
Recommended by Idae founder Meagan Evans
A beautiful cliff-top walk with views of the surrounding ocean and islands through peeps in the trees as you make your way to — what can sometimes be your own private bay — for a swim. This beautiful walk is the perfect distance, only about 40 minutes each way and is well worth the swim at the end!
I have so many special memories here with family and friends as this is always a must-do when we have people staying. Pack a picnic lunch, togs, towel and something to keep hydrated and you are sure to have a relaxing day.
Share this: