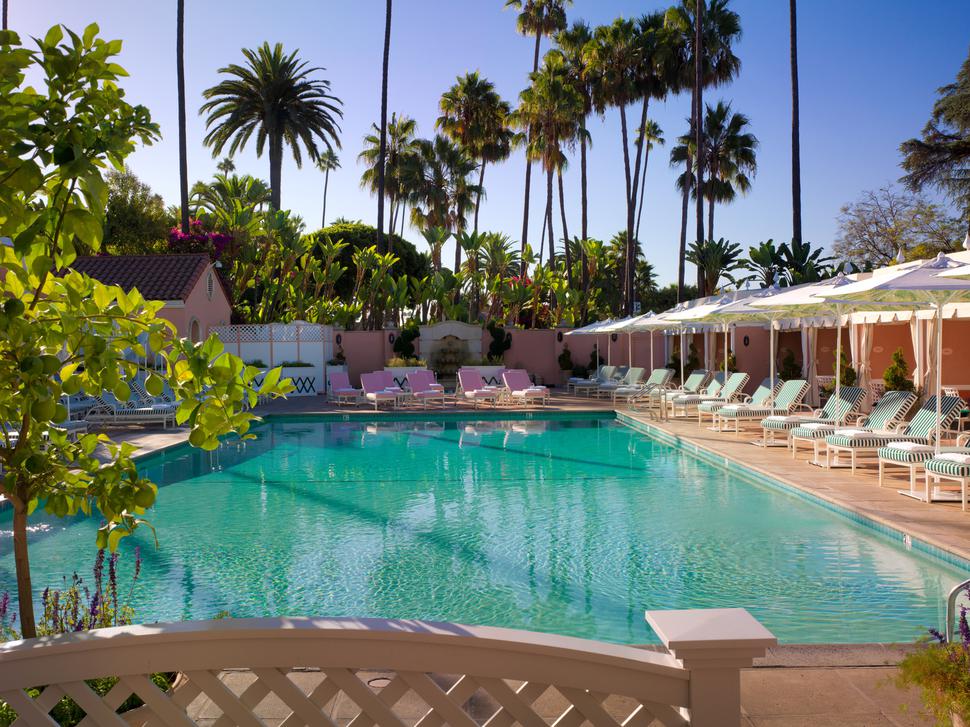 Beverly Hills, City of Luxury
Beverly Hills knows a thing or two about old-world glamour, discovers Jessica Beresford
Wednesday July 6, 2016
"I haven't had surgery," insists the peppy yoga teacher, pointing at her bare midriff before launching into a particularly technical pose, a long loose braid falling around her shoulders. To conservative ears that may sound like an obvious statement, but in the ostentatious city of Beverly Hills it's an all-too plausible reality.
Limber Yogi excitedly continues, explaining that she's had two children (anticipating gasps of surprise) but has needed only yoga to keep herself in California shape. Although her figure certainly is something to gloat about, it's her personality that's most impressive — attentive and enthusiastic, with the kind of energy one gets from having a few too many vinyasas.
She's wearing a white sports bra and Lycra tights printed with green banana leaves, the same pattern that lines the walls of The Beverly Hills Hotel, where we're enjoying an early-morning poolside class. In terms of places one can do yoga — a cramped living room floor, a sweaty inner-city studio — this candy-walled hotel with complementary striped pool chairs and towering palm trees certainly reigns supreme.
But the Pink Palace isn't renowned for its exercise classes, nor its kitsch decor, really. Like many of the establishments in Beverly Hills, bragging rights come from who goes there, and who was there before them — celebrity factor, if you will. Marilyn Monroe lived in the hotel's bungalows on separate occasions throughout her career; the Rat Pack had a regular spot in the establishment's iconic Polo Lounge.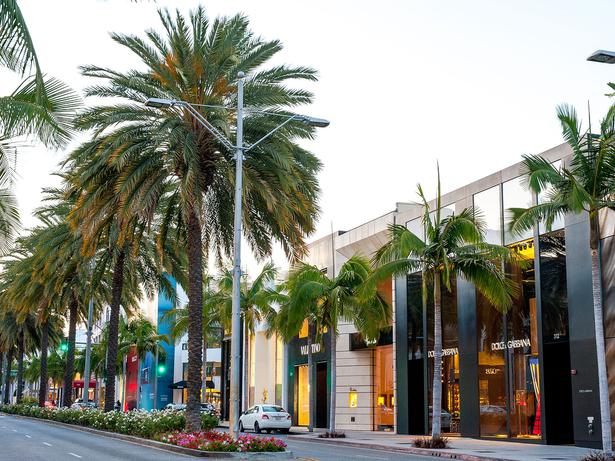 Indeed, Frank Sinatra certainly had his comforts in this affluent city — he also frequented La Dolce Vita, a modest Italian restaurant still kicking with dim lighting, tufted leather booth seats and an old-world ambience. The menu hasn't changed much since Sinatra's era either, serving classics such as veal scallopini and spaghetti bolognaise, and some of the staff who served him are still around too, spinning tales about the singer on request.
Indeed, it's hard to go anywhere in the city without someone telling you so-and-so was there last week, or that what's-his-face is a regular. Parading down Rodeo Drive, the city's famed luxury shopping strip, you may even brush past someone famous, or at least 20 people who look like they could be Kylie Jenner, all plumped lips and athleisure.
They're diving in and out of the boutiques, handbag slung at the arm, trying on the latest pieces at Gucci or agonising over which pair of Saint Laurent boots to buy. With this level of luxury in the neighbourhood, it's not surprising some of the world's wealthiest people choose to live, visit and spend their cash here.
There is a high concentration of swanky places to stay, like L'Ermitage Beverly Hills or the Beverly Wilshire, the hotel made famous by Vivian Ward in Pretty Woman. Many establishments also have discreet spa treatment facilities and rooftop pools, such as A-list favourite Montage Beverly Hills, where you can hire a private cabana with full service, so you truly don't have to lift a finger. The hotel even has a resident personal stylist, the charismatic, bow-tied Joseph Katz, who can order in clothes on request to really rule out any hard decision-making.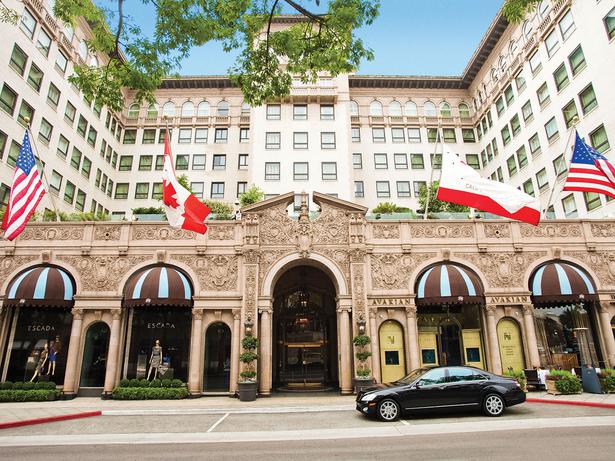 Although there's plenty of emphasis on celebrity in this part of the world, it's a shame Beverly Hills can't exist on its own merits, rather than by association with the famous, because it does have a rich cultural heritage behind it, too. Like the aforementioned Beverly Hills Hotel that opened in 1912, before the city itself was founded in 1914, as a way to attract people to the area.
The region started to flourish soon after and surrounding mansions were snapped up by film industry members working in neighbouring Hollywood. The first significant estate there was established by department store heir Harry Robinson and his wife Virginia in 1911, and became the setting for lavish parties attended by their wealthy friends.
The house and surrounding land has been preserved as an historic site known as the Virginia Robinson Gardens, which is open for public tours. Then there is the iconic Spanish Renaissance-style Beverly Hills City Hall, with its tile-and-gold topped tower, and the Greystone Mansion, built with English Revival influence and encompassing 55 rooms, a bowling alley, tennis courts, fire station, kennels and expansive gardens, which is also open to the public. Not to mention that Beverly Hills is a short drive (public transport isn't chic enough) from Los Angeles and Santa Monica Beach.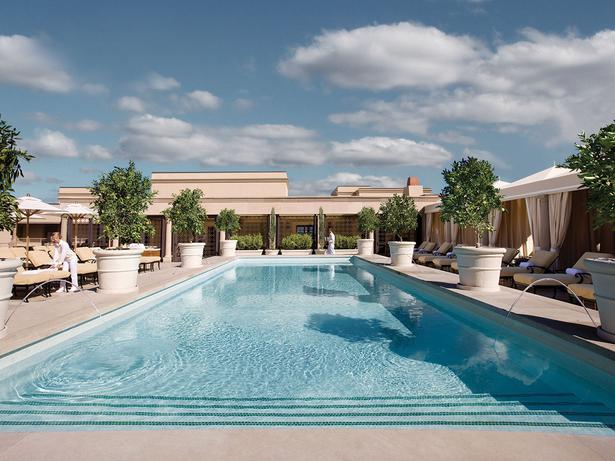 Although there are plenty of places that have become complacent relying on celebrity associations — panini still feature on their menus, or they'll boast Kelly Rowland as a celebrity customer — there are numerous restaurants and shops that also excel in their own right. When the sun goes down, Nic's Beverly Hills has the kind of jubilant atmosphere you'd expect to find in New Orleans, with live music, loud diners and enthusiastic dancers.
Perhaps the most noteworthy-place, however, is The Cheese Store of Beverly Hills, which has neither the fancy exterior nor impeccably dressed sir waiting to open the door, but has one of the most impressive selections of cheese from America and Europe you'll find.
Behind the counter stands Norbert Wabnig, the humble owner who works every day of the week, such is his dedication to cheddar, manchego or camembert. He'll school you and possibly out-dress you, too, with his round spectacles, shirt and apron, like someone who could have easily walked off a street-style blog but without trying so hard. Sure, celebrities flock to this place, but you'll never hear Wabnig bragging — the products speak for themselves.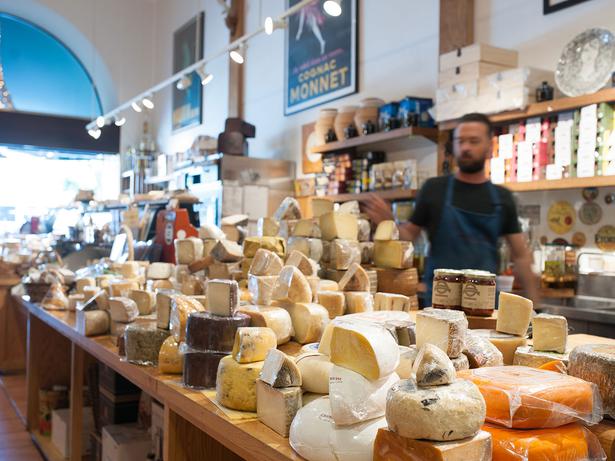 Away from the shops and landmarks, one of the best ways to experience the true luxury of Beverly Hills is to go for a stroll. Despite it being described as "walkable" compared to Los Angeles, you still won't find many people on the suburban streets, unless they have a dog in tow, but that shouldn't be a dissuasion.
Venture to the suburbs and you'll find freshly manicured lawns and lush, tropical plants (despite the city being in a drought), grand English manors and Mediterranean-style houses with terracotta roofs and sun-soaked terraces. Little grey squirrels dart between the safe, tree-lined streets, and pampered pooches strut around, showing off their fresh new 'dos. Their owners, also freshly manicured, give knowing smiles: our lives are so much better than everyone else's.
Perhaps the lifestyles are superior, if luxury and pomp are high on the priority list. Regardless, it's certainly interesting imposing, if only for a visit.
Share this:
More Culture & Travel / Going Places