Where to Stay: Black Barn, Havelock North
Amanda Linnell discovers why the accommodation on offer at Black Barn Vineyards is so special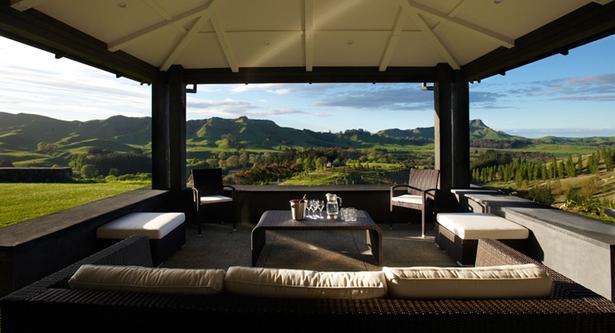 Wednesday Sept. 21, 2016
One of my most memorable trips to Hawke's Bay — and there have been many — was when a friend and I spent a whirlwind couple of days with Rebecca Kain, the dynamic co-founder of Redcurrent, the design store that started out in her equally dynamic mother's Havelock North shed 15 years ago and is now a multimillion-dollar business with stores across the country.
On a see-as-much-as-you-can tour, we sped through the countryside in Rebecca's dad's clapped-out BMW as she shared with us the incredible architecture of the region — from her family home, Tauroa, which was designed by leading architect William Gummer (also responsible for the Auckland Railway Station and Wellington's Dominion Museum) through to the influence of Andy Coltart (Kain's uncle) who with former Saatchi and Saatchi head Kim Thorp makes up the creative force behind Black Barn Vineyards and its portfolio of 17 different luxury accommodation offerings.
Coltart and Thorp are a visionary duo who planted their first grapes back in 1994 on the north-facing Te Mata Peak, just outside Havelock North. It is a great physical location, enthuses Thorp, and well-reputed in a very old wine growing region. Over the next 10 years, they allowed the vines to bed in while they worked on their plan to create luxury accommodation and an environment that people — the discerning types who would consume their wine — would want to be a part of. A turn-of-the-century cottage in the middle of the vines, Rush Cottage, was their first offfering.
"It just booked out really fast, right from the start," says Thorp, "so that gave us the inspiration to carry on." Next the pair designed and built the Black Barn retreat, also in the heart of the vineyard, and that led not only to the name of their brand, but also an aesthetic that would put them on the map.
In the following 20 years Black Barn has grown its portfolio of properties around the region — from vineyards, to river valleys and beaches — creating or renovating buildings in keeping with the local vernacular. Generously proportioned, they are designed for living life large, reflect a pioneering spirit and are unique to their individual environments.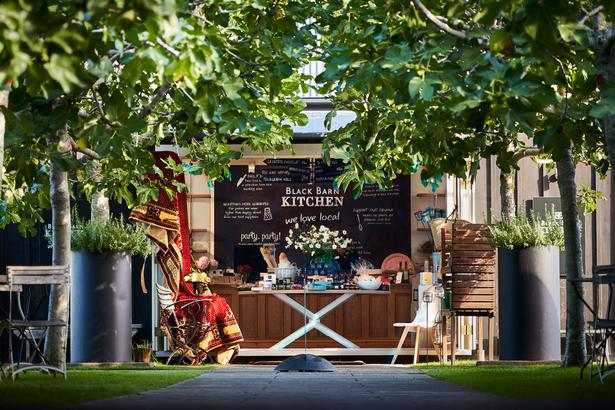 "Our aesthetic resonates with the surrounding countryside," explains Coltart, who is the driving force behind the builds. "If you can get your architecture to be a little bit timeless, and not wear out and feel good for a long time then that's what it's about really. A lot of our properties are in sensitive areas like by the Tukituki River, so the visual impact was important — well, to reduce the visual impact."
Thorp and Coltart are both incredibly passionate about their part of the world and what makes it unique. "Hawke's Bay does have this really big generous landscape," enthuses Thorp.
"There is a hell of a lot of sky, which may sounds weird, but there is something amazing about the light, especially in summer, combined with that landscape. And then, with that, there is increasingly a large number of people doing really interesting things with food — every day there's someone new cropping up with something really interesting. It is quite special; rather than the food getting to the city and being presented on a plate, there is something quite fascinating about the actual person who is growing it, who is also doing the selling and talking about it — that's a really rich new piece of the region. This attracts all sorts of things as well, like restaurants, markets, art galleries ..."
READ: An Insider's Guide to Hawke's Bay
"Hawke's Bay is a very sophisticated and lovely province with a beautiful landscape," agrees Coltart. "What we have here is layer on layer and layer. There's a lovely richness — from apples to pears to onions to sheep to cattle to peas and sweetcorn… There are still plenty of road stalls. There's a lovely culture. It has never been a boom town, we've developed slowly. I think it's a mixture of all the things we produce, there's no standout hero; there's a hell of a lot of heroes."
When I mention their role in the culture, Coltart laughs. "We just put our heads down and go like hell. Yes, we like to think we have made a contribution and we have a discipline within our own operation to always deliver something of a very high level. Seventy-five per cent of our guests are local, which is just great. It's because Kiwis like to have a good time I reckon.
"I have a stupid saying," Coltart continues. "If you feel you have to use a coaster it ain't working. You know? You don't want people to feel they have to take their shoes off, you want to them have a good time. I guess it's the architecture that is the catalyst that puts them together, and makes them feel good."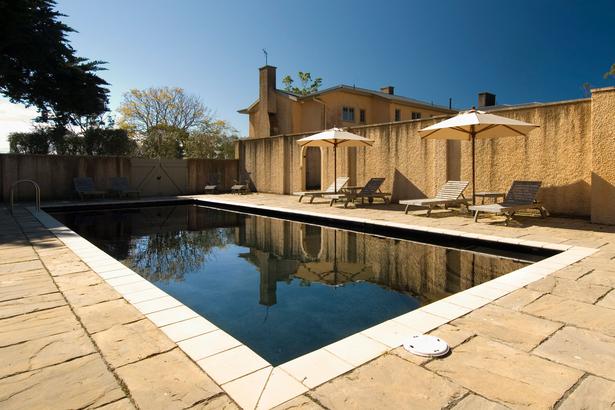 Black Barn's dreamy pool. Picture / Supplied

With wine being at the heart of the Black Barn business, there is plenty on offer to provide the punter with ways to indulge. The vineyard has a man-made amphitheatre which holds around 2000 people and, during the summer, is busy with everything from an outdoor film festival to concerts (look out for Fly My Pretties, Fat Freddy's Drop and more this year). Every Saturday morning in summer there is the Black Barn market, for local growers and producers. "We have a rule that everything must come from within a 20km radius," explains Thorp.

The vineyard's cellar door bustles all year round, as does the bistro with its sunken courtyard and views over the Hawke's Bay — and then there is the Black Barn Kitchen, selling homewares and regional food.

"The people we work with and who stay in our properties, I think, have an appreciation for respecting what makes this region unique," says Thorp.

"Rather than being catered for, our guests — once they arrive in one of our lodges — want to spend time exploring, finding the best produce, and then stay in and cook it themselves, enjoying plenty of wine, and making the most of the space and beautiful locations. This is what makes the experience so unique."

• To find out more about the different properties available, visit blackbarn.com

Share this:
More Culture & Travel / Going Places