Body + Balance with the PR manager for Workshop
Xtend Barre classes and quality alone time keep this busy PR manager feeling serene.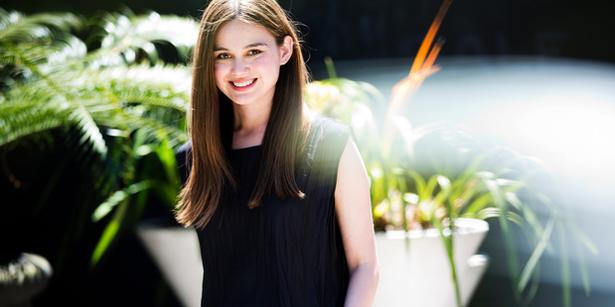 Thursday Dec. 11, 2014
Working in the dynamic world of fashion means Sarah Theobald is constantly having to balance several things at once, something the PR and marketing manager for Workshop and Helen Cherry thrives on. "From photo shoots to events to constant communication with media, it's all go all the time, always thinking three steps ahead," she explains.
Outside of work, Theobald stays fit through Xtend Barre classes, which combine dance, ballet and Pilates into a series of isometric exercises and orthopaedic stretches. She came across the classes earlier this year after looking to get back into ballet and while she admits it can be easy for her to get complacent with exercise, she describes the fast-paced classes as "a workout I actually enjoy.
I like the control, strength and elegance that come from the ballet base but at the same time it is extremely fast-paced and always feels like a very challenging workout.
"I try to go at least twice a week now and it's the first exercise routine I've been consistent with in years."

SARAH'S ESSENTIALS
Having a positive mind and outlook is essential to living life well. You can't control what will or won't happen to you each day, but your approach makes all the difference. Let things go and don't sweat the small stuff. I think the key to a positive outlook is having a strong sense of self. If you are truly confident in who you are and what you stand for it is actually quite hard to be negative about anything for very long.
Having alone time to regroup and refocus helps me to de-stress, whether that's getting an early night and reading a book, doing my nails or even housework! I'm a bit of an introvert and really value that quiet time alone that allows things to settle down in your mind.
I love the beach. I grew up by the sea and there is something very calming about it. A walk on the beach on a beautiful day with the ocean air just fills you up with good vibes.
I have a very relaxed philosophy towards eating - everything in moderation. I aim to be a healthy eater but am never strict or too hard on myself. If I really want fried chicken, I eat fried chicken! I just keep an all-round balance with food, which includes the "bad" stuff in moderation. I've always had a small appetite and I never stretch my portion size to more than I actually need. The one thing I have very little if not zero self-control around is sugar... sweets are my ultimate weakness.
My favourite meal would have to be some kind of noodle soup or South East Asian street food. I am half Chinese and spent part of my childhood in Singapore - those are my comfort foods.
I keep my skincare and beauty routines quite simple. When I was younger I jumped around a lot of different skincare products and they would just wreak havoc on my skin. Now I've simplified and just use Cetaphil with a natural, gentle face scrub daily. I use Mario Badescu drying and buffering lotions to deal with random breakouts. Other than that I always remove my makeup before bed and drink water consistently throughout the day - litres and litres of water.
I wear makeup every day but I keep it very minimal. I use Chanel Vitalumiere Aqua makeup, which is so incredibly light you feel like you're not wearing makeup, and Dior Show mascara. If I want a little extra lift or am going out at night I'll wear lipstick and maybe some eyeliner. Guerlain Terracotta loose kohl is my go-to eyeliner and I just run it along my lower eyelids.
My favourite items of clothing right now are very simple, timeless pieces that are fresh and easy summer essentials - oversized white shirts, denim cut-off shorts, my Acne 'Skin 5' jeans and Workshop 'Girlfriend' jeans.
Share this: