The Hottest Places to Eat and Drink in Brisbane
When it comes to dining out, Brisbane has plenty of stylish, world-class options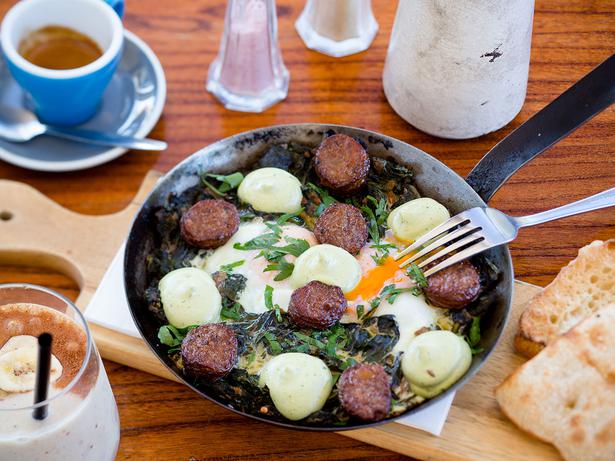 Wednesday May 24, 2017
NAIM
In the inner-city suburb of Paddington, seek out this brilliant breakfast spot house in an old Queenslander cottage overlooking the green valley beyond. Naim translates as "pleasantness" or "comfort" in Hebrew, and "joy" in Arabic, and lovely it is — a familiar, comfortable cafe with a homey interior and truly delicious Middle Eastern-inspired food and excellent coffee. For breakfast, this place can't be beat.
The Tunisian-style eggs baked in spiced spinach and shallots come with an avocado sour cream. The nutmeg-spiced banana smoothie is spicy and sweet and the rice pudding with rosewater, apple, raspberry coulis and flaked coconut granola is a pleasant breakfast surprise. This cafe has been so popular, another one has popped up on the South Bank, so wherever you are in the city, a nip into Naim is possible and highly recommended.
• 4 Collingwood St, Paddington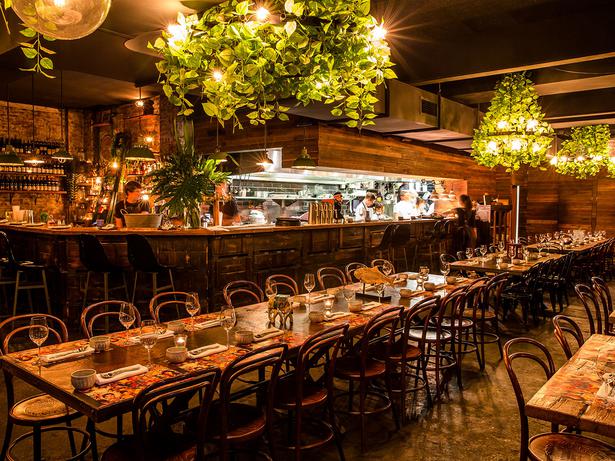 LONGTIME
It doesn't take long for the taste buds to be enlivened at Longtime, Chinatown's cheekily named Asian fusion joint. The warehouse-style, brick-walled space is bustling and inviting, with aromatic smells and the sound of furiously fizzing frying pans. A seat at the bar is the best place to observe the chefs and prep staff pump out plates of soft-shell crab on Asian slaw and delectable Vietnamese larb jammed full of succulent chicken and mint.
There are plenty of generous noodle and curry dishes on the menu too — the coconut and turmeric curry with lobster, Asian celery and crispy lime leaf looks particularly tasty. The wine list is extensive and the Asian-inspired cocktails are sweet, sour and tasty.
READ Restaurant Review: Lucky Buddha
The Siam Sour with whiskey, lychee, peach and orange syrup comes in a tall silver goblet; while the more delicate cucumber-infused gin with lemon, peppermint and Thai basil hits the spot for parched city walkers. Don't miss the lemongrass and lime sorbet for a touch of sweet to wind up a night of tart and spicy.
• 610 Ann St, Fortitude Valley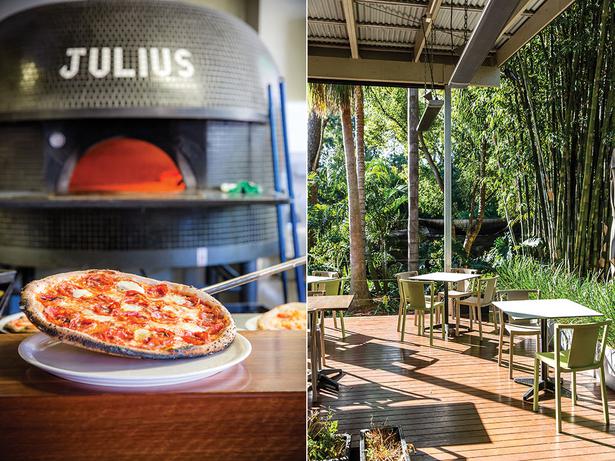 JULIUS PIZZERIA
All sorts of wonders emerge from the black-tiled wood-fired pizza oven — "Julius" —that commands centre-stage at this legit downtown pizzeria: think the Siciliana (tomato, mozzarella, bocconcini, anchovies, capers, olives and oregano) or the "Caprino" (tomato, mozzarella, goat's cheese, pancetta and roasted red onion).
But the menu delights don't stop there: Calamarata ai Fiori di Zucca is short circular pasta with zucchini flowers, zucchini, baby spinach, garlic and pecorino pepato, while Tortino di Cioccolato is chocolate pudding with marscapone and red wine-poached pears.
Nice additions to the brick-walled and exposed-beams that dominate the interior include the raised open kitchen that sits like a stage above the restaurant diners, and the rows and rows of Aperol bottles that adorn the bar shelves, giving off an orange glow.
• 77 Grey St, Cnr Fish Lane, South Brisbane
THE WILD CANARY
It's hard to focus on the food at the Wild Canary thanks to its lush garden setting. Eating is a bonus at this heavenly spot in the rural satellite suburb of Brookfield, a short 15-minute drive from central Brisbane. To get to the bistro, park in the lot of the vast Brookfield Garden Centre, an experience in itself — this award-winning garden centre is well worth a look.
When it comes to the food, it's no surprise the produce is locally sourced and seasonal, with many of the herbs grown on site. Grilled barramundi with mint mayonnaise, grilled corn, baby tomatoes and fresh greens looked like a work of art, all green splatters and red dollops of tomatoes, while another standout dish is the lemon myrtle cured salmon with peach radish, green beans and parsley.
READ: Meet River Cottage Chef Gill Meller, the Gourmet Hunter-Gatherer
Come with a friend and spend the afternoon taking in the sounds of ladies lunching and birds chirping.
• 2371 Moggill Rd, Brookfield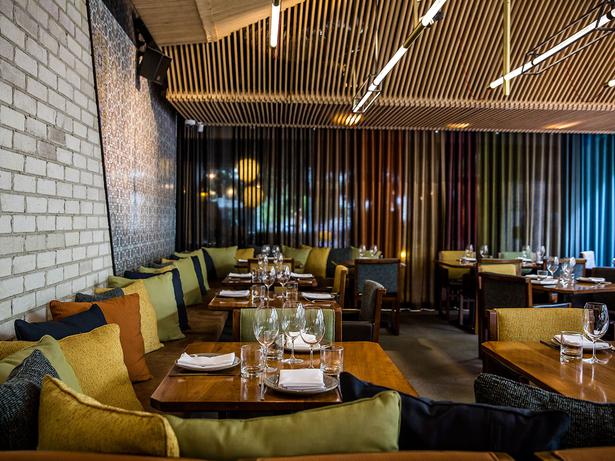 GERARD'S BISTRO
Tucked away in a quaint, shaded lane off the main shopping mecca of James St, you'll find a bistro serving up flavours more commonly found in a Middle Eastern bazaar. The menu is inspired by Lebanese and Middle Eastern cuisine but still contains a hint of Australia and certainly more than a hint of quirk.
Named Chef of the Year 2017 by Brisbane's Good Food Guide, Ben Williamson, who lived and worked in Bahrain for five years before returning to Australia, has pushed the boundaries with a fresh take on Middle Eastern cooking. The kangaroo tartare served on a bulgur cracker was lean and tasty — it could have passed for beef, but the addition of a purple-hued scampi caviar and black mushroom gave a good dollop of saltiness.
Underneath the kangaroo was a concoction of coal-infused hummus which was smoky and creamy. Other highlights included the chicken wings sauteed in a yoghurt and rose-infused sauce — spicy, sweet and smoky. Waitstaff recommend ordering many dishes to share, and most are a decent size, so a party of two may only need four.
Drinks-wise there are a number of devilish options, try the harissa-infused margarita, made with smoky Del Maguey Vida, house-made harissa, lime juice and agave. The wine list would take you all evening to get through. Tasteful modern interiors, but best eat outside to enjoy the balmy temperature.
• 14/15 James St, Fortitude Valley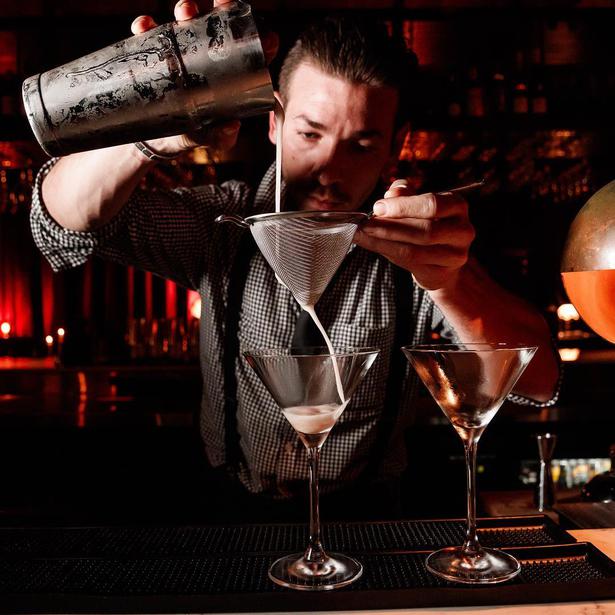 MADAME ROUGE
Stepping into the cosy sanctuary that is Madame Rouge evokes thoughts of early 20th-century Paris. Its dark space is highlighted with luxuriant red velvet curtains and chandeliers, and dripping candle wax falls on to old silver trays. Romantic leather booths line the walls and the dark cedar bar creates a speakeasy feel.
Old-school jazz plays while French waiters in suits and suspenders clink glasses. Now to the menu. If you're not a fan of heavy sauces, French eateries are best usually avoided, however, Madame Rouge manages to balance "rich" and "fresh" perfectly. A starter of natural Coffin Bay oysters from South Australia rivals any New Zealand variety, bar the Bluff of course, but these are creamy and briny with a touch of bite.
READ: Where to Get Your Bluff Oyster Fix
The slow-cooked duck with lentils and black cabbage is tender and the asparagus, pea, buffalo curd, mint and dried olive salad is delicious and light. The wine list features strong representation from both France and Australia. A modern take that makes this new entry to the Brisbane scene a tres bon choice.
• 11b/100 McLachlan St, Fortitude Valley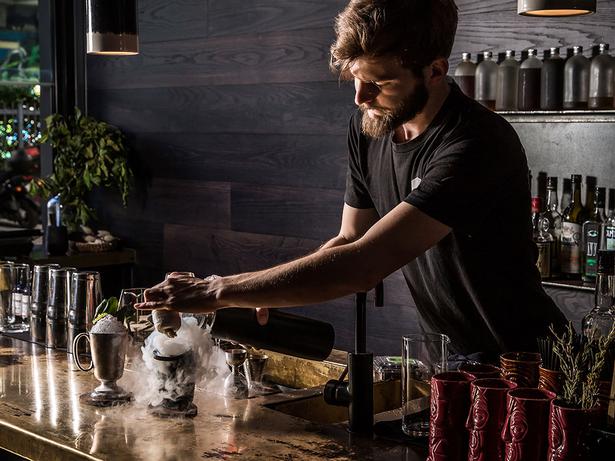 MAKER
Maker is a minuscule, moody cocktail bar in Fish Lane that also serves up delicious torch-blown morsels. Maker pays homage to spirit and wine makers and this tiny bar, which only seats about eight, provides a cosy viewing platform to be mesmerised by two talented bartenders creating liquid art with homemade syrups and local ingredients.
Try tequila with artichoke, watermelon and pomegranate or the whisky wax coffee — a concoction of whisky, coffee, beeswax, pollen and macadamia oil, served with tiny skewers of beeswax and a side of crumbled black garlic bread and honeycomb — a taste sensation for $22. Seasonal house cocktails contain ingredients such as wattle seed and fig.
If the cocktails don't catch your attention the brass bar will, it's made more striking by the charcoal-coloured wood panelling and soft lighting that transforms the weary to lively. But then, one of these drinks will do that too.
• Fish Lane, South Brisbane.
Share this:
More Culture & Travel / Going Places