Brisbane Local: Fashion Designer Gail Sorronda
Fashion designer Gail Sorronda shares what it's like to live in Brisbane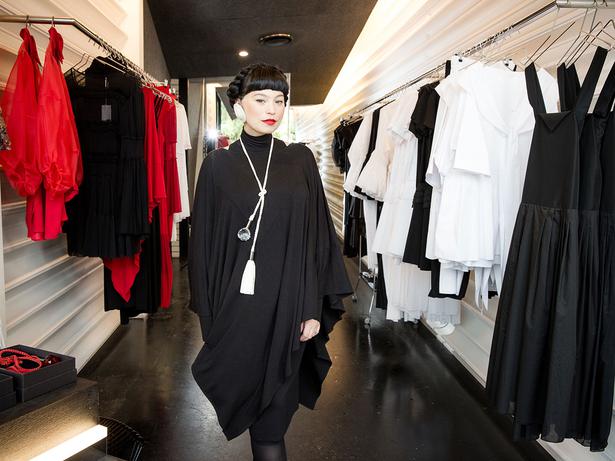 Friday May 26, 2017
Fashion designer Gail Sorronda is renowned for creating clothes she describes as being "inspired by dark romanticism and duality while still honouring the flow". She graduated from the Queensland University of Technology in 2004 with a Bachelor of Fine Arts in fashion design, and went on to show at Australian Fashion Week — her graduate collection won the Mercedes-Benz Start-Up Award.
Gail's Brisbane boutique reflects her label's uniqueness. "I hope when people visit they enjoy the portal," she says somewhat mystically. "The designs are born from a feeling and that is the most natural for me. I do have key customers who interpret the brand in a way which is an exchange of energy that also inspires my design process.
"Fashion is more trans-seasonal in Brisbane, the brand tends to introduce layering options for the cooler seasons for versatility."
Gail lives with her husband and baby daughter Juniper in an apartment in a Victorian-era building in Hamilton — an old bourgeois part of inner-city Brisbane. "Our neighbours in the building are also creatives. We are lucky to have river and city views. The neighbourhood is safe, manicured hedges with lots of character-behind-the-gates type of vibe."
READ: Brisbane Boutiques Worth Visiting
We like to meet up with friends at our local cafe, Vieille Branche, for a French-farmhouse-inspired lunch. We often pick up cheese and saucisson from Emile & Solange, next door to the cafe, to enjoy while watching the sunset over Brisbane River and city at home. Artie & Mai restaurant in Albion is another one of our locals.
On the weekends we love going to the beach. My favourites are Moffat Beach on the Sunshine Coast or Rainbow Bay on the Gold Coast.
There is a great live music scene in Brisbane. The venues in West End, such as The Bearded Lady, are my favourite for underground local bands. But we also like going to theatre and ballet at Qpac on date nights.
When we have out-of-town visitors we often take them to Goma as it is such a great gallery. The Institute of Modern Art is another good gallery to visit. You can experience some of the local culture at the Powerhouse and New Farm Park along the river, and the James St precinct (where our shop is located) is also a must for any visitor. It's a green, curated shopping experience, embracing the outdoors with some of the best restaurants and shops in Queensland.
The best place for coffee is Street Lab Specialty Coffee at Emporium. I like supporting smaller independent business.
When we eat out Julius Pizzeria in South Brisbane is a favourite restaurant we go to after we've been to Qpac. There is a tiny intimate bar next door that serves great cocktails, too. Gerard's Bistro and Bar on James St is a great local family-owned business.
For an afterwork drink we'll go to Gerard's Bar for its chic ambience for a red wine or an espresso martini.
Brisbane is young city that is progressive and growing. It is a city that also unfolds with time. On the surface we have the beautiful river, the life force of the city, and from there the tendrils of the community and the subcultures come to life. It's often considered the more down-to-earth and laid-back of the Australian cities. We embrace the outdoors with our cafe culture and shopping, which I think is an unique experience.
My favourite season here is autumn for its mild days and cool nights. Queensland's quality of light is very beautiful.
• Gail Sorronda Concept Store is at Shop 8, 19 James St, Fortitude Valley, Brisbane
Share this:
More Culture & Travel / Going Places