Brisbane Local: Jessy Cameron of Molten Store
Jewellery Boutique owner Jessy Cameron shares what it's like to live in Brisbane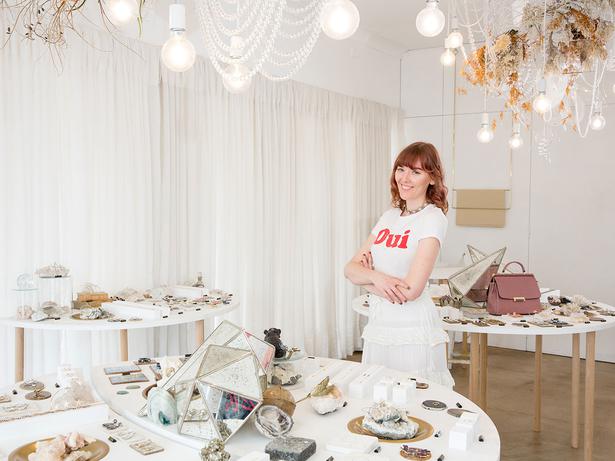 Wednesday May 24, 2017
Jessy Cameron is the owner of the jewellery store Molten on stylish James St — just a 15-minute stroll from her home. Jessy's days are filled with managing her team and business and creating new product. She lives in an apartment she describes as a "mini museum showcasing all of the otherworldly and wonderful things I've found in opshops and flea markets here and abroad".
Jessy finishes her day by doing yoga at home or running along the Riverwalk, and when the weather is balmy "we'll grab some takeaway Indian or Japanese food and head to the cliff for a picnic under the stars".
My favourite coffee shop is Jamie's Espresso. Jamie opened his business 15 years ago as a hole-in-the-wall coffee nook, and he's watched the neighbourhood go from an industrial area to the glossy precinct it is today.
For lunch I usually grab something on the run from nearby Botanica and Nodo.
I love to visit opshops and regularly head to La Trove Tce in Paddington, which is great for vintage clothing finds and curious wares.
READ: Brisbane Boutiques Worth Visiting
My weekends usually begin with a sleep in, but I make up for my slow mornings with exploring later in the day. Goma is always a delight but my favourite hidden nook is the new design section in the State Library of Queensland; there's an entire section dedicated to rare magazines and books about art, fashion and architecture collected from all over the world (there's even a stack of handmade zines from Portugal and Brooklyn).
Lately I've been attending ceramics classes at The Ceramic House in Newstead, a light and airy pottery studio owned by my friends Charlie and Mieke. I love Brisbane's creative community — there's an insatiable undercurrent of enthusiasm. We're genuinely excited about new businesses and people are inspired to connect and collaborate.
READ What to Buy: Thea Ceramics
My night out usually starts mid-afternoon with a glass of rosé in the sunshine on the balcony at The Powerhouse. If we're not staying to watch a play or a gig, we'll head to The Triffid in Newstead to see a band.
If I'm catching up with guests from out of town, I'll make a booking for dinner at The Survey Co in Burnett Lane. It's a cosy establishment, the kind of place where a sense of time becomes irrelevant. The fit-out was done by the architects who have designed many buildings on James St, so it has a similar elegant feel.
The warm weather in Brisbane fosters a sense of optimism that is hard to escape. Brisbane is such a joyful, welcoming city. It also has a youthful, enthusiastic quality, and living here makes you feel as though you are being written into history somehow.
• Molten Store is at Shop 1, 49 James St, New Farm, Brisbane
Share this:
More Culture & Travel / Going Places