TBT: 7 Cool Places to Stay in Caravans
Discover these hip hotels and boutique camp sites, where you can sleep in vintage caravans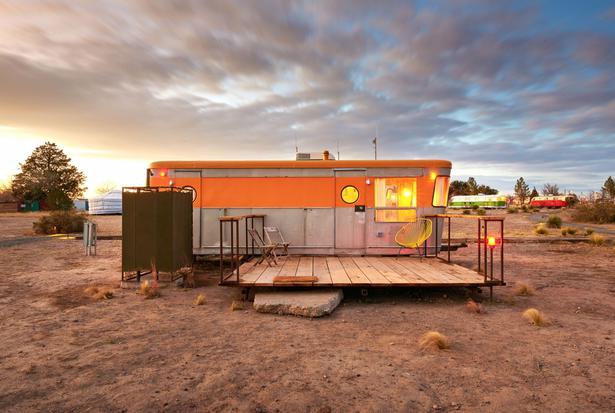 Thursday Jan. 21, 2016
Trailer parks have never been the height of luxury, but a number of boutique hotels and campgrounds are pitching them as that, with refurbished Airstream trailers and retro caravans being rented out as rooms.
These spots provide an chance to experience the nostalgia of a caravan holiday, and the novelty of living in a small space – a reality for many people around the world and an increasingly favourable option as the world faces climate change. Here are seven options to add to our holiday dream list.
1. El Cosmico
The team at this "nomadic hotel and campground" believe in "tuning in, dropping out and being here now." To help you on this mission, there are 10 beautifully kitted out vintage caravans to stay in, or you can opt for a tepee, yurt or safari tent. The Texan desert site also hosts "happenings" such as workshops, movies and the Trans-Pecos Festival of Music + Love.
2. Hotel Daniel
There's just one Airstream trailer available for rent in this hotel in Vienna, Austria, but it is a luxurious one, in keeping with the rest of the hotel's decor. The Trailer room, located in the hotel's garden, boasts a bathtub, heating and wifi. The concept is a popular one, with an Airstream also spotted in the grounds of the Vintage Hotel in Brussels and The Atlantic Byron Bay.
3. Hicksville Trailer Palace and Artist Retreat
This themed trailer park in Joshua Tree, California was originally built by Los Angeles writer and director Morgan Higby Night as an artist retreat. Kitsch caravan options include the Western-themed Pioneer, alien themed Integratrailor, and The Lux, styled around punk band The Cramps.
4. The Grand Daddy Boutique Hotel
While there are a number of Airstream trailer parks in the world, this South African hotel offers a rooftop variation. There are seven renovated trailers on top of the historic hotel, with each interior reflecting a different aspect of South African road tripping. And there's even a rooftop cinema. Brooks Guesthouse in Bristol has followed suit, with four retro-style caravans on their roof.
5. Huttenpalast
Alongside its regular rooms, this Berlin hotel has two large spaces, each with an array of retro caravans and cabins to sleep in. This first indoor trailer park was quickly followed by the backpacker-style BaseCamp Hostel, also in Germany. There you'll find a number of colourfully decorated caravans, plus two sleeper carriages - to experience the luxury of train travel without going anywhere.
6. Kate's Lazy Desert
With her partner Monica Coleman, Kate Pierson of the B-52's owns this property full of Airstreams. Each was collected individually, and restored from near-abandon. Initially housed at the couple's other property, Kate's Lazy Meadow in New York, the trailers were moved to a desert site near Palm Springs, California after flooding. Artistically painted to theme (with one trailer full of B-52s memorabilia) by artist team Maberry-Walker.
7. The Shady Dell
"Experience the 1950's in full technicolor" boasts the website for The Shady Dell, a boutique trailer park in the historic copper mining town of Bisbee, Arizona. The park, which houses late 40s and early 50s caravans, dates back to 1927, when it provided a resting place for those travelling along Highway 80 from Georgia to California.
Share this:
More Culture & Travel / Going Places