Claire Chitham Finds A Lot To Love On Waiheke
Exploring the island in a Jaguar E-PACE SUV, Claire and Casanova chef Paul Patterson fall for the island's bounty of local produce
SPONSORED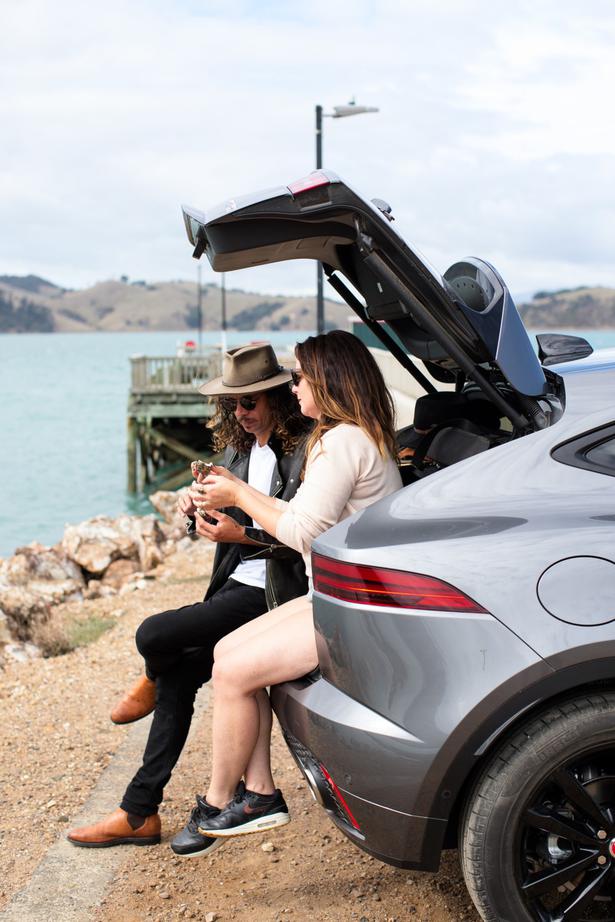 Friday April 23, 2021
When I first met Paul Patterson in Melbourne ten years ago, he was en route to Paris to cook food and chase a girl. The romance didn't last long but Paul's love affair with the city began, and he's been cooking and consulting in the French capital for the past six years.
In 2018 I had the pleasure (and painful hangovers) of running amok around the city of love with Paul as my tour guide. When a New Zealander who works in hospo moves to a new place, guess who he makes friends with? Everyone else in hospo.
We were showered with champagne in every bar we entered. One joint stopped the music when he walked in, sabred the top off a bottle of french in his direction and Paul caught it in his hat. Yes, he is as cool as he looks. Cocktail bars that frequent the 'World's Best' list were his locals and the staff his best mates. My liver suffered but my Midnight In Paris dreams were fulfilled. I promised Paul then that if he ever came home, I would try and return the favour somehow.
After winning awards at the BBQ World Champ's in Memphis Paul had his sights set on the US.
He had lined up his next venture and was on his way to open a restaurant in New York when Covid hit. The rent he'd already paid out on his new location went up in smoke along with any plans to open in the foreseeable future, so he came home for the first time in years to figure out what to do next.
He'd been peacefully bunking down on Waiheke Island but was growing restless when someone slid into his DM's and asked if he'd be interested in being a contestant on The Bachelorette. I think it was the 'WTF'ness of this idea that made Paul eventually say yes. He's a lone Romeo on a small island after a year of lockdowns, what's a guy to do? And thus "Hot Jesus" landed on our screens.
Just like in Paris, back home in Aotearoa Paul has already made friends with most people that you want to be friends with if you're into food and wine here.
He's also opening a new restaurant on Parnell Road soon; Va Bene will offer small plates with a French, Italian and New Zealand influence. The cocktails are designed by his friends from Le Syndicate in Paris, worth the visit just for these. It's a full-circle move for Paul, who began his career in Parnell when he was 15, training with Nick Honeyman of Paris Butter.
Since Paul didn't find love with his leading lady, I thought I'd try and woo him instead with my offer of a luxury weekend together on his island paradise, being chauffeured around by Moi in the sexy E-PACE SUV from Jaguar, where we'd scavenge for produce so that he could cook us a meal in a private kitchen. I was gunning for a rose, but not the kind they dish out on that show.
Taking the E-PACE SUV over on the ferry was a breeze, and the sleek SUV was right at home amongst the picturesque greenery and winding roads. With our mission to explore to produce of Waiheke, the E-PACE was up to the task of navigating vineyards, beachside and everywhere in between.
So that we could add those all-important fishing photos to our dating profiles we started our trip off with the most epic day on the water thanks to On The Hunt fishing charters.
Leon is a third-generation Waihekian; the son of a commercial fisherman, he has fished our waters for over 30 years and is passionate about sustainability and education when it comes to fishing, so that future generations will enjoy the same experiences we do.
Within moments of dropping our lines we were hauling up snapper and trevally as the gannets circled. Leon did all the hard work — like the baiting and de-hooking - and we took all the glory.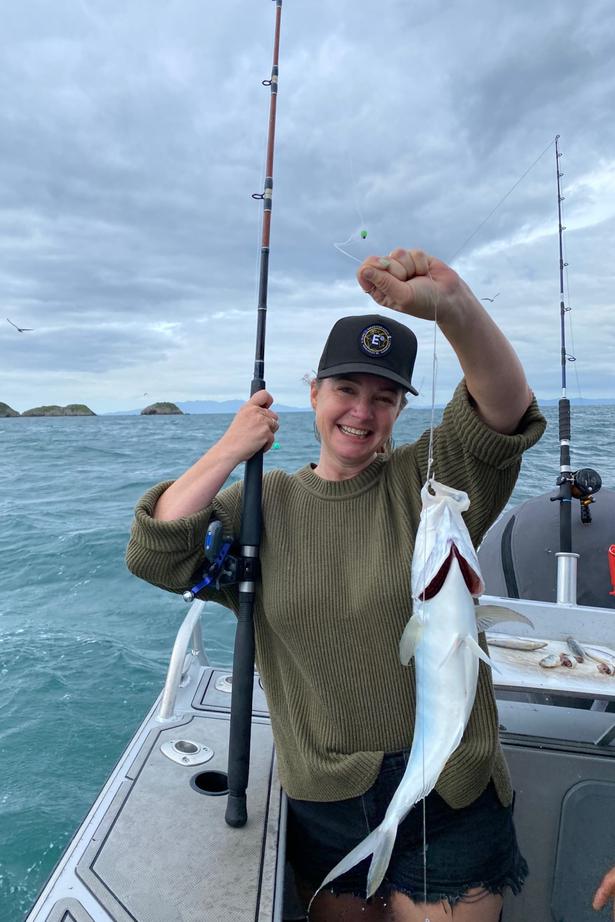 On our return trip, we stopped off to do the filleting and dispose of the skins and bones into the patiently waiting mouths of five glorious bronze whaler sharks. They gently swarmed around us as Leon fed them anything that wasn't going back to the locals or on our plates. Utterly majestic and a major highlight for all of us on the trip.
After putting our fillets on ice for later, we snaked our way in our own stealth predator, the E-PACE SUV, to the bottom end of the island to collect oysters from Te Matuku Oyster farm. These local heroes are making it on to many a restaurant table these days and we instantly knew why.
Clean, juicy, plump yet delicate — Paul taught me to shuck these jewels so that I can buy them this fresh all the time. I probably won't, it was really painstaking. With the flick of Paul's wrist they went from farm to our 'table' in minutes served with nothing but fresh lemon.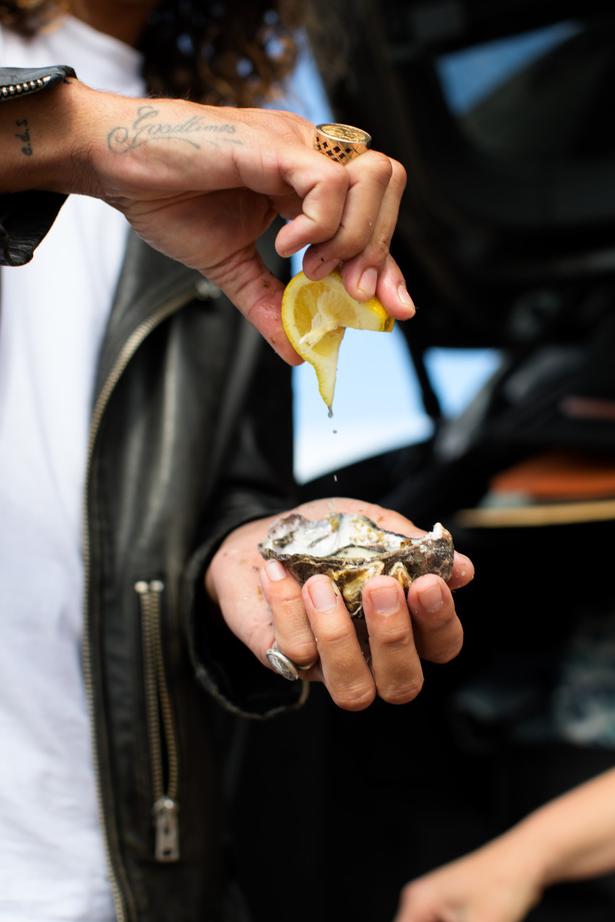 We even had the ultimate aperitif — Waiheke Water that is pulled from an aquifier on the island, drawing water that's over 170 years old and using nothing but UV light to clean it. It's naturally alkaline, perfectly pH balanced and the owner Jesse Ball has studied water to the degree that he gave us the correct bottle to be paired with the oysters.
Yes, we are pairing our water with our food now. Served in beautiful bespoke bottles, worthy of being a centrepiece on any table. The still bottle is designed by good mate and fellow Jaguar fan, artist Otis Frizzell.
Paul's charm has also won over the lads from Stonyridge and we were lucky enough to swoop in with our beautiful beast and drive the E-PACE SUV into the vineyards themselves, just in time to watch them harvest the last of the precious Petit Verdot grapes for the 2021 vintage of their hero wine — Larose. Now this is the rose I was after.
I snuck a couple of grapes as they were being fed into the crusher de-stemmer and sent off to the fermentation tanks, just so I could say I had. Then all my rose dreams came true when they handed us a bottle of the 2019 Larose Blend to take away to top off our romantic dinner, the ultimate gift. I think they were trying to tell us something. Lush, elegant reds lead to… Anyway, we had all the ingredients we needed for our perfect dinner and I had a rose courtesy of a bachelor.
We slunk off in the E-PACE to our secret hilltop accommodation for the night. Villas Waiheke has recently been taken over by new owners and they are out to steal your heart with the views and attention to detail in their gorgeous one and two-bedroom private villas.
In our perfectly stocked kitchen Paul sashimi-ed our trevally and served it with nothing except a mix of soy sauce, balsamic vinegar and Stonyridge olive oil. It simply melted on the tongue. He pan-fried our snapper in browned butter and served it with a feijoa salsa he made from local produce which delicately elevated the fish to sublime. Then, I finally tasted the magic of the Larose red that deserves all of its extensive accolades.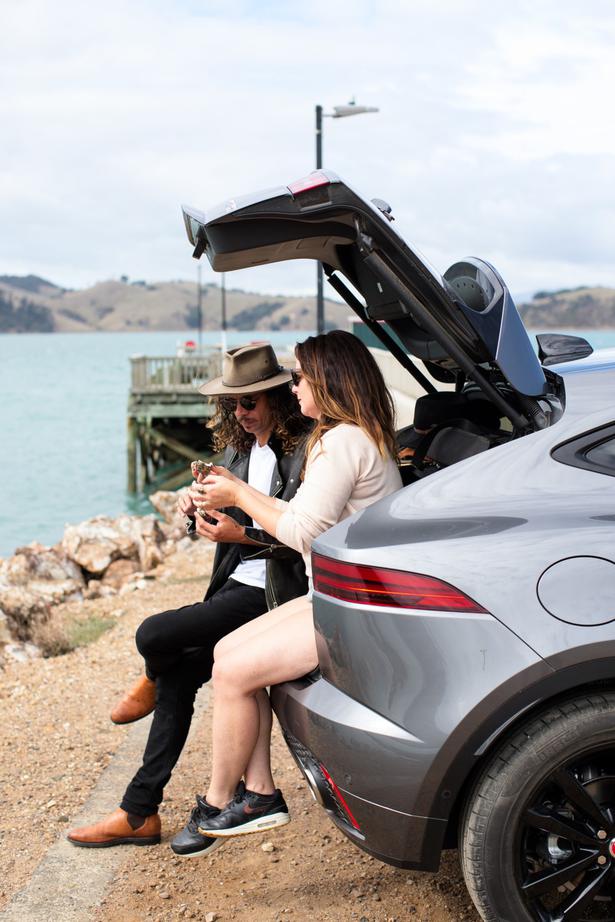 I'd forgotten who was wooing who by this point. We watched the sunset from the highest point of the island, toasting ourselves with French champagne and reminiscing over our Paris nights, but deciding that Waiheke days might just have beaten them.
We declared our romance with Jaguar and Waiheke to be the winner on the day but will remain closed as an un-shucked oyster when it comes to spilling the secrets of how our fairy-tale night in Waiheke paradise ended.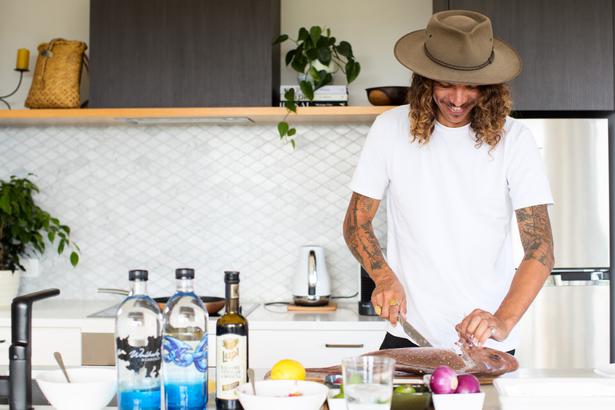 Look out for Va Bene from Paul Patterson opening in Parnell soon and check out 'BBQ Revolution', a cookbook Paul guest features in written by his Pitmaster mate Meat Mitch.
Claire Chitham can be seen on our screens and has a recipe book of her own on well-being and gut health out now, 'Good For You' available at bookstores and online here.
For more on the Jaguar E-PACE, head to Jaguar.co.nz
Share this:
More Culture & Travel / > Local