72 Hours in the Clicquot in the Snow Bubble
Ginny Fisher's spirits reach new levels in Queenstown at the annual glamour-packed, snow-sprinkled event, Clicquot in the Snow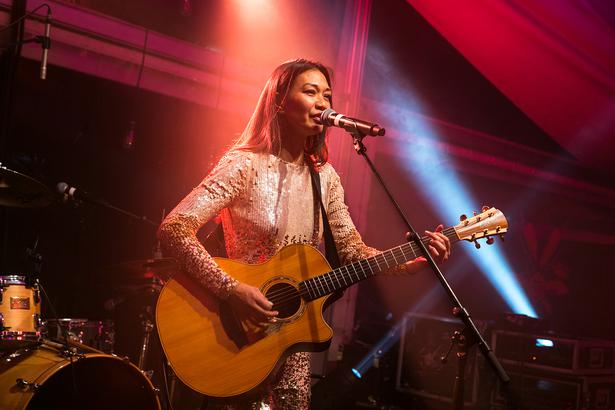 Monday Aug. 7, 2017
Champagne is a terrific beverage. For some reason, I don't seem to suffer hangovers after drinking bubbly. Possibly because it is extremely bubbly and therefore slows my consumption rate and possibly because I can't afford to quaff it. Some mad engineer, Bill Lembeck, decided to find out exactly how many bubbles were in a flute and concluded around 20 million. So over the next four days, for Clicquot in the Snow 2017, my prediction is I will consume around 400 million Veuve Clicquot bubbles and will probably fly out of Queenstown under my own steam.
First stop on this 72-hour champagne immersion is the Clicquot High Tea at Skyline Queenstown. Skyline's gondola ride is one of Queenstown's most popular tourist attractions, so it's something you might not necessarily dash to do, but swinging and swaying high into the sky has vertical appeal and it's so clear today, I can almost see my children back in Clevedon with their ''why didn't you take me?'' placards scribbled in crayon. This is a work trip, sorry cherubs.
Up top, in a private room at Skyline's Stratosfare Restaurant and Bar, we find our high tea banquet — a decadent selection of savoury (fat prawns) and sweet treats, (macarons and tarts), piled high on silver platters. There are flowers, flutes and bottles of Veuve Clicquot champagne and sip-stopping vistas of Middle-earth. This would be a fabulous thing to do with a gaggle of girlfriends or in this case a bunch of editors and journalists who can't believe their good fortune.
High tea and croquet go together, so it makes sense this civilised pastime is the next activity on our agenda, but what isn't so obvious is this session of croquet will be on a snow-covered peak, making it the highest croquet course in the world.
To get to Cecil Peak, which towers over the Wakatipu Basin at 1978m, we must fly. Part of the package is a magical chopper ride over the lake, then we dip and duck around mountains to land atop this chilly peak.
Remember your gloves because if you don't, like me, your fingers will become unusable appendages. The croquet is challenging. My ball gets sucked in the small puckers in the snow, but if I could focus, I might have had a better round — champagne brain is starting to get the better of me. The bubbly at high altitude has an interesting effect, and the music, miraculously blaring from a DJ booth up here in the clouds, gets the group wiggling. A few star jumps restore my fingers to functionality, and after another graze on a platter of cheeses, fruit and cured meats we race back to the choppers to feather our way back to base. After more experiments with bubbles in the early evening at the perfectly positioned Pinot Pit, overlooking Lake Wakatipu at the Hilton we are directed to our rooms to sleep off the champagne and prepare for a day skiing at Coronet Peak.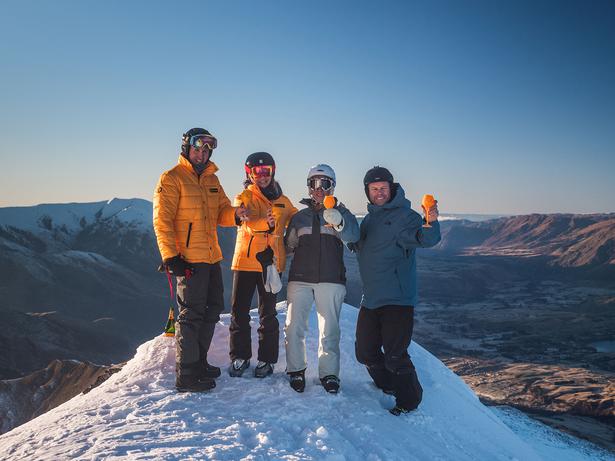 Ginny on Coronet Peak with Andrew and Katie from Veuve Clicquot and Liam from Darkhorse PR. Picture / Supplied

First tracks mean rising before anyone else and it's dark when we head up the mountain, but it's well worth the effort. The light and powdery man-made snow makes my first ski of the season a pleasure, and the fact that there are very few punters on piste is also an advantage.

Clad in my yellow Veuve Clicquot jacket and yellow beanie, I am easily located, then kidnapped by local friends, who take me for my first heli-skiing adventure with Alpine Heliski. The day is blue and still and the mountains sparkle. The guides find the right runs on the best peaks with powdery snow and less avalanche risk. We are dropped at the top and collected at the bottom. My heart pumps loudly through my layers as I launch myself off into the powdery abyss and my wide powder skis feel like duck feet, but once I get the feeling of floating through the snow, I realise why this is such an addictive sport.

After a magical ride back through the mountains at dusk, when the world looks pink and blue, I make my way to shoe designer Kathryn Wilson's annual fashion show, this year at an airline hangar near Queenstown. The delightfully down-to-earth Kathryn isn't feeling nervous, she says, and often feels a collection isn't complete until she sees her shoes on the runway.

This runway demands attention, elevated and covered in glitter. Once the girls start sashaying down, in their 1950s hostess-inspired clothes, we get a good look at the designer's new summer collection. Yellow is the colour of the day, daffodil-hued heels and solid strappy sandals, along with silver, lilac and aqua. The collection is flirty, feminine, fun and wearable, with wide heels and solid straps. Flame-haired newsreader Samantha Hayes is a surprise model, and there are many more familiar faces — the beautiful red-lipped Boh Runga, and Art Green and Matilda Rice.

Many locals make a beeline to this event. "It satisfies our need for a bit of culture," one local tells me, "and it's a good excuse for a night out." And this night out, it would be appear, is going quite well for some. The champagne is flowing fast and there are a few tipsy show-goers, some whom take to the stage after the show, unable to resist strutting their stuff. A couple of fiftysomething men mince and flick their hooves around, much to the delight of the crowd.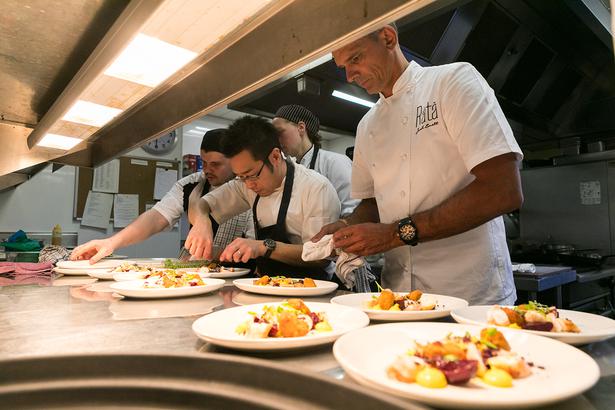 The next day delivers a few sore heads, but by lunch we're ready to get back on the horse. I've been looking forward to the Clicquot Long Lunch at Rata Restaurant. The four-course menu, designed by chef Josh Emett who is here to chat through his choices for the day, is an eclectic mix of flavours and textures.
Each course is accompanied by a different style of Veuve Clicquot champagne. Up first, a delicate flavour combination of Hamachi kingfish with a slather of horseradish, a dash of dill and a burst of saltiness from salmon caviar. Just like wine, champagne, is made from various vintages, and to go with the light fish we taste the non-vintage blend. It's clear and bright, and made from many different parcels of grapes.
The next dish, soft, dense and creamy seared Bluff octopus with saffron aioli, is accompanied by a heavier Veuve Clicquot Vintage 2008. Later in the lunch, to accompany a lamb dish, we are served the pick of the day for me, the Veuve Clicquot Vintage Rosé 2008. This is a more complex champagne made from pinot grapes that can replace a red wine with any meal.
The Te Mana lamb loin, I overenthusiastically tell Josh later that evening at the Clicquot Gala, is the kind of dish that turns a lamb loather into a lamb lover. Having been raised on a farm, the strong scent of lamb permeated my nasal passages on a daily basis and had quashed my interest in the meat. Until today. Silken, perfectly cooked and complemented by a coconut vadouvan spice and butternut squash I am now allowing a little lamb back into my life.
The Clicquot Gala is the last event of these bubbly few days. Yellow Veuve Clicquot balloons line the perfectly lit corridor of trees leading into The Winehouse overlooking Skippers Canyon. The fire is crackling, the champagne is flowing and waiters on stilts dressed in feathers and stripes fill our glasses as we listen to the gold jumpsuit-clad Boh Runga belt out a few tunes. Jason Kerrison strums his guitar and beautifully dressed women shimmy on the dancefloor.
I think I might finally be a bit tipsy. And the next morning, maybe, just maybe, nursing a small Veuve Clicquot hangover.
• Ginny Fisher was a guest of Veuve Cliquot. Visit Veuveclicquot.com
Share this:
More Culture & Travel / Going Places