Conceptual Artist Zac Langdon-Pole On Belonging & Identity
The Berlin-based creative talks about his curious assemblages on show at the Auckland Art Fair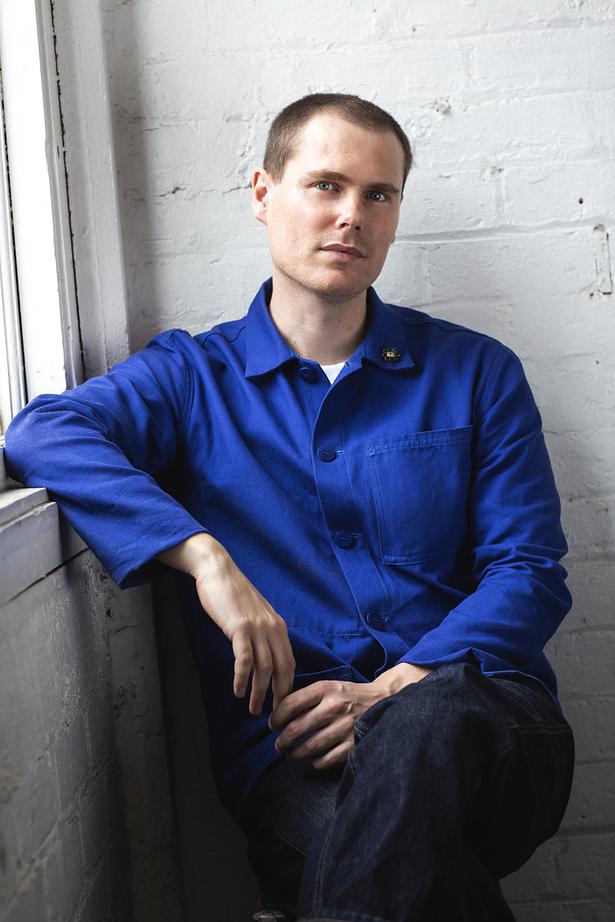 Friday Feb. 26, 2021
All great artists are great thinkers and Zac Langdon-Pole, 33, is certainly that.
His nimble mind jumps from one supposition to another.
Today he's talking me through his art fair work, Emic Etic (ii).
We have an old wooden tool box with two objects inside. This is what he calls an assemblage — an artwork made up of found or unrelated objects. The first is a replica royal tiara, the second a rusty calf weaner.
You're not alone if you've never heard of the latter.
READ: Meet Ayesha Green, The Artist Unearthing The Language Of Flowers
"Farmers use them to separate calves from their mothers, it's fitted on the calf's head, so when it goes to feed, it will prick the mother, and eventually she'll abandon it."
Sounds cruel, but Zac isn't here for a cost-benefit analysis of farming. What he's really interested in is the meaning of each object and how these items, both of which are worn on the head, hold a kernel of history that led to ripples of change.
"The calf weaner represents a point at which profit takes presidence in the practice of farming; it's really an object that expedited the profitability of farming."
Another tool of sorts, the tiara represents the monarchy, a form of control.
It's an odd assortment, but it's the strangeness that sets off an interesting and divergent conversation.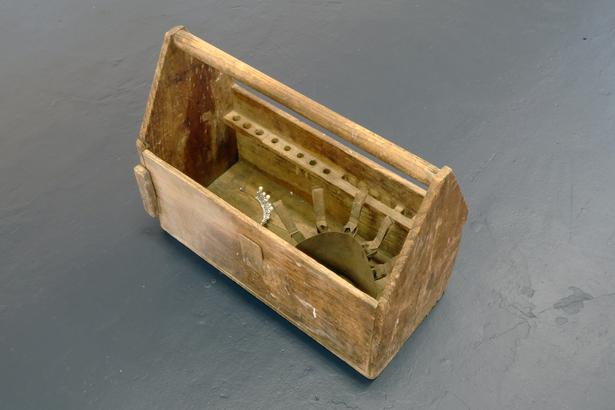 Zac Langdon-Pole's 'Emic Etic (ii)', 2021. Photo / Supplied

The farmer will see the calf weaner differently to the environmental activist, the coloniser would view the crown very differently than tangata whenua. A male and female perspective, well now they would definitely differ.

Emic-etic is an anthropological term that refers to the cultural meaning of the subject and the observer, in short, every person who encounters this box will have a different take on it.

Common threads in Zac's work include duplicity, the fallibility of certainty and the spaces in between.

"The gap between sameness and difference is of interest to me. What I'm realising is reality is a constant jostling between 'is it this, or is it that'? It's these twists in perception that intrigue me."

Of emic-etic work he supposes there could be something just as beautiful about the design of the calf weaner as there is about the tiara.

"I like to reframe and rethink the order of values," he offers.

When asked about who might buy this piece, or where it might be displayed, or even that it might be a difficult piece to collect, he's unfazed. "It could go on a wall, on the floor, it could even go in someone's garage — these are merely objects of the world, with a slight twist," he suggests with a hint of a smile.

READ: Anna Dickie's Art Collection Reflects A Life Well Travelled

Zac's career gained momentum after he picked up the BMW Art Journey Prize at Art Basel in 2018, for his work Passport (Argonauta) — a series of sculptures that entwine two organic materials; an argonaut paper nautilus shell and a 4 billion-year-old meteorite.

The fragile shell is mounted on the wall and inside holds the dense and heavy fragments of time and space, a dualism from the bottom of the ocean and the far-reaching universe.

The shells, he tells me, are made from the secretions of the female Argonauta nodosa — a close relative of the octopus who makes the shell to protect her eggs.

One of the Argonauta sculptures is currently on display at his largest exhibition to date, Containing Multitudes, at City Gallery in Wellington.

The BMW prize allowed the 2010 Elam graduate and Master of Arts graduate from Frankfurt's Städelschule, Staatliche Hochschule für Bildende Künste, to follow through with five months of research loosely based on migration, celestial mapping and evolution.

Zac set off on a journey that followed the flight paths of migrating birds from Europe to the Pacific Islands and finally back home. During the five-month trip, with more than 20 stops, he collaborated with scholars, artists, and navigators, documenting his journey through musings on paper, photography and celestial mapping.

His Containing Multitudes exhibition is an extension of his investigation of his research on migration and human evolution, and many of the works were made here in the first lockdown.

"I was pretty productive actually, there was not as much pressure to create, so the work just unfolded."

It's a variety show according to chief curator Robert Leonard, taking multiple forms — puzzles, fossils, artefacts, and oddities and tackling diverse subject matter (the natural world, language and culture).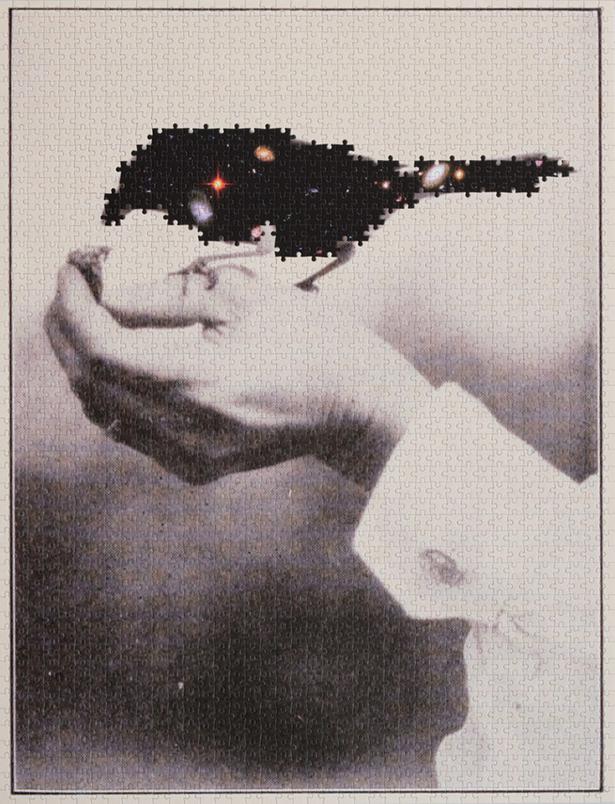 Zac Langdon-Pole's 'Pole Sleight of Hand', 2020. Photo / Supplied

"The artist wants to stretch us, challenging us ... it's an opportunity to get our heads across his project or lose ourselves trying," writes Robert.

In one unexpected and beautiful installation Zac has laid a floor of recycled native timber boards in one of the gallery halls. Not the best boards, the worst — those once colonised by borer beetles.

Interested in highlighting the activities of these busy little pests and how they habituated the boards, Zac decided to fill the holes with gold leaf and filler to startling effect.

"The whole project took around four months to complete," he says, with City Gallery staff working overtime to plug the gaps.

When you walk upon the work "gold glitters from the corners of your eyes", says Zac wistfully.

Other works in the new show include a collection of puzzle works that riff off the question "what belongs where"?

READ: Get To Know Interdisciplinary Artist Pelenakeke Brown

He figured out that all puzzles are made with the same templates, so he could blend different images to make surrealist-looking collages; mostly he sought out Old Master reproductions and encyclopaedia-plate illustrations.

In Pollinations, Pieter Bruegel the Elder's famous painting of the Tower of Babel (c.1563) appears and is blended with a vibrant floral still life by Jan Frans van Dael (1792).

The Bruegel work attempts to explain the diversity of human language while the still life of mixed flowers seems out of place — does it suggest there is beauty in our differences?

It's up to the viewer to decipher the puzzle within the puzzle.

"I don't think viewers need to understand the back story, just the implication that something might unfold is enough. An art gallery is one of the few places in the world where we have this ritual where we can let an artwork influence us as much as we influence it. All I can wish for is to open up our normal ways of seeing. Nothing is fixed or static in the world; our sense of identity is always in process. We cannot be ruled by certainty. That's a trap."
Share this: