Finding Artist Jim Cooper
Ceramic artist Jim Cooper has traded clay for fabric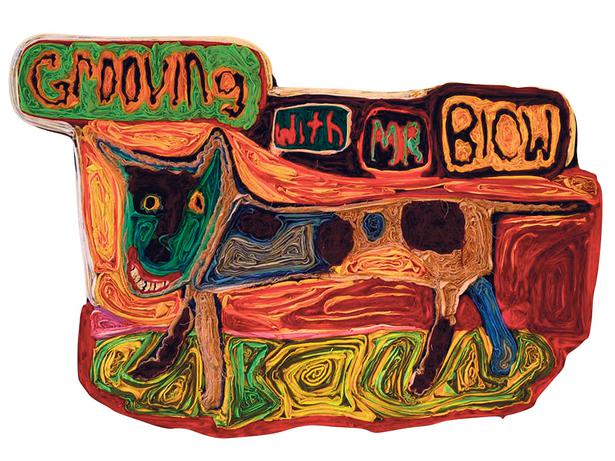 Thursday Sept. 3, 2015
In the remote seaside town of Port Chalmers on the outskirts of Dunedin, colourful and eccentric ceramics and drawings line the shelves and walls of the Port Royale cafe. I'm lured to the playful creations — a ceramic cat, mushrooms, and life-size drawings covering the walls.
Inquiring about the artist, the barista responds quickly: "Jim Cooper. He should be in soon, this is about Jim's time." He is a regular at Port Royale; living down the road and described by some locals as the "Keith Richards of pottery". I wait to meet the man behind the fascinating work but he doesn't show, so I spend the next two days trying to track Jim down.
Some of Jim's work is on display at the Brett McDowell Gallery, but owner Brett says he hasn't seen Jim for months. "He's just got back from Taiwan, his work is very popular there." Brett doesn't have any contact details for Jim but has heard he has been helping out the Artsenta — a place that offers art therapy for people with health issues.
There, a staff member pulls out a piece of paper with Jim's home number on it. He supposedly doesn't have a mobile phone, nor does he drive a car, instead getting around by hitchhiking. I call the number and am greeted by a warm and energetic Jim, who is open to me visiting his studio and home in Sawyers Bay.
I arrive the next day at Jim's converted studio/home, once an onion factory. There are ceramic figures in the garden, and in the doorway statues of what must be more than 50 Chinese gods. He passionately tells the story of each one, bought from antique markets in Taiwan. New Zealand Customs gave him a hell of a time when he brought them home, thinking he was bringing them back to sell because there were so many. "Why would I want to sell them! I've spent so long finding them all."
In his studio we start talking about the thing he is more passionate about than anything else — making art. We're surrounded by piles of fabrics, which Jim will work into new rag rug works that resemble paintings. Sewing and working with fabric is a new field for him, and he plans to exhibit them in December at Auckland's Whitespace gallery.
Jim, who turns 60 this year, is renowned for creating out-of-this-world pottery, having won many awards, and is known for large-scale ceramic exhibitions with hundreds of individual figures. His work is popular throughout New Zealand and Asia. He has been asked to exhibit in Taiwan multiple times, and on a recent trip there began making works out of fabric after he ran into difficulty with Chinese clay.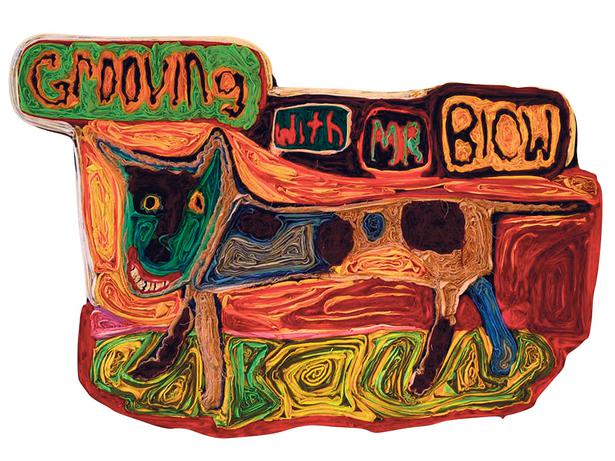 First he began making figures out of papier-mache and polystyrene; on that trip he had planned to experiment with new mediums and collaborate with another artist with a background in sewing, "but he just turned up, painted the studio pink and disappeared. So I'm there and there's this sewing machine and the Taipei fabric market is down the road. I thought 'I can make rag rugs that look like paintings' and that is where this all started."
He now loves working with fabric as much as he enjoys working with clay. "I really enjoy materials that are generous, and fabric is really generous, it's soft and it's colourful, it really gives a lot. People come over and I say 'feel this': I get a wee bit of a thrill, I get a wee bit excited. Clay is the same — sometimes you open a bag of clay and think 'oh too soft' and other times you open it and think 'this is so right'.
"I think ceramics are very generous too — clay is very tactile, it holds every mark — and it's the same with these [new artworks]."
Jim used to draw his designs but does so less now, with his limited studio space. "There's something very nice about carrying it around in your head — drawings are an introduction to the making. A way of translating a feeling. I find it exciting to work from a place of feeling — this feels good, this feels right, looks right — it feels like it's from deep down in you."
Before making the rag rugs, Jim had no skills in sewing but he is slowly teaching himself. "I still don't know how to sew!" he jokes.
Each artwork is named, often after songs from bands he loves like the Rolling Stones, Cream, Pink Floyd, Led Zeppelin and The Beatles. He shows me an artwork with a dog. "It's called Grooving With Mr. Blow. I had a dog called Blow and there's an old 70s song called Groovin' With Mr. Bloe."
These new artworks are time-intensive, not to mention hard work. Jim has put his back out trying to pull them through the machine, and he works long days — with the words on one work taking at least a day and a half to make.
"My days are weird, maybe 16 hours a day, I panic if I haven't done eight hours and then I think, 12 hours, that's reasonable. Then someone will say, 'let's go op-shopping' and then it's all over. I'm an extremely good op-shopper." He'll trawl opshops for fabrics. Yellow and orange are the hardest colours to find, but they happen to be two of his favourites to work with.
Meeting Jim is a fascinating experience.
When asked how he would like to be known as an artist, he answers, "I don't think about it, I just do it".
His work fuels him; he says there have been times when he has gone weeks on end without sleeping, just creating. He doesn't yet know how much he will sell his new works for. "It depends. Sometimes I think a pizza and a can of coke would be a good swap. Other times I think, oh no wait, wait I want a mansion in the Hauraki Gulf."
Share this: