Four Things To Do This Weekend
Interesting photography, painting, music and film exhibitions to visit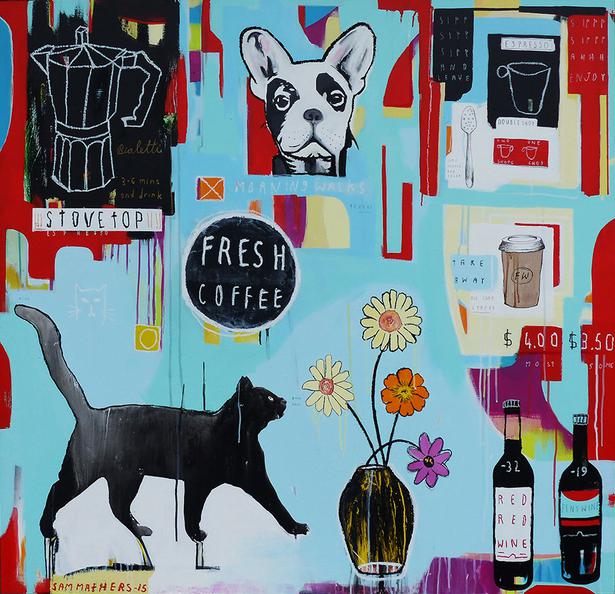 Friday June 26, 2015
A Few Stray Bottle Caps by Sam Mathers
Contemporary Auckland-based painter Sam Mathers, whose graphic artworks (pictured above) are inspired by his daily finds, has kicked off his A Few Stray Bottle Caps exhibition in Wellington over the weekend. Featured here is his mixed media Sipp Sipp Sipp And Leave artwork, 1200mm x 1155mm, $4000.
— The exhibition is on at The Third Eye, 30 Arthur St, Te Aro, Wellington, until mid-August. Or visit sammathers.com
Unposed Portraits and Traffic Lights by Lucien Rizos
As a young violinist touring with the New Zealand Symphony Orchestra in the late 1970s and early 1980s, Lucien Rizos set out to photographically document the nation. Traffic Lights (1981), which captures pedestrians at intersections in Auckland and Wellington, is being exhibited alongside Rizos' new work, Unposed Portraits (2014), a collection of telephoto-assisted extreme close-ups of people in vehicles.
— Anna Miles Gallery, 10/30 Upper Queen St, until July 25.
Matariki: The Path Is Made by Walking
Six years worth of paintings, murals, music, photography and film by rangatahi (youth) involved in creative arts initiative Nga Rangatahi Toa are being displayed over four gallery spaces at Studio One Toi Tu. The exhibition is a retrospective of works by past and present rangatahi and their mentors, which include poet Tourettes (Dominic Hoey), artists Dan Tippett and Tracey Tawhiao, and musicians Louie Knuxx and DLT.
— Studio One Toi Tu, 1 Ponsonby Rd, June 24 to July 16.
Anzac by Laurence Aberhart
Monuments lovingly erected to remember those who fell in World War I, but now weathered and forgotten are the subjects of Laurence Aberhart's latest solo photographic exhibition. Anzac seeks to bring those statues back into focus.
— Gow Langsford Gallery, cnr Kitchener and Wellesley Streets, until July 18.
Share this:
More Culture & Travel / Going Out