Test Driving the Mercedes E-Class
Being behind the wheel of the luxurious Mercedes E-Class is pure joy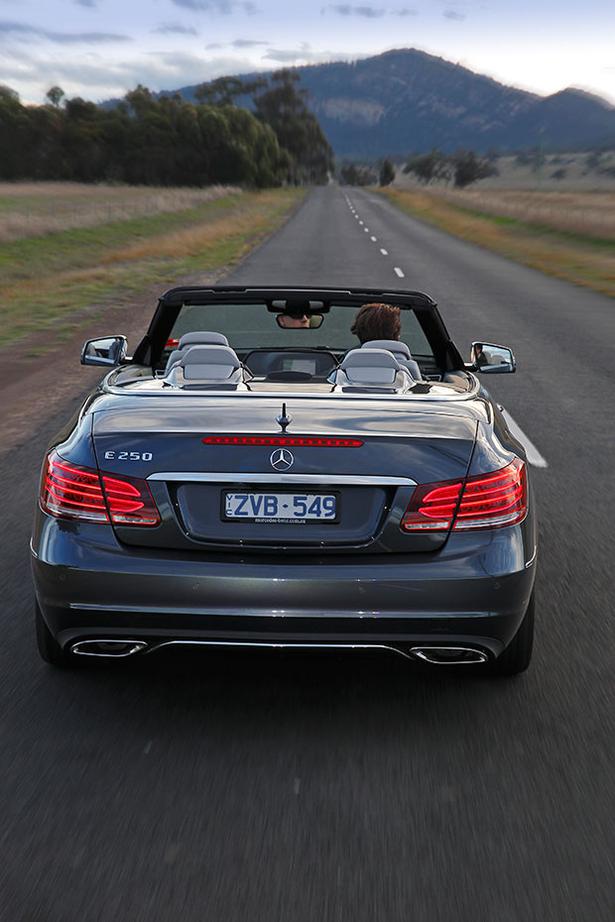 Wednesday July 1, 2015
I'm not used to driving cars that get wolf whistles, but that's exactly what happened along Herne Bay's Jervois Rd where, I'm sure, cars the calibre of the Mercedes-Benz E250 Cabriolet Night Edition are a common sight.
With its roof down, the sparkly and sleek Mercedes gives us a sense of being somewhat exposed and an initial fear that we might be mistaken as Ponsonby poseurs. This is forgotten, however, as we roar on to the Harbour Bridge and, as the warm air swirls around us, there's a wonderful new sensation of being part of the environment, not disconnected in a sealed bubble.
We're heading north for a weekend house party near Matakana. Perfect territory for cruising in such a stylish car, although you do have to be travelling light. This isn't a car you are going to pack to the gunnels for a road trip. When the top goes back at a touch of a button and tucks cleverly into the boot, there's only just enough room for the golf clubs and a small bag. But, that's okay, this car is for those who are free of baggage.
As with most things in life, it is the details that count. The leather upholstery, heated seats and airscarfs (cleverly positioned heating units at neck level), the glossy ashwood trim, the leather steering wheel, the automatic front belt feeder, the autonomous steering correction and a seven-speed automatic transmission to ensure effortless cruising.
My partner, whose last convertible was a wind-blasting 1978 Fiat Spider, is lapping up all the features including the innovative Aircap, which is a cleverly designed wind deflector. From behind the wheel there is a wonderful wide, clear view, backed up by the active "blind spot assistance".
The fun of driving in an open-top car is contagious — and at some stage over the weekend everyone in our party of 12 has bagsed a ride. And the E250 has plenty of room for back-seat passengers. We cruise gently around the streets of Omaha, and race on the winding road to Tawharanui.
The house party moves to Mangawhai and the drive through the Whangaripo Valley is pure joy. This is where the comfort and quality Mercedes is renowned for come into their own. I don't think I've ever had such a glorious sense of freedom in a car. The road is all ours, curving and rolling through forestry and farmland.
With the roof down, there's a sense we are travelling faster than we really are. It's exhilarating, and thanks to the Mercedes' solid build there's an underlying feeling of safety. The car hugs the corners with ease, and there's plenty of power to open up on the long straights. This. Is. Fun.
The brochure describes the Mercedes E250 Cabriolet as "synonymous with luxury, opulence and success". They should add joy. This is a happy car. How lucky are we to be driving through such a beautiful landscape, just hours out of Auckland, in such style?
Back in the city the E-Class' urbane slick lines hold their own in the style stakes. This car is stylish and refined. Indeed, as we pull up to The Langham hotel a guest stops to take a photo. It's that kind of car.

• The 2015 Mercedes-Benz E250 Cabriolet Night Edition retails for about $118,900.
Share this:
More Culture & Travel / Going Places