Must-See Exhibition: David Bowie is
The genius of David Bowie is being displayed in Melbourne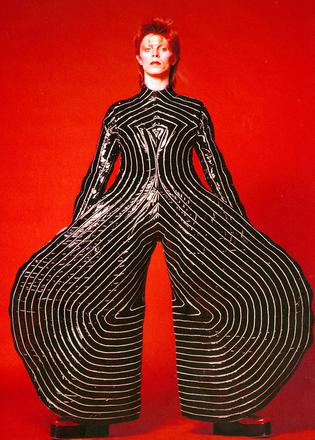 David Bowie's many extravagant costumes, hand-written lyric sheets, promotional memorabilia and original storyboards are being displayed in Melbourne as part of a critically-acclaimed exhibition.
David Bowie is, which opens at the Australian Centre for the Moving Image (ACMI) today, charts the phenomenal career of the performer with more than 300 objects from his archive.
The exhibition was created by London's Victoria and Albert Museum (V&A), and has since been seen by over 1 million people worldwide in sell-out shows in Chicago, Sao Paolo, Paris and Berlin.
The Melbourne leg of the exhibition is the biggest yet, with added materials that relate to Bowie's Let's Dance video, which was filmed in Sydney and Carindah in 1983.
"We've borrowed some additional objects from the David Bowie archive for that, which shows some of the behind-the-scenes, handwritten notes and some storyboards," says ACMI curator Emma McRae.
"And then we've also borrowed some objects from local collector Bruce Butler. He's lent us some photos that he took at the 1978 concert in Melbourne and a program from that concert tour."
As well as the exhibition, the ACMI season includes a curated program of talks and special events, film screenings and live performances.

• David Bowie is, ACMI, Melbourne, until November 1.
Share this:
More Culture & Travel / > International