Dan and Briar Andersen, Ink Lovers
As Valentine's Day approaches, Dan and Briar Andersen share their love story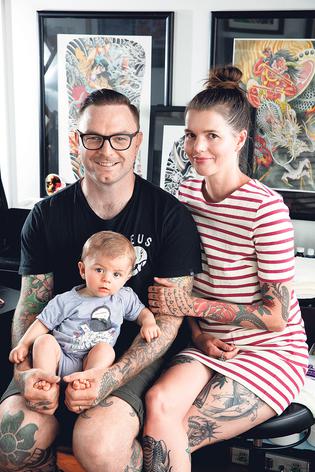 Trust and commitment are requirements when getting a tattoo, but one couple have taken their love for ink to the next level. Sacred Tattoo artist Dan and his future wife Briar first met 19 years ago when Dan tattooed the fairies on Briar's arm. They remained friends over the years, Dan tattooing her several more times. But it wasn't until 2013, during an informal consultation about Briar's next tattoo, that something clicked.
Briar: I realised this guy was 'the one'! The feeling was overwhelming and the courtship was electrifying. Four years later (our anniversary happens to be the day before Valentine's Day) we own a home together, work together, are married and have a beautiful son, Juno. Apart from Dan's devastatingly good looks, his natural charm, kindness and his 'dad jokes' sense of humour, he is the most trustworthy person I have ever met.
I love Dan because of the times when I'm kicking it round the house in a pair of old trackies, no makeup, unkempt hair, baby spew on my shoulder and sleep deprivation engraved on my face, and he tells me what a beautiful woman I am.

Dan: I always found Briar beautiful and easy to be around but we started by having no secrets. We told each other everything about ourselves, especially about the difficult relationships we had both been through, so it was pretty real when the dynamic changed.
It created a lot of trust right from the start so it moved along really quick after we started seeing each other.
It was terrifying and exciting in equal measure.

READ: Valentine's Day: Joost and Clare Van Den Berg, Cafe Cupids
Briar: Our most significant experience was having to go through IVF in order to be blessed with our cosmic wee man. I have a disease called adenomyosis that prevents me from being able to conceive naturally. Anyone who has been through IVF knows it is mentally, physically, spiritually and emotionally destroying.
Under any other circumstances the levels of stress you experience would break a relationship but Dan was steadfast through the whole process. As part of my treatment my hormones were shut down and I had three months of induced menopause. As ghastly as it all was, we have created the most magical human being. Having Juno seals the deal. Seeing Dan as a father makes my heart explode.

Dan: Apart from Briar being just the coolest person I know, I love her generosity and determination. Watching her battle to have our son, I've never been in awe of someone like I am of her. She is very much the light in the room and many can attest to her uncanny thoughtfulness, but to watch her channel that into our family is incredible.
I've never believed in someone nor had someone believe in me so much. We don't really fight. Briar is just super tidy and I'm a little messy, so that drives her crazy. It's only ever quibbles that are only half serious and they never boil over into anything more. Sleep deprivation and a baby tend to push that to the limit, but we're still on the same team so far.

Briar: People will often comment how hard it must be for us to work and live together. I honestly believe that I am super lucky to able to hang out with my best mate all day and then go home with him. Because I understand the ethos and the clientele of Sacred Tattoo having managed the studio for two years, I can support and motivate Dan to drive the business forward.
Opening the Laser Removal clinic within Sacred in 2015 meant that I could offer my expertise to the studio, which has made our relationship and the business more dynamic. People think it's hilarious that he puts tattoos on and I take them off!
Share this: