Discover David Hockney's Digital Fairy Tale
Dive into an art-filled weekend with David Hockney and Viktor and Rolf exhibitions in Melbourne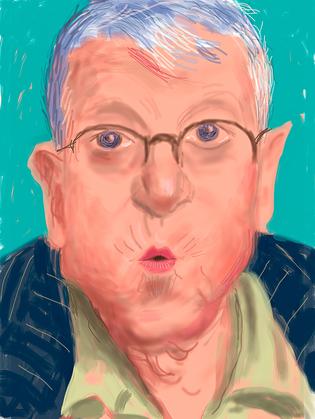 It's hard to decide what's more surreal. The idea that the hundreds of artworks were created on the artist's iPhone and iPad. Or, that gallery-goers are trying to capture them with devices of their own. I'm at the David Hockney: Current exhibition at the National Gallery of Victoria in Melbourne, (on until March 13) and I've just walked into a digital fairy tale: adorning the walls are more than 700 works from the influential British artist's past decade, enough to make you question your own creative output over a lifetime.
READ: Where to Eat, Visit and Shop in Melbourne
Alongside paintings, photographs and video works, the majority of pieces show the 79-year-old has embraced new technology with more enthusiasm than a tweenaged girl. Lining one wall are iPhones displaying brightly coloured still lifes created on the Brushes app — a bonsai tree, a candle flame, a piano player — that somehow defy kitsch. Others offer a gateway into the artist's quickfire methods.
An animated view from a window is revealed brushstroke by brushstroke, even if the brush was in fact, an index finger.
There is some evidence of Hockney's traditionalist side: a corridor of 80 painted portraits of friends, family and well-known figures (entertainer Barry Humphries, curator Edith Devaney and designer Celia Birtwell among them). But step beyond that and visitors are almost swallowed whole by Hockney's vast, wall-sized landscapes.
Although critics suggest they lack the finesse of actual paintings, the effect of their scale is still powerful, their sense of joy and freedom undeniable. Finally, visitors walk through two rooms offering alternative perspectives: an 18-screen video of jugglers performing, and a series of moving kaleidoscopic landscapes. I feel I've been down the rabbit hole and have escaped with a newfound respect, not just for an artist keen to keep pushing boundaries, but for my humble iPhone.

Just as confounding is the Viktor and Rolf: Fashion Artists exhibition (until February 26) next door. The audacious Dutch designers are best known for their whimsical haute couture, blurring the line between fashion and art. A holey tulle dress from their spring 2010 collection, Cutting Edge is displayed nearby gowns from the 2015 Wearable Art collection, dripping, Dali-like, from within their warped gold frames.
READ: What's Hot at This Year's Melbourne Fashion Festival
Their subversive take on high fashion is evident in a coat with a collar that spells out "No", and the duo's thousands of sketches make up the wallpaper. Best of all, there's none of the velvet rope treatment guarding their designs.
Part of the pleasure is being able to wander a breath away from their designs and the replica Victorian dolls dressed in their creations, including one that appears like a cuckoo clock, arriving every 15 minutes on a creepy, custom-built catwalk. There's even a workspace that allows visitors to tap into their own creativity by taking part in a version of the V&R Amsterdam atelier, crafting V&R-style collars from paper.
Having dabbled in a fantasy world for a few hours, it seems apt that I'm staying at the QT Melbourne. In the former Greater Union cinema on Russell St, the new addition to the innovative resort and hotel brand opened in September, wowing guests with its Melbourne-savvy mix of contemporary art and design — and a stunning rooftop bar that attracts drinkers from far and wide.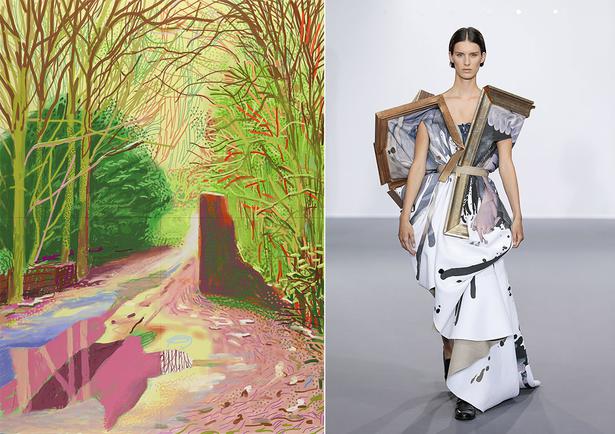 Wander into the hotel's meeting rooms and you'll be met by the Queen's face, crudely blacked out, as part of a series of irreverent works by Tony Garifalakis. Take the staircase from the stylishly industrial foyer to the restaurant and peruse an installation of black and white books that line the wall.
A swirling digital artwork by Jennifer Steinkamp takes pride of place in the foyer. Even the bar and restaurant are brimming with curios — prints and plates on the walls and crazy cushions. Food-wise, it's just as quirky.
There's a Marie Antoinette-inspired cake shop featuring delicate French delights, and down the neighbouring laneway you'll find specialist Japanese knife shop Tanto next to the Korean and Japanese street food bar Hot Sauce, where you can order deep-fried chicken infused with Japanese whisky and cola that can be sucked out with a straw. Just the sort of thing Hockney would approve of.
• Rebecca Barry Hill flew to Melbourne on Virgin Australia and was a guest of QT Melbourne.
Share this:
More Culture & Travel / Going Places