Zambesi's Dayne Johnston's New York Diary
Zambesi Man designer Dayne Johnston shares his diary from a recent trip to New York for the menswear shows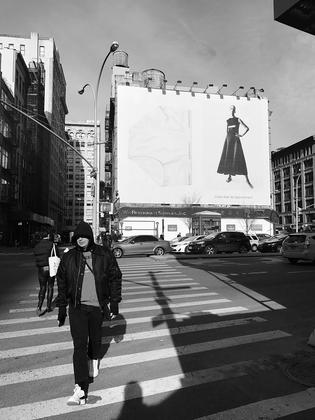 I'd never been to New York, but this season Raf Simons showed his menswear collection at New York Fashion Week Men's — so it was a perfect opportunity to attend the show and explore the city. This is the 20th Raf Simons show I have attended in a row, and we have been buying the brand at Zambesi for about 25 seasons (12 years). I have followed his work and career intensely: he is one of my favourite fashion designers. We have built up a cult following for the brand in the Zambesi stores, and it's always a highlight for me to see the show and buy the collection.
TUESDAY JANUARY 31
Arrive in NYC at about 11pm — it has been snowing but the snow has not settled. I'm pleased about that because I haven't packed suitable footwear — I have two pairs of Raf Simons trainers and a pair of Gucci loafers. Not suitable for snow.
I am quite jet-lagged and dazed as I have just been in Europe for the men's shows week and buying the men's collections for the Zambesi stores. I am travelling with my colleague Nicola, the manager of the Zambesi store in Wellington — she has been to NY many times, so her insight into the city is great. We take photos from the Uber driving into the city from Newark Liberty airport, before checking into the Ace Hotel in Midtown.
I can't believe my luck, I have an epic view of the Empire State building and we have both fallen in love with the hotel. It is very busy, with hipster fashion people milling around the downstairs bar. I spot a guy wearing a Vetements hoodie, and Nic is regretting not buying it from the Zambesi store because it's now sold out! We have a drink at the hotel bar — I quickly learn about tipping and try the Brooklyn Lager in a can; my new favourite beer.
READ: 8 Places to go in New York
Afterwards, we pick up our Raf Simons invitations from reception for tomorrow night's show. Nic decides it is a good idea to walk around the neighbourhood, so we dress up warm as it is minus-5C outside — I'm in a new-season Zambesi camel coat and Nic wears a new-season Zambesi puffer jacket. We head to Times Square. The lights, the buildings, the atmosphere of the city are overwhelming. I have to keep pinching myself, it is surreal to be here.
WEDNESDAY FEBRUARY 1
A sleep-in is well-deserved as we didn't end up going to bed until 3.30am and we are still recovering from the flight from New Zealand. We try the Breslin restaurant downstairs in the hotel and order steak and fried eggs for breakfast, with New York's bottomless coffee.
I didn't have time to get to the barber in Auckland, so I warn Nic I need to find somewhere to get my hair cut before tonight's show. We head to Dover Street Market, one of my favourite stores; it has all the best brands and is curated by Comme des Garcons designer Rei Kawakubo.
The presentation is awe-inspiring and all the new collections have just been delivered. The store spans five levels and the staff have such cool personal style. I become obsessed with a guy downstairs in the Rose Bakery — he has long red hair and a beard and is wearing Doc Marten shoes and a gold Casio watch.
I ask him if he knows of any good barbers close by; he and his colleague suggest Made Man Barber Shop on 23rd Street, so I make a booking with Alex.
Nic and I do some more sightseeing before coming back to the Ace to get ready for the Raf show.
Showcasing his Autumn/Winter 2017 menswear collection, the intimate show is held at an art gallery in Chelsea. We're greeted by the Raf Simons staff at the entrance, who are grateful we have travelled all the way from NZ to attend the show. We are very excited to be here.
The show is incredible — Raf's interpretation of his new hometown, so there are lots of references to New York. The clothes are American-inspired, and there is a blazer in the show which was inspired by a vintage find in NY — it's oversized and they have even replicated the woollen fabric of the original.
The casting and music for the show are wonderful, I am in love with the whole collection. We buy Northern Hemisphere winter collections for our New Zealand summer, to keep in sync with Europe/UK and America, so it can be very challenging trying to select heavy clothes for summer.
But there are lots of trans-seasonal pieces, which is great — I had already seen the clothes on the rack in the Paris showroom, so it is inspiring to see them put together for the runway show. Each boy wears a pearl necklace to complement the outfit.
After the show we spot A$AP Rocky, and Nic gets a photo with him. There are lots of famous people at the show, including Vetements muse Paul Hameline. We also meet Luka Sabbat — he is a stylist and model and is wearing head-to-toe vintage Raf Simons.
As we make our way back to the hotel, we see Vogue's creative director-at-large Grace Coddington. She has been at the Raf show and we stop and talk to her. What a goddess and lovely lady — I ask whether I can get a photo with her. Back at the hotel we post photos on our Instagram, discuss the show and feel very uplifted to be in this incredible city.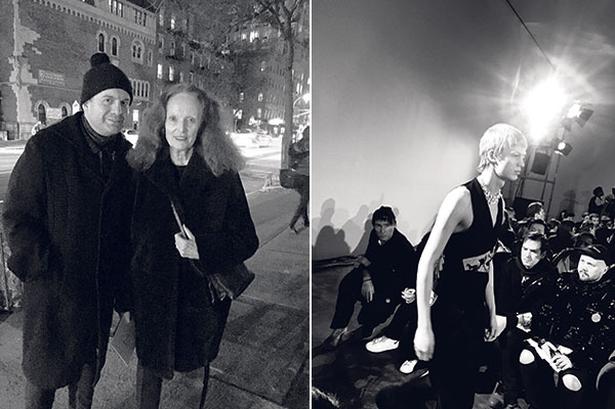 THURSDAY FEBRUARY 2
I wake up with a terrible flu! I think it is the result of all the travelling and being in Europe then back to New Zealand, then off to New York. I need to be careful today and look after myself. A friend back home messages me and tells me New York has very good "night and day" tablets at the pharmacies so I go to investigate. I just have to soldier on, there is so much to see and do here I am trying to not let it affect me.
We go for a walk on the Highline, a 2km linear park built in Manhattan on an elevated section of a disused New York railroad. The views are incredible but the temperature is freezing as the breeze is coming off the Hudson River, it is zero degrees but feels like minus 7!
We have lunch at the Chelsea Markets at Los Tacos, one of the best taco places in New York. I warn Nic I am not feeling well and have to go back to the hotel to rest. On the way back, we visit the new Barneys store on Broadway. It is smaller than their flagship, and has an intimate feeling, with a grand staircase in the middle.
The staff are really friendly and we check out the new spring-summer collections. Barneys carry a lot of the brands we buy for the Zambesi stores, such as Vetements, Maison Margiela, Acne Studios and Rick Owens.
They have a restaurant and bar within the store, and I order the chicken soup — a guaranteed recipe to get me better. Nic is wearing the Zambesi puffer sample and one of the sales assistant wants to buy it — he is very impressed with the style and has been looking for a stylish puffer. The jacket is getting so much attention in New York.
We check out some pet stores on the way back to the hotel as I want to buy my French Bulldog Angus a present — we spot some French Bulldog puppies and have a cuddle. These dogs are very popular over here and you seem to see them on every street corner. Back at the Ace, I rest and order room service while Nic meets up with her brother.
READ: Raf Simons' First Show for Calvin Klein
FRIDAY FEBRUARY 3
I wake early and decide to walk to Hotel Chelsea. This historic hotel has been the home of numerous writers, actors and musicians, including my favourites Patti Smith and Robert Mapplethorpe.
Raf Simons has just done a collaboration with the Robert Mapplethorpe foundation and each piece of clothing for Spring/Summer 2017 features a Mapplethorpe photo — we have this sought-after collection arriving in Zambesi stores soon. I take photos to post on Instagram. When I travel, I like to use my Instagram grid as a personal mood board and post photos that inspire me.
Today we embrace the New York Subway and plan to travel further than our Chelsea/ Manhattan base. We venture to Soho, the fashion district of New York.
First stop is lunch at the Mercer Kitchen, one of Leonardo DiCaprio's favourite places to eat. The food is beautiful and it feels like a very local place to come in Soho. While we're there, we discover one of the new billboards for Calvin Klein, Raf Simons is the new chief creative officer for the brand.
We are both obsessed with shopping and now check out some of the best stores in New York, including the Rick Owens boutique. This is one of the most inspirational stores I have been into; the environment feels like an art gallery and the staff are very individual and all dressed head to toe in Rick Owens. It is an incredible moment. We also visit Opening Ceremony, Y3, Fendi and an interesting store called Totokaelo.
We then embrace MoMa and see a fantastic Nan Goldin exhibition, before making our way to the Metropolitan Museum of Art and the Solomon R. Guggenheim Museum — one of the most amazing buildings I have ever seen. I think we have tried to pack too much into the day and I am still feeling sick and quite overwhelmed — but so inspired.
Later that evening we meet Jason Chong Li, who used to direct our hair at Zambesi and worked for Stephen Marr. He is now based in New York at the O&M salon and doing extremely well. It is lovely to see him and he takes us to a Japanese restaurant in Korea Town called Mew.
SATURDAY FEBRUARY 4
Our last day in New York, which feels sad as time has gone very quickly. I don't want to leave just yet. Before we fly out, we catch the subway to the Lower East side and walk over the bridge into Williamsburg, it is a beautiful sunny day and the sky is blue. New York has been amazing. I am dying to come back again soon.
Share this:
More Culture & Travel / Going Places