Why Deadly Ponies Commissioned Emerging Artist Hannah Valentine
Artist Hannah Valentine's work challenges Auckland Art Fair visitors to literally get to grips with it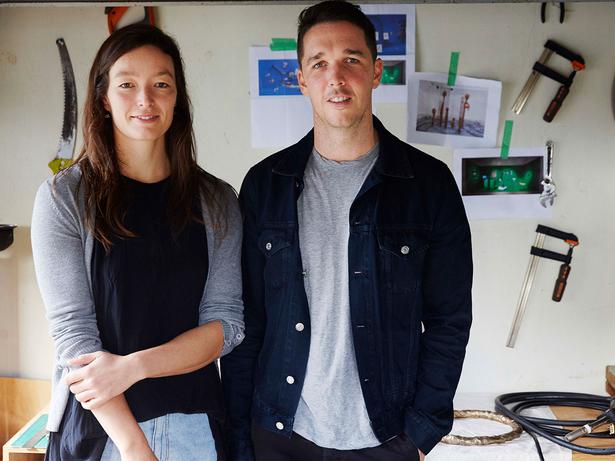 Thursday May 24, 2018
Sport and art have long been positioned as bitter rivals for attention and funding in New Zealand's cultural landscape; hard-bodied, beautiful athletes facing off against creative, intellectual, out-of-touch artists. It's an exaggerated dichotomy, of course, but it's still a little jarring when you encounter an artwork that brings sports equipment into the gallery space.
READ: Deadly Ponies Collaborates With My Little Pony
Emerging artist Hannah Valentine's work draws the two traditional competitors together as she explores the effects of a third challenger streaking on to the crowded field of our attention — digital technologies, with their showy, provocative screens that can encourage disconnection from both the physical and the intellectual. Hannah grew up "very involved with sport, and I think that inevitably comes into my work".
Her newest work, 'A thought for disruption 2018', is one of the key pieces in the Piki Mai exhibition of emerging artists at this year's Auckland Art Fair. Commissioned by the luxury accessories brand Deadly Ponies (the presenting partner of the Piki Mai exhibition) the installation is a collection of cast bronze works that reference weight bars and hand weights, displayed on frames that call to mind gym equipment.
Gyms are a source of both fascination and discomfort for Hannah. "I think gyms are odd spaces. We need them because we are continually stripping physical activity out of our daily lives in a quest to make things more efficient." Reimagining items designed for efficient physical improvement as beautiful, tactile sculptures seems to be a way of relieving the unease.
READ: Felicity Donaldson, the Ceramic Maker Behind Wundaire
There are no "look, but don't touch" prohibitions here; visitors are encouraged to pick up and engage with the sculptural pieces, testing their (surprising) heft, caressing the organic, hand-shaped textures of the pieces, and feeling the way they respond to the warmth of human touch by becoming warm themselves.
The installation is an extension of some of the work from Hannah's final year of her Masters of Fine Arts at Elam, from which she graduated with first-class honours. "I wanted to change the feel of [my earlier work], to make it more relevant to the art fair, to a marketing/advertising kind of sphere," she says.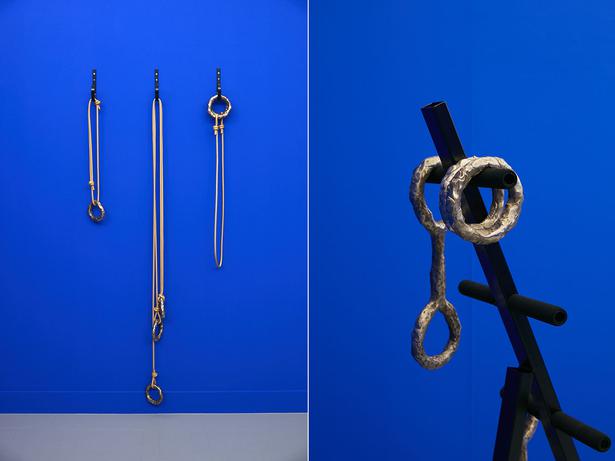 "I was thinking a lot about how those spheres really influence our bodies and our desires, and how that can come back and affect our physicality. I formed an idea around what Piki Mai is about — being "out there" and energised and sort of attention-seeking — which was a fun thing to respond to."
Deadly Ponies founder Liam Bowden says he had a long list of artists to consider for the commission, and although it was a tough decision, the tactile nature of Hannah's work and the craftsmanship behind were what stayed with him. "I liked the idea behind it — that it wasn't just one piece on a wall, but an environment that you go into — and the way that it's thought-provoking.
READ: Where To Find: Auckland's Best Art Galleries To Browse
There were layers to it," he says. "As you walk in and look at the pieces, at first they look quite primitive but as you get closer, they look more refined." His taste for artists who create both hand-crafted sculptural objects and larger environments for those objects — such as Kate Newby, Francis Upritchard and Steve Carr — meant Hannah's work had an immediate appeal.
Her artisan craftsmanship also piqued his interest, given that Deadly Ponies has considerable experience in casting brass hardware for their bags. "I could see the finer details of the pieces and wonder about the logistics of making them — like, 'Okay, how did she cast that long piece? How has it been finished so it didn't break the mould? That side of things intrigued me."
READ: A Celebration of Dick Frizzell's Iconic Tiki
The process, as Hannah explains, is slow and painstaking. First, she plays with different types of wax to create the forms, working them to create organic forms pocked with markings and even fingerprints. Next she creates ceramic moulds, dipping the forms over a number of days.
Next, the wax is burnt out of the shells, and the bronze is poured in to set. Although small pieces can be cast in one go, larger ones have to be welded together out of several smaller parts.
READ: How to Create the Perfect Bedroom With Katie Lockheart 
In addition to Hannah's commissioned piece, Deadly Ponies will present an installation designed by Auckland-based spatial designer Katie Lockhart, featuring mannequins dressed in Deadly Ponies scarves (both archival and new designs) and wearing masks created through Cloud Workshop, an art-based programme for bereaved children or children who have a family member suffering a life-threatening illness.
• To celebrate the opening of the Piki Mai exhibition at the Auckland Art Fair (Mezzanine Level, The Cloud), we have 10 Deadly Ponies art-print scarves (valued at $230 each) to give away to 10 Viva readers. Enter here.
Share this: