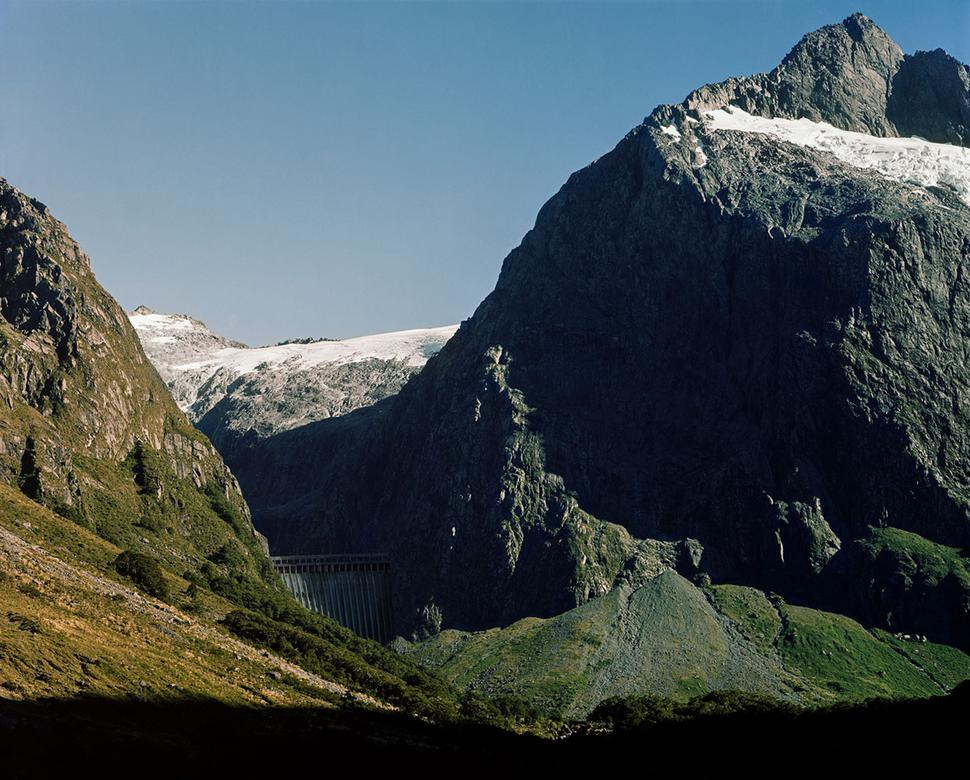 Derek Henderson's Latest Exhibition
Celebrated photographer Derek Henderson's latest exhibition puts a different spin on often familiar New Zealand landscapes
Wednesday May 17, 2017
New Zealand fashion and fine art photographer Derek Henderson's work has a impassive yet seductive beauty: unpopulated landscapes that seem glimpsed in passing; fresh-faced youths gazing carelessly at the camera; muted, out-of-time interiors of empty homes and community buildings.
His latest exhibition, showing at Melanie Roger Gallery from late May to mid-June, contains this characteristic sense of poetic isolation, and yet there's something new in it, too.
At the exhibition opening next Wednesday night, Henderson will be in attendance — a fleeting visit for a man who's in constant demand around the world for fashion and commercial work. When Viva spoke to him he was soon to shoot a cover for French GQ in New Zealand, before heading to the west coast of America to shoot Scientology churches for Mastermind magazine, and then on to Japan for an essay on author Haruki Murakami's favourite places, and Italy for a fashion campaign.
READ: Derek Henderson Shoots Mahsa Label
Regular editorial and fashion clients such as Karen Walker and Rodd & Gunn keep him returning frequently to New Zealand from his base in Sydney, but rather than scheduling his fine art shoots to coincide with his commercial work he likes to make specific trips home to shoot landscapes.
"I don't shoot any landscapes in Australia because I can't get my head around it," he says, laughing. "It's too big and flat. I have more of an understanding of New Zealand."
Collectively titled The Adjustment, the large-scale works of his latest exhibition feature vistas that at first glance are more conventionally "iconic New Zealand" than we're used to from Henderson — towering mountains, a cascading waterfall, a sun-gilded plain — pictures that on Instagram might be captioned with #explore #wilderness #epic. But in each, the tourist-brochure perfection is interrupted by a built element that becomes more puzzling the longer you consider it.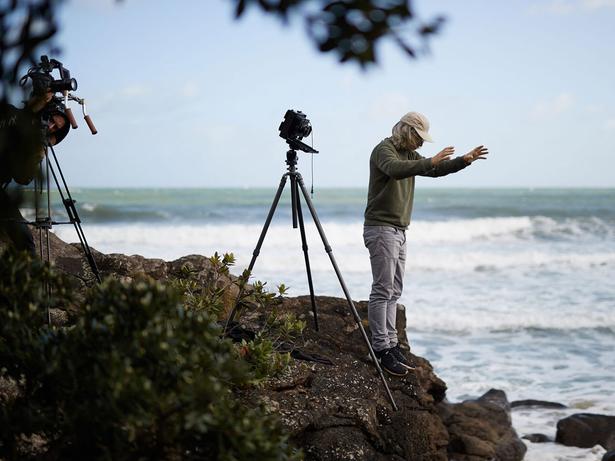 In one, a dam lurks in the deep shadow between two mountains. In another, a forested hillside leads the eye down to a triangle of security-fenced concrete, nearly out-of-frame. In a third, a golden Central Otago plain is punctuated by a series of incongruities — a lone wilding pine, an isolated bunker, and in the foreground, a weathered concrete wall, forming a blockade of indeterminate scope.
"They're images that you might be familiar with but you look at and think, 'There's something not quite right there'," says Henderson. "There's been an adjustment."
Indeed, the longer you look at the images, the more you question them. What are the structures, and why would they be there? Reaching the understanding that these are, in part, imagined landscapes, does little to resolve questions of which built elements are imposed, and when and by whom. If some or all of them are not really there, where are they in reality?
GALLERY: Behind the Scenes of Our Shoot in Queenstown
The lack of human presence further encourages the viewer to construct their own narrative for each frame — could these be snapshots of an abandoned past, or visions of a possible future?
The exhibition is a "kind of continuation" from a 2013 show at Melanie Roger Gallery, titled Let's Hope They're Friendly, says Henderson. In that series, he explored his memories of a widely-reported 1970s UFO sighting in Kaikoura, where he was staying at the time. In contrast to the documentary aesthetic of his earlier work, the images in the exhibition included deliberately mysterious figures and deserted alien spaceships.
"We had the most bizarre reactions [to that show]," admits gallerist Melanie Roger, who has worked with Henderson for the past seven years. "There was one woman who got quite grumpy, wanting to know, 'Well, where are they shot?'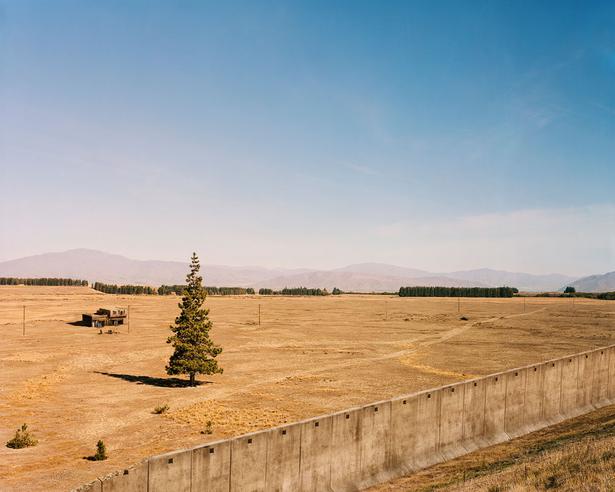 Partly because they were mostly black-and-white — which gives them a documentary edge — she thought they were real. She wanted to go and visit the site. It was the most odd conversation. People did find [the work] quite unnerving. So I imagine we'll have some similar conversations with this exhibition."
The works in The Adjustment reflect Henderson's ongoing interest in the "interactions of humanity and the natural world — how we cohabitate, whether we're good at it or not. Most of the time I think we don't work in harmony."
Travelling along the road through Central Otago towards Milford Sound, he found himself thinking about the way that the spectacular landscapes masked a less attractive history of human intervention within them.
"Those wilding pines, like in the picture with the wall, they look really beautiful but they're really a pest that's destroying the ecology of the South Island," he says. "There's this idea about New Zealand that it's 100 per cent green and natural, but it's not. You can't swim in the South Island rivers any more because of the didymo [an invasive algae]. I don't want to bang on about it. But there was a concept there for me to work from."
READ: A Photographic Getaway to the South Island
By adding man-made elements to familiar natural landscapes, Henderson creates moments of disruption that cause viewers to revisit their assumptions about the pictured places. "For most people who've been through or who know that area [Central Otago], they know its visual narrative or vernacular," he explains. "When you put a wall in it, it changes it, and hopefully makes people think about it in a different way.
"We don't have borders in New Zealand, but if you go somewhere in Europe or the States or Israel, you're quite aware of these areas where you're on one side or the other," he continues. Here in our splendid South Pacific isolation, we may not have geopolitical borders to wrangle over, but the land is still the subject of territorial disputes between colonisers and the colonised, whether human, animal or botanical.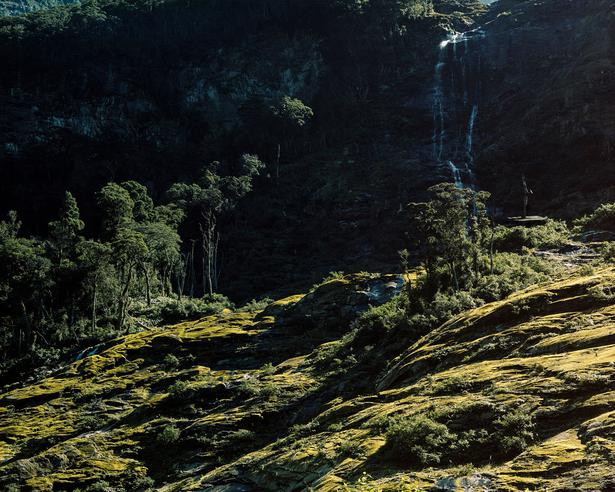 Not that Henderson is attempting to push a particular political agenda. "I don't want to sound preachy, to tell people there's one way or another of looking at the world," he says. "I think it's about scratching the surface of things you're taking for granted."
He seems to cultivate ambiguity in his work, deflating the majesty of dramatic landscapes with dilapidated man-made structures, and using the way light falls on mundane objects or places to infuse them with beauty. "I am looking at form a lot, and colour and light," he says, "but that's just to inform the concept behind it. I probably see more of the sadness in the world than the other side, but I try not to be too gloomy.
There may be something unnerving in a picture, but I don't want that to be too strong. The sun is shining in a lot of my pictures, but it doesn't mean it's a happy place."
Working on his fine art projects is a cathartic counterpoint to the intensity of his fashion and commercial work, he says. "I really enjoy going out on my own and looking at the world and making observations. The photographs are a by-product of that, I suppose.
You have to spend a lot of energy on portraiture, because people talk back. That can be quite tiring. Not that I don't like doing it … but while a landscape might 'talk back', it doesn't require as much give to get from it. Being out in the natural world rejuvenates you."
• The Adjustment shows at the new Melanie Roger Gallery, 444 K Rd, Newton, from May 24 to June 17, as part of the 2017 Auckland Festival of Photography.
Share this: