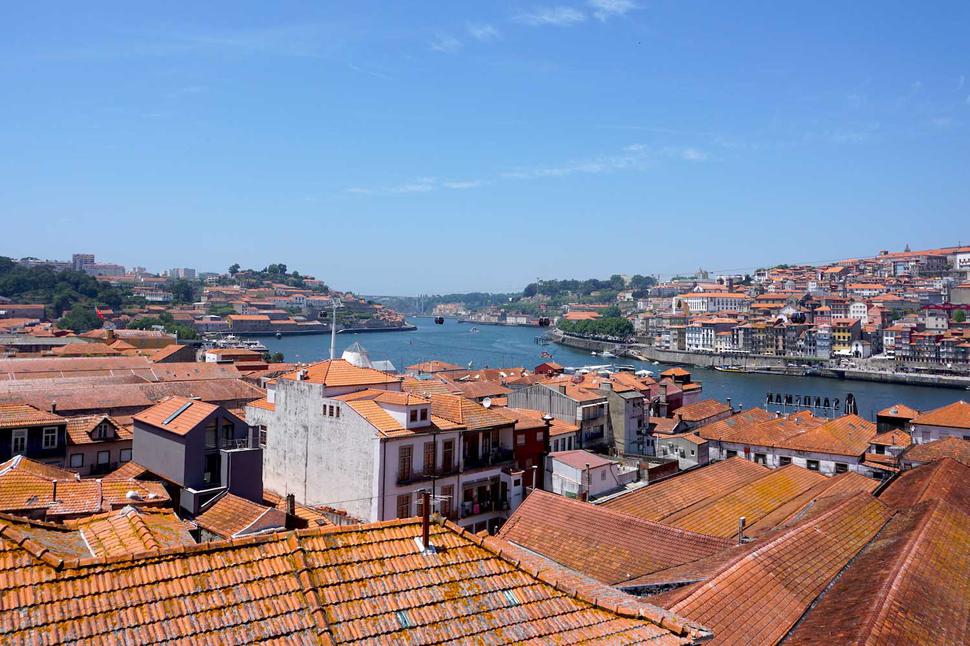 Travel Diary: Designer Samuel Hickey's Guide To The Perfect Porto Escape
The menswear designer behind linen label Samuel Joseph shares his highlights from the historical Portuguese city
Sunday May 20, 2018
For local menswear designer Samuel Hickey, sourcing the right linen for his burgeoning shirt brand Samuel Joseph was a labour of love, landing on a small family run business in Porto, a beautiful coastal city situated in the northwest of Portugal, and the country's second largest.
READ: A Kiwi Designer's Quest to Find the Perfect Linen Shirt
Proclaimed a World Heritage Site in 1996, the city is known for its famous export Port wine, sun-kissed beaches and beautiful Romanesque architecture. Like any old European city in the depth of summer, the environment permits a languid pace, surrounded by historic towns, the bustle of local farmers selling produce and the elegant decay of sun-kissed buildings combined with gilded baroque churches. It's a sight for sore eyes and the perfect source of inspiration for the brand says the designer.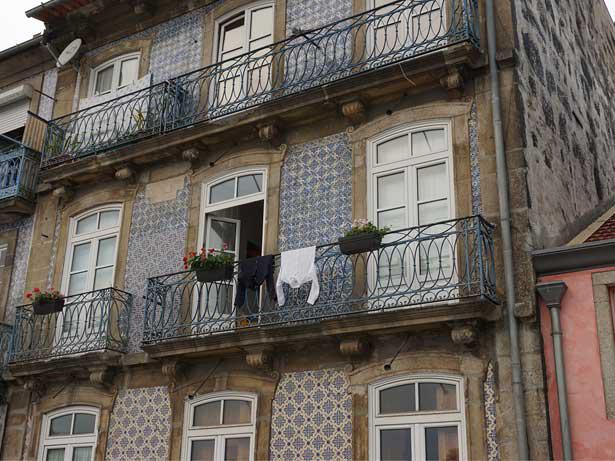 "The steep city streets are filled with beautiful architecture littered in the Azulejo ceramic tiles and the bars and restaurants overflow into the streets with locals and tourists late into the night, certainly with no complaints — the local beers start from 50 cents. This city is by far one of my favourite in the world, the people are incredibly friendly and it has so much history. They also make a pretty good linen shirt! I'd recommended one of my own for the trip, the temperatures tend to swell into the mid-20s, with the hottest month in Porto usually in July. So pack light."
READ: Photographer Karen Ishiguro's Guide To Porto
MUST-DO:
"On a sunny day you are going to want to head the beach. Not only are the beaches a thing of beauty, there is a coastal drive there and back from Porto's old town, with fresh seafood restaurants, unlimited amounts of golden sand beaches and stunning architecture. This is reason enough to rent a car."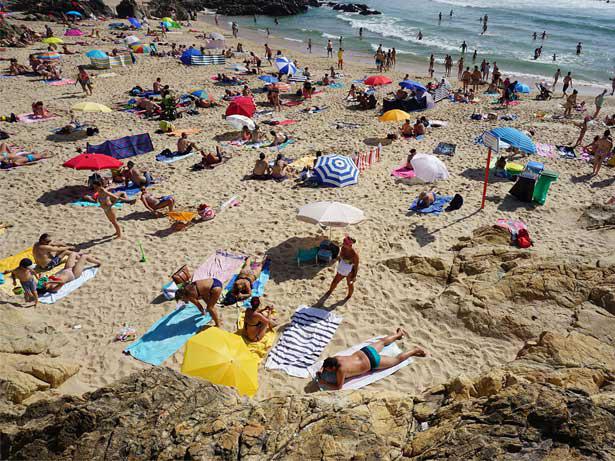 Cooling down at the beach on hot days is a must. Picture / Samuel Hickey

PIT-STOP FOR LUNCH:
"We stopped for lunch at Cafe O Pepino. A short drive from Porto town en route to the beach, this run of boutique hole-in-the-wall restaurants is perched above the road looking out to sea. With plenty of options to choose from, each restaurant serves traditional meals as you sit shaded from the sun under umbrellas watching the sea with an ice cold local beer known as Super Bock."

BEACH LIFE:
"About a 25 minute drive from lunch is Praia de Leça da Palmeira beach and Leça Swimming Pools. This place is top of our list in the heat. A beautiful white sand beach buzzing with people and a tidal pool built in the 1960s, this is the equivalent of Bondi beach in Portugal. The place is buzzing and is gorgeous on a sunny day.

READ: Stylish Traveller: Karen Ishiguro in Portugal

"The beach culture here puts us to shame, it's like a competition for the best set up, if you don't have your striped umbrella or beach windbreaker, it's time to go home. Although it may be blue skies and 35 degrees, a word of warning for the ocean — its positioning on the Atlantic means the sea is very refreshing this time of year. It's little wonder the beach is packed and no one is swimming. The pool temperature however is just right, so don't be put off."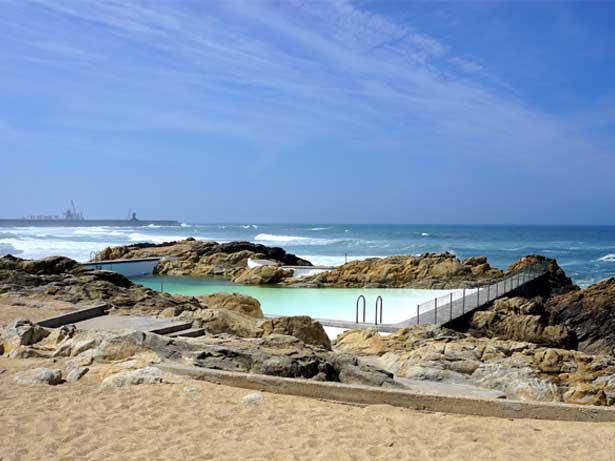 Leça Swimming Pools are like Bondi in Portugal. Picture / Samuel Hickey

EAT, REPEAT:
"After the beach the next must do is to head to the city of Matosinhos to sample one of its seafood restaurants — if you like seafood, this is the spot. Each restaurant has a street-side grill, the fresh squid and the local favourite sardines was one of our highlight meals. We went to a restaurant called S.Valentim and sat outside in the evening sun."

READ: 12 Restaurants Worth Travelling Across The World To See

ESSENTIAL PORT TASTING:
"Not forgetting the old town itself, by day there is almost too much to see. Endless lanes and alleys weave through the hills taking you down portside to Barrio La Ribeira. Although a tourist haven, it's worth checking out. A short walk over the Dom Luís I Bridge from Barrio La Ribeira takes you to the world famous Port houses. Dating back as early as the 1600s there are plenty to choose from and I would recommend the tasting. Do a little research into which you want to see as it can pay to book tours ahead."
SIESTA SUGGESTION:
"After busy days of walking, an afternoon nap might be recommended as the Portuguese enjoy the nightlife. Here's an opportunity to get on local time and enjoy the most of napping in the middle of the day. You'll need to rest up if you are going to sample the best of Porto after hours."
READ: 8 Bucket List Hotels Worth Travelling The World For
NIGHTCAP:
"We frequented Cafe Candelabro post-dinner and it always had a great mix of people and music — the perfect place for people watching and soaking in the languid evening festivities. As is the tradition in Europe, people head out pretty late and this place starts to get busy around 11pm. The bar takes over its corner spot and spills onto the street. This is a great finish to a long day of swimming and sightseeing."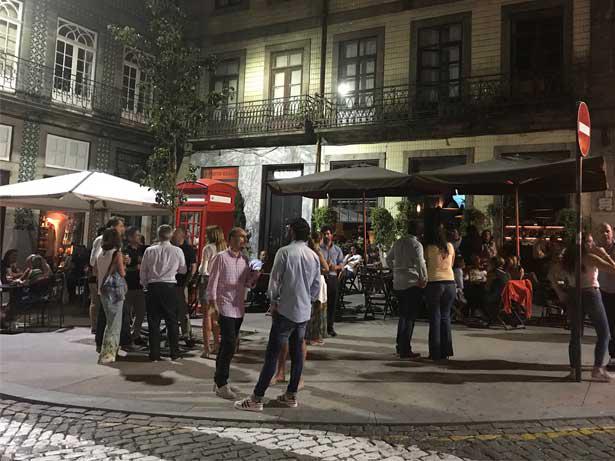 AFTER HOURS:
"If you still have the energy to head out, there are plenty of nightclubs, although they don't really kick off until about 3am. Mostly these revolve around two parallel streets, Rua Galeria de Paris and Rua Cândido dos Reis. Get amongst the fun atmosphere."
10 ESSENTIAL THINGS TO DO IN PORTO: 
1. Go for a cruise along the famous Douro River.
2. Eat petiscos (similar to tapas in Spain). They're perfectly small dishes of local fare so you can taste a wide array of dishes in a single meal. Perfect for groups.
3. Visit the stunning Livraria Lello & Irmao, a turn-of-the-century bookstore located in the Vitoria district.
4. Stroll along The Ribeira, a medieval riverfront neighbourhood and Porto's most iconic cityscape, with its colourful, postcard-perfect row houses.
5. Look inside the Church of São Francisco. Be inspired by one of Porto's more spiritual and significantly older attractions, with its looming Gothic and Baroque-style interior details, this is one magnificent architectural masterpiece not to be missed.
6. Ride on vintage trams around Porto's hilly streets. These were introduced in the early 1900s and have been fully restored and now run on three 'heritage routes', linking several downtown sites and the seafront. A fun way to see the sights.
7. Do a Port tasting at the foothills of Gaia, just south of the Douro River and home to all of the major cellars for the famous fortified wine, which is only produced in northern Portugal.
8. Visit Jardins do Palacio de Cristal, a gorgeous botanical garden and the perfect escape into tranquillity, with lawns interwoven with sun-dappled paths and a mosaic of small gardens that open up to stunning views of the city and Rio Douro.
9. Visit the pink Casa de Serralves, a graceful Art Deco property built between 1925 and 1944. The villa looks out on terraced grounds with tree-lined avenues, topiaries, regimented lawns and pergolas; on the other side of the park is the Contemporary Art Museum, which opened in 1999 for high-profile temporary art exhibitions. Take a moment to also appreciate the Serralves Park, spanning 18 hectares and constituted by a wide variety of magnificent, harmoniously interconnected spaces: Formal gardens, woodlands, and a traditional farm, designed by the architect Jacques Greber in the 1930s.
10. Sample local produce at the Bolhao Market. Farmers come to sell their fruits and vegetables along with butchers and souvenir stalls. Here's a cheap eats tip: Have lunch in one of the cafes on the ground floor for six euros and sample the bustling life of Porto's locals.
Share this: