A Celebration of Dick Frizzell's Iconic Tiki
The legendary artist joins other New Zealand artists in a new exhibition showing their interpretations of the important cultural symbol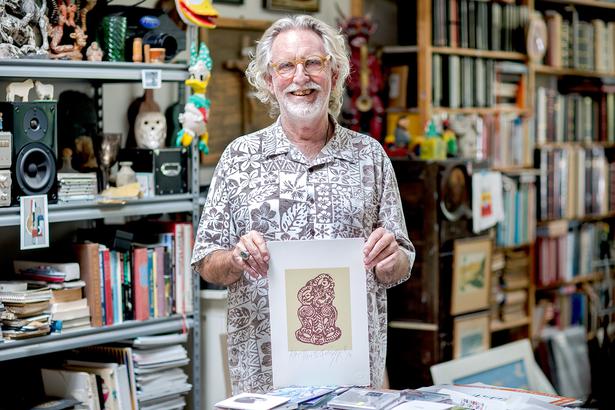 Tuesday Nov. 21, 2017
Twenty five years ago Dick Frizzell was in his studio, mucking about with his palette when he accidentally made a tiki.
"It had this sculptural, Henry Moore [famed English sculptor] look to it, which made me think how a symbol could say tiki, but also look like a western art form."
At the time, Dick says, the cultural police were busy banning plastic tiki on Air New Zeland flights and removing tiki from signs all over the country.
While on a trip to Rotorua to investigate the modernist interpretation of the symbol, Dick noted all the kitschy motel signs featuring tiki had also been removed. Hence the artist got a "bit of a bee in his bonnet".
"If you start ring-fencing cultures, you kill them," he says.
His response was to reinvent the cartoonish tiki that had been banned, resulting in a groundbreaking exhibition at Gow Langsford. His gallerists weren't sure of the idea, worrying he might upset Maori.
And he did.
"I left New Zealand for six months. I was accused of being a spiritual assassin."
This fuelled the beginnings of the cultural appropriation debate, says Dick. "Now you go into any shop, you'll see tiki and koru on tea towels and aprons. I think it's a lesson in how you can be irreverent without being disrespectful. An artist shouldn't censor their impulses, otherwise, art would never be made."
This month Art Ache celebrates the tiki in an exhibition where Dick Frizzell and other artists will show and sell their interpretations of this iconic symbol.
Among those joining Dick will be Johnson Witehira, whose work explores decolonisation and making Maori design a part of everyday lives; Tanja McMillan (Misery), a prolific pop artist, whose bright works conceal sinister themes; contemporary Samoan artist Vaimaila Urale and outsider artist Laura Williams, who paints brightly coloured illustrative scenes of imaginative utopian realms.
Collectable artworks created specifically for the event, including Dick Frizzell silkscreens, will be available to buy on the night and online throughout December, starting for as little as $50 at Artache.net.
• Art Ache, Thursday, November 23, from 5-8pm, at Golden Dawn, 134 Ponsonby Rd, Ponsonby. Visit Artache.net
Share this:
More Culture & Travel / > Local