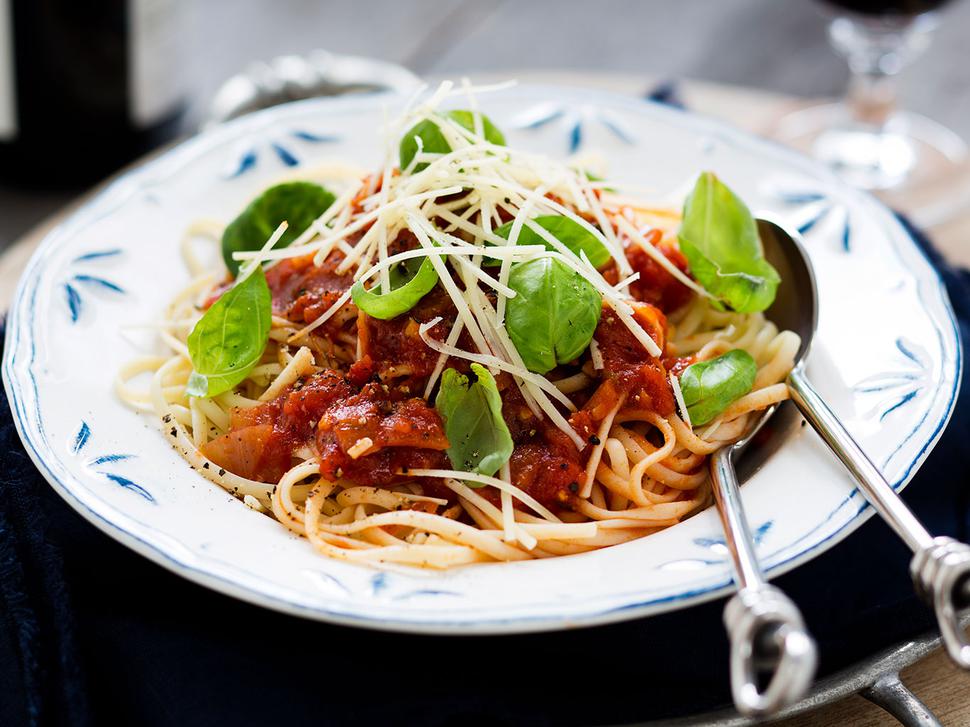 9 Handy Tips for Eating in Italy
Coco's Cantina co-owner Damaris Coulter shares her tips for dining out in Italy
Friday Oct. 30, 2015
K'Rd establishment Coco's Cantina closed its doors for two weeks so the whole "family" could go on a staff trip to Italy to learn more about their culture and way of eating. Here, co-owner Damaris Coulter shares what they learned during their travels.
When you land in Italy you almost have to leave everything you think you know about food and eating on the plane you flew in on. This is a country and culture so sophisticated and refined in their food and eating habits that if you dare order a cappuccino after lunch you will get death stares from the whole cafe. (In Italy, they believe cappuccinos should be had in the morning with your cornetto (breakfast Danish) and not after that.)
I lived in Rome many moons ago and spent every spare penny visiting the rest of Italy, so had a basic understanding of the culture and cuisine when the Coco's family visited. We were lucky our family friend, Iason, had set aside two weeks to be our guide, interpreter, wingman and Roman insider so every train, bus, coffee, lunch, dinner, gelato, market visit or tourist experience was a breeze!
1. Avoid tourist spots when choosing a restaurant
This is common sense, however, sometimes you are so hungry, tired and hot that you just want to sit down. If this is the case, then just go two or three streets back from the attraction and you should be good. Also, there are usually carabinieri and polizia floating about, so ask them where there are good trattorias and cafes in the area where locals eat — they will usually be more than happy to suggest local favourites.
2. Pane e coperto
This is a cover charge for the table setting and bread. It's not everywhere, and it should be written on the menu, but don't be surprised if it's on the bill. If you don't want to pay it then ask before you sit down, this will avoid any confrontation.
3. Cafe etiquette
When ordering your morning coffee and Danish, remember that if you are leaning at the counter then you pay first, give your receipt to the barista and wait for them to make it. If you are wanting to sit down and relax while drinking your coffee then have a seat, however, keep in mind there will be a sit-down price that is different to the standing one.
Tip: If you usually drink a latte, make sure to order a caffe latte in Italy, otherwise you'll just get a glass of milk.
4. Take advantage of the non-existent liquor bans
This means go to the local pizzeria, get your pizza (preferably forno a legna, which are wood-fired ovens), get your bottle of pinot grigio or artisan beer and sit in the piazza with the locals around the fountain until you have run out of booze, things to talk about or until you are hungry again. Italians drink sensibly and aren't known for getting into fights when they drink so they can be trusted to drink where they like and when they like! Go figure!
READ: How to Be a Better Diner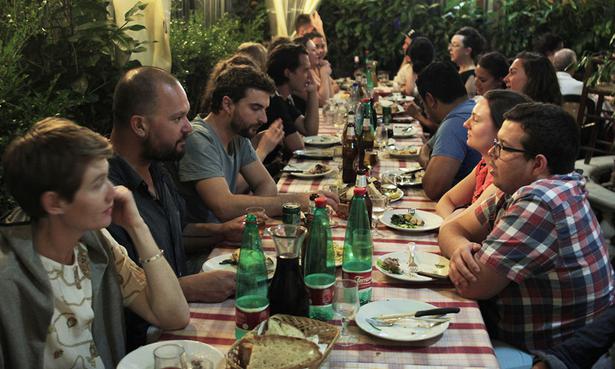 Coco's Cantina staff eating in Italy. Picture / Supplied.
5. Aperitivo
Have you ever wondered why Italians are so relaxed when waiting for food? Because they don't go out starving! They have aperitivo, which is an afternoon beverage with snacks. This takes place in the local bars, piazzas, rooftops, vinotecas and enotecas. Most places that serve aperitivo will have a per head price — this will get you a drink and snacks, or you can order your drink and sometimes they will give you complimentary chips, bruschetta or pizzettes. In New Zealand we traditionally have our lunch, maybe a little afternoon tea, then nothing till 7pm. Aperitivo is traditionally after work, around 5 or 6pm, I wish we did aperitivo in New Zealand. I think Coco's will start.
6. Booking meals
If you find a local restaurant that you want to dine at, make a booking, and don't be surprised if they aren't open until 8 or 8.30pm. Most places that are open before then are purely for tourists so you just have to change your body clock a little and embrace aperitivo. Once you are there, relax and take your time to enjoy the evening, the meal that has been prepared, and the atmosphere. Dining out in Italy is an everyday occurrence but it is respected like a treat. Meals aren't like in New Zealand where entrees take about 20 minutes and mains half an hour — service is slow and courses are many and your waiter will be offended if you ask how long your food will be.
7. Meal structure
Quite often in New Zealand we put everything on the plate at the same time. However, Italians eat their meals in a certain order, which usually goes something along the lines of: antipasti or zuppa, pasta or risotto (small portions), secondi (protein), verdere (vegetables), insalata (salad), dolce (pudding), caffe (coffee), ammazza caffe (coffee killer or digestive, usually amaro, limoncello or grappa.)
8. Buy dinner from the deli or supermarket
The delis and supermarket counters in Italy are packed with local cheeses, cured meats, olives, oils, breads as well as local delicacies. Perfect if you are having a picnic or just a panino. 
Tip: When buying food at a deli, make sure you take a ticket (there will be something that looks like a roll of old-fashioned raffle tickets). There are no queues — your ticket will get you time with your deli person, and you'll get ignored without one.
9. Finally, water!
Italians don't really drink tap water — it's either bottled still or sparkling. You may get a glass of tap water when you drink your coffee at the counter if you ask, but generally it's bottled water when you are out. You'll find when you're at a restaurant they won't ask you if you want water or not, they will probably just put it on the table. If you don't want the water, don't open it and tell them you don't want it, but don't drink your own in their establishment. If you are in Rome then use the water fountains — they are clean and have the beautiful water of the eternal city running out of them.
Buon appetito from Coco's Cantina!
Share this:
More Culture & Travel / Going Places