The Challengers: Eleanor Bishop & Julia Croft
Theatre-makers Eleanor Bishop and Julia Croft's work is only just beginning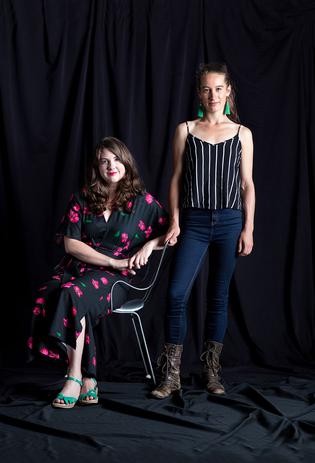 It's often said that a woman's work is never done; theatre-makers Eleanor Bishop and Julia Croft may well argue it's only just beginning.
This year the pair boldly put centre stage ideas about how society — through language, tradition, imagery, sex and popular music — tells women how to be women and then reinforces that in thousands of ways both overt and covert.
Once they had the issues in the spotlight, they tore them down and not-so-gently suggested other ways to think about gender. They like to say they're committed to "de-railing oppressive vehicles of power as they relate to women".
In any event, Eleanor and Julia make theatre that is confrontational, provocative and determined. Not so long ago, it might have been considered anachronistic by some — hadn't the battles already been fought and won?
But in a #MeToo era — the social media hashtag used to denounce sexual assault and harassment following allegations of sexual misconduct against Harvey Weinstein — their brand of feminist theatre seems more relevant than ever.
Then again, the duo would probably say those issues were always there just waiting to burst back into public consciousness and demonstrate that the more things change, the more they stay the same.
So they use theatre to offer new insights, light fresh fires and prompt women and men alike to think about taking on the world.
Eleanor started with her show Jane Doe, which has toured US college campuses before local performances. That show reflects on rape culture in our communities, co-opting audience members to be witnesses and lawyers in a public reading of a rape trial transcript.
She then boldly went where most theatre-makers may fear to tread, making over Greg McGee's 1981 state-of-the-nation play Foreskin's Lament.
Originally a critique of NZ's toxic masculinity and focused on its impact on a group of rugby players, Boys extended the conversation to ask what it means for women and how — if given the chance — women may like to respond. Herald theatre reviewer Janet McAllister described it as "loud and angry, which is all to the good".
Meanwhile, Croft turned in one of the most self-assured performances of the year in Power Ballad.
Investigating how bodies are used in performances, who gets to speak — sing — and how loudly, and the relationship between audiences and performers, the show defies easy categorisation.
Both Jane Doe and Power Ballad travelled to the Edinburgh Fringe Festival thanks, in part, to another theatre go-getter, producer Lydia Zanetti (you'll be hearing a lot more from her in 2018 as she takes Auckland's own fringe festival annual).
Bishop and Croft are working together on Body Double, which explores sex and desire in the digital age and promises to "take a sledgehammer" to the old ideas lurking between our sheets.
• Body Double, produced by Silo Theatre, plays at the Auckland Arts Festival, March 20-29. For tickets, visit Aucklandfestival.co.nz
Share this:
More Culture & Travel / Features & Profiles