Elizabeth Olsen on Style, Social Media and her Sisters
The actor on dressing up, the power of Instagram, and what she's learned from sisters Mary-Kate And Ashley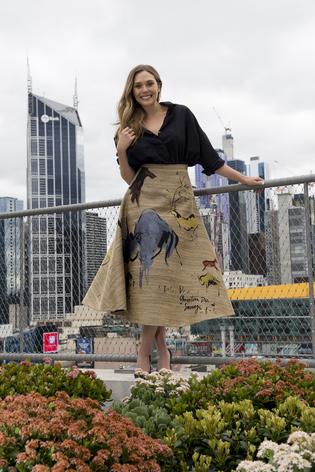 For proof of Elizabeth Olsen's sarcastic sense of humour, take a look at her Instagram account. Every so often she'll post a paparazzi photo of herself, mouth agape, eating: a series she has called Feed me Fridays.
"I started doing it because I felt so uncomfortable putting up pretty pictures of myself," explains the actor who has starred in Martha Marcy May Marlene, the Avengers series and Wind River. "But it's also part of my job – Instagram is essentially a version of marketing for your movies."
Like her very famous sisters, Mary Kate and Ashley, Elizabeth was a late adapter to social media, joining Instagram only last year while filming her latest movie, Ingrid Goes West. The dark comedy explores the negative side of the world's social media obsession, and the "Instagram industry". Elizabeth plays a Los Angeles-based Instagram influencer who becomes the obsession of the unhinged Ingrid. Think selfies, peace signs at Joshua Tree and plenty of #blessed #vibes that aren't necessarily what they seem.
Elizabeth visited Melbourne recently for the opening of the NGV's exhibition The House of Dior, and sat down to talk dressing up, Instagram likes and what she's learned from her older sisters.
• Ingrid Goes West is in select cinemas from November 2.
What's your take on the "Instagram industry", after filming Ingrid Goes West?
It's something I knew a little bit about before. I think, to be honest, I probably had more of a negative opinion about it until it was my job to defend a character whose life is based on it, and try not to be judgemental.
You also have to know what is funny about it, however, and to play it with humour. A lot of the humour in the movie came from Los Angeles culture, not specifically Instagram. I do think I got to understand it better.
The Cut website did a funny article recently where they asked eight influencers for their take on the film – someone sent it to me and I read it, and it was really interesting. They all had opinions about it and the film. I can't imagine not feeling defensive in a way. A lot of them were accepting and they appreciated it. They were like, 'yeah, it's weird and it's hard and there's a lot of pressure'.
It was interesting because that's what I did the whole time I was filming: look at those people's Instagrams knowing that I could never take a photo like that. It looked like so much work.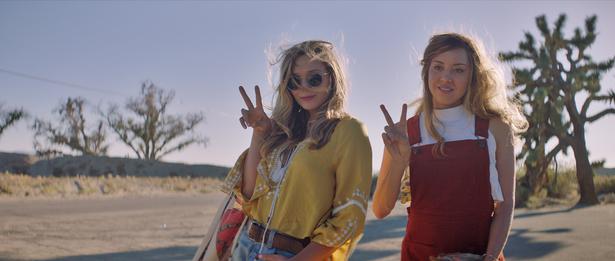 As Taylor Sloane in Ingrid Goes West, alongside actor Aubrey Plaza. Picture / Still

There is pressure with Instagram to always be relevant and take the perfect photo. Do you have any tips for facing that?
I have no idea what I'm doing. If there's anything to say about it, it's don't put yourself down. Know who you are and, if you want to participate, feel confident that you're going to be your own person. You don't have to make it look like the perfect version of something. Because none of it's real. If you want to add something real to it, just allow yourself to feel more connected – and don't care about the serotonin hit with the likes.

How would you describe your style?
It's a bit masculine. I'm not really drawn to feminine prints even though I admire them. When I put them on, I feel like I'm playing dress-up in someone else's clothes.

Do you have any pieces in your wardrobe that you wear and instantly feel confident?
I wear the same three pairs of pants, and oversized blouses. If I want to feel like I'm dressed up, I'll add a kitten heel. Nice fitted pants and an oversize blouse tucked in, that's my go-to.

Tell me about working with your stylist, Sarah Slutsky.
I love working with her – she's always ahead of knowing what new designers are out there. When I have a press tour, it's a really fun time – she'll put up a Pinterest page, I'll put up a Pinterest page, and we get to share different looks. We were just doing press for two different movies with two totally different tones – Ingrid Goes West and Wind River – so it was really fun to work out what our visual tone would be for each film, so it didn't look like it was one press tour.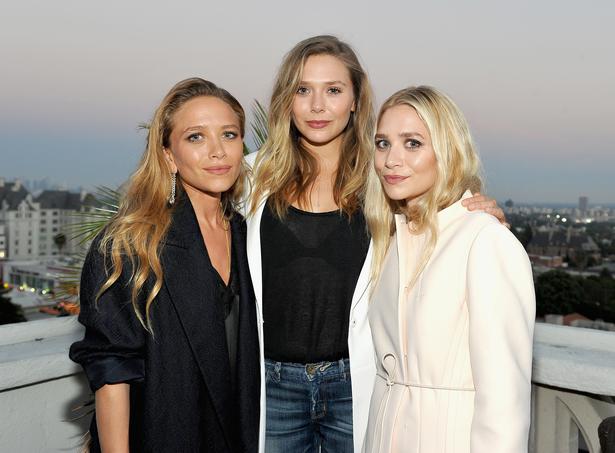 Have you had any style advice from your sisters?
They've never said to me, "listen girl, here's some advice!" But I think, by example, the lesson has always been focusing on things that are long-lasting and timeless, and to make it work for you. Just by watching them and the clothes they create. It's all very timeless.
Did their relationship with fashion influence your own relationship with fashion growing up?
Probably. I just always wanted to be in their closet – and I still do. I just wish they weren't so much smaller than me. I have friends who are their size who get to play dress up a bit more. They always look cool. I can never tell if it's a piece that they made or if it's an interesting designer they found; to me it all looks like it belongs to their own world. I just always think they look SO cool.
Do you have any rituals you like to do before you go to a big event?
I always like to get in a workout on any day that I'm photographed; your face looks more alive when you break a sweat. What else do I like to do? I like to shower . . . and sometimes shave [laughs] . . . Brush my teeth!
Share this: