Emily Hartley-Skudder's Fascination with Everyday Objects
In town for the Auckland Art Fair, Wellington-based artist Emily Hartley-Skudder shares her fascination with everyday objects and talks about living as an artist in New York
Wednesday May 25, 2016
Emily Hartley-Skudder's work may be loaded with domestic, gendered, imagery that could be seen to depict ideals of life and home, but you're unlikely to find her toiling in the kitchen. "I eagerly decorated my dollhouses and 'played' cooking and homemaking as a child," says the artist, "yet my adult life hasn't translated into this. I spend most of my time in the studio and it seems I would still rather play with representations of these objects and the ideas surrounding them, than with the real thing."
Emily spends her days scouring secondhand stores and garage sales "obsessively searching and collecting found objects, mostly miniatures, toys and plastic trinkets". She then assembles these commonplace items into still life arrangements, which are carefully lit and photographed. The images are then translated into intricate oil paintings.
Emily, who graduated with a Bachelor of Fine Arts, with first class honours, from Ilam School of Fine Arts in 2012, has since exhibited in Japan, Australia and New York. She lived in Brooklyn for 18 months, and has recently returned to New Zealand to base herself in Wellington. Why do small, everyday objects appeal to you?
From a very young age I have been drawn to miniatures, and this obsession has continued throughout my life. Through my artistic practice have been trying to put my finger on what it is about tiny things. I am fascinated by how they exemplify an ingrained need to capture and recreate aspects of our everyday lives. Simplified, shrunk down and removed of function, suddenly these very ordinary items become much more enchanting than their life-sized counterparts. I think, most significantly, it's the escapism that miniature versions of life foster, coaxing us to project our fantasies onto them and to shrink us down to their size. I guess it's this reverie and the ability to control one's environment that's naturally rather appealing to the human condition.
Where do you find your pieces?
I still have all my childhood dollhouses and accessories, and my art practice has meant this collection has consistently grown throughout my life. I find objects in secondhand stores, toy shops, at garage sales, $2 shops, as gifts, on the street and I also save bottles and containers used in my everyday life.
What has been your best find?
One of my best finds was a limited edition dollhouse called the 'Kaleidoscope House' made up of colourful, Perspex panels, designed by New York artist Laurie Simmons – an artist that I have loved for years and am greatly influenced by. I found it on the street and I needed to rush back to my friends house to get him to help me carry it.
The work feature here is Still Life with Kitchenware. Tell us about how it came about.
I love referencing the still life tradition and how such images often come to decorate the walls of the environment that they depict – for example, I am fascinated when images of fruit, veges and cookware often end up in the kitchen, uncannily doubling their surroundings. I enjoy taking these miniature kitchenware items – that are already stylised representations – then photographing them and removing them once more from the original image by making it into a painting. I like to reference decorative, commonplace imagery and product photography, and contrast this with my meticulous and time-consuming approach to oil painting.
Do you spend much time in the kitchen?
No, actually I don't. My work is loaded with domestic, sometimes gendered imagery that could be seen to depict ingrained ideals of life and home, and I am fascinated with how this is presented to us throughout our lives and acts to socialize us — especially in toys. I eagerly decorated my dollhouses and 'played' cooking and homemaking as a child, yet my adult life hasn't translated into this. I spend most of my time in the studio and it seems I would still rather play with representations of these objects and the ideas surrounding them, than with the real thing.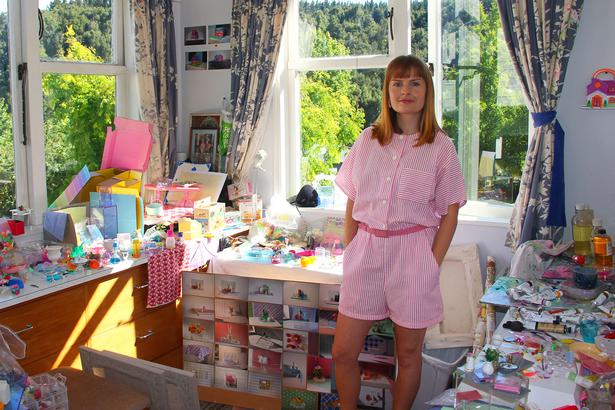 You recently spent a year and a half living in Brooklyn, in New York. How did this impact your work?
The things I discovered in NYC have built upon and intensified my ideas. The scale and variety of everything there was so vast, with the potential of finding anything you can imagine. There are things you may have been aware of from pictures or thought would probably exist – and then this is multiplied far beyond what you expect. From your choice of hundreds of chandeliers and water features in Chinatown to the party supplies, toy shops and 99c stores. And I was especially interested in the furniture and kitchen showrooms – the uncanny, artificial 'domestic' interiors that I have become increasingly obsessed with were just on a whole new scale there.
It was eye-opening to see the amount of items being constantly discarded – the amount of waste; the objects existing to simply be used once and then abandoned. The searching and collecting aspect of my practice took on new meaning – a lot of the items I collected where literally found on the street, or packaging that I had originally bought for the items inside, and then became fascinated by their formal qualities. People would put all unwanted items out on the street expecting they would either be taken by passers by or removed by the rubbish trucks. I acquired many dollhouses this way and am still working out how I can use this excess of subject matter in my work
While exploring the streets, I noticed the 'natural' accumulation of objects on various surfaces, creating little still lifes everywhere – for example, someone would put a coffee cup down on a ledge when walking past, and steadily the surface would accrue more vessels from passers by. This spurred on an experimental project of little street-interventions around Brooklyn, where I would make little arrangements of delicate miniatures combined with disposable items, photograph them and leave them there.
Where do you live now in NZ?
I live in Wellington currently, and I have returned after living abroad because I think it is somewhere that will always feel like home. I can now appreciate the size and simplicity of this small city – in contrast to the massive city of New York. I love being by the sea, hills and ultimately close to friends. I work with Suite Gallery which is based here too and enjoy being close by.
Describe your work space.
I have moved into a beautiful studio in a heritage building on Cuba Street, above Suite Gallery. I have never had this much space and I feel very lucky. I am have been working towards a solo presentation at the Auckland Art Fair and this space has been perfect to make and see the works, as it is a similar space to the booth. During this time most of my miniatures have been packed away so I could focus on the paintings, but I look forward to utilising the space and getting all my objects out to begin my next period of taking photographs.
What has been a career highlight?
My solo exhibition 'Showhome' in 2013 with Christchurch Art Gallery was a big career highlight. This was a site-specific project where I carefully matched my paintings to the décor of a commercial showhome in the new housing development 'Wigram Skies' in Christchurch. This exhibition really exemplified the keys concerns in my practice – my interest in showrooms – I love these 'faux ordinary', artificial yet domestic spaces, and how paintings and objects come to mirror their environment in everyday life, while also commenting on the function of art as decoration and the inevitable commerce that surrounds it. It was a huge buzz to work with a big public gallery, only a few months out of art school.
• Find Emily Hartley-Skudder's work at the Suite booth (B12) at the Auckland Art Fair, The Cloud May 25-29, and hear her Artist Talk at 3.30pm on May 26. For more info, visit artfair.co.nz
Share this: