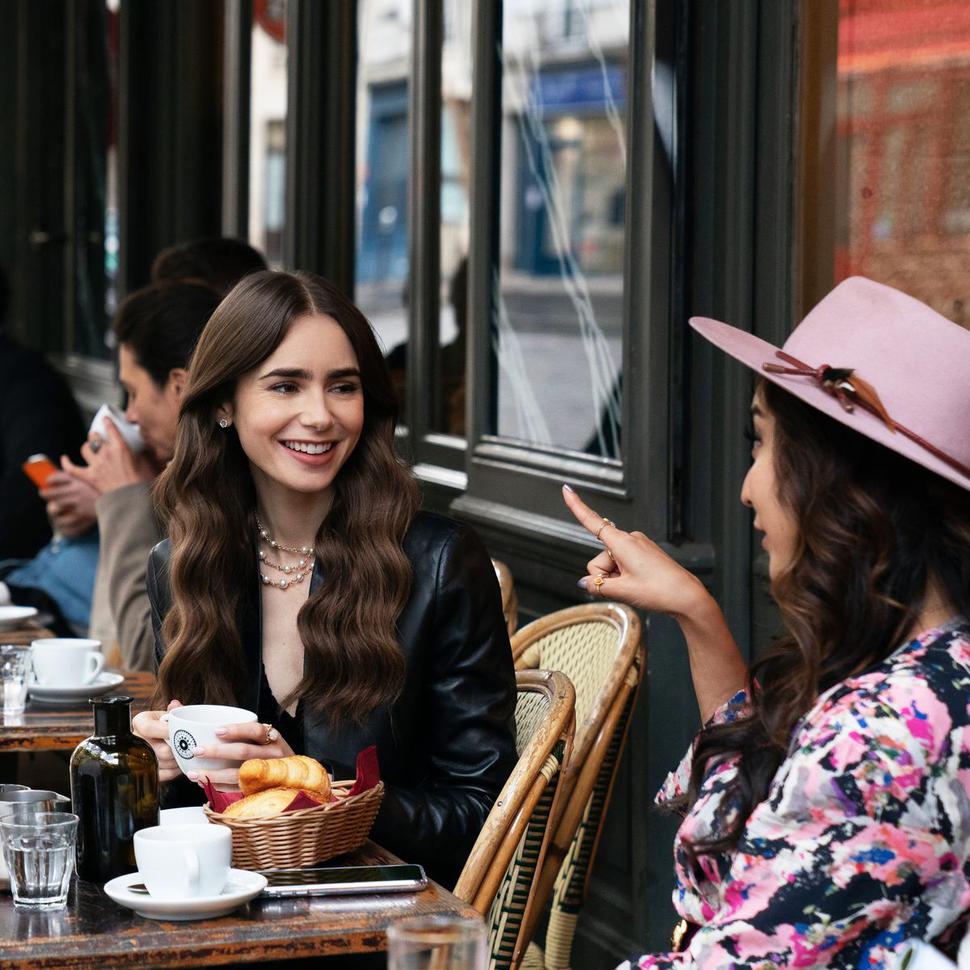 Why Everyone's Talking About Fashionable French Romp 'Emily In Paris'
The new glossy Netflix series is the talk of the internet - but is it really that stylish?
Saturday Oct. 10, 2020
If you were to imagine a television show about a young American woman in Paris, created by the team behind Sex and the City, your bingo card might go something like this: beret, Breton striped tops, Christian Louboutin heels.
Zut alors! You'd be right. The new Netflix series, Emily in Paris, ticks all those clichéd boxes and more. Little wonder it's rapidly becoming the most talked-about (and criticised) show of the autumn.
Emily Cooper, played by 31-year-old Lily Collins, is a wide-eyed twentysomething from Chicago who, you guessed it, gets a new job and decamps to the French capital - with her non-Parisian wardrobe. She is supposed to horrify her French colleagues. I get it. But when she walked into a slick French marketing firm in a snakeskin miniskirt and Alice + Olivia shirt with Eiffel Tower print, I almost turned the television off.
A decade ago, I was working in a fashion publishing house on Rue du Bac. Like Emily, I watched my co-workers raise an eyebrow each time I wore something too bright or too short - once I arrived in a pair of leopard-print tights and saw a woman fan herself in distress. But unlike Emily, I quickly abandoned all sense of personal style and started dressing in head-to-toe navy.
WATCH: The Trailer for Emily In Paris
While some of the pieces Emily wears are hypnotic in a drunk butterfly sort of way, watching the show made me glad I had been so desperate to fit in. Certain cities welcome people who bring their own look to the table: London is one of them, Paris is definitely not.
READ: Meet The Friends Behind Instagram's Every Outfit on Sex and the City
Emily breaks every French fashion rule. She wears white stiletto ankle boots, furry crop tops and an endless succession of neckerchiefs. Her colleagues' reactions make me laugh - "You have no mystery. You're very, very obvious."
Notably it's always the women whose lips curl. The straight men, who are all absurdly handsome, fall at Emily's feet in a collective puddle. Surely one of them would ask why she was wearing a camouflage and pink lace miniskirt? I was given constant advice on how to dress by Parisian males of all ages.
Luckily, Emily isn't the sartorial star of the show. Sylvie, her equally cliché-ridden French boss, has genuinely great clothes. Her pencil skirts, off-the-shoulder tops and bias-cut dresses are by Rick Owens, Roland Mouret and Yohji Yamamoto, and while quite daring for Paris, they are a wonderful antidote to Emily's fairground style. They are also undeniably sexy, which shouldn't be worth noting but - because the actress Philippine Leroy-Beaulieu is three years off 60 and this is an American series - it is.
Showing just how different French attitudes to older women are, Sylvie is celebrated for striding around in a thigh-high-split off-the-shoulder gown by Alexandre Vauthier and - unlike Emily who loves a miniskirt - her bare skin looks confident and seductive, rather than (vague French hand gesture) "a little too much".
At least Emily's lack of subtlety is a plot point: the company loses a major haute couturier as a client when she arrives at his studio with a pink love heart dangling off her handbag. I can't work out whether writer Darren Star and stylist Patricia Field - who are Sex and the City alumni - want Emily to be Carrie Bradshaw in a new city or Ugly Betty. At times it feels like they're trying to do both.
READ: How Netflix Series 'Hollywood' Captures The Style and Elegance Of Post-War Tinseltown
Even her best looks feel quite dated. One evening, she wears a black off-the-shoulder dress by Christian Siriano with crystal-encrusted heels, gloves, a vintage fur stole and jewels. Remove 80 per cent of the accessories and it would be a more fitting tribute to Audrey Hepburn.
My favourite outfit is a yellow and blacktop and skirt from Ganni, worn with a black chunky belt (so many belts!) and stilettos, but it's 2020 - why not pair with trainers? By episode three, I couldn't help wishing that Emily - or if not her, someone, anyone - would swap the ubiquitous heels for Birkenstocks.
Ultimately the show is frothy fun that will, like all sugar rushes, either give you a hit of energy or leave you feeling slightly sick.
Still, for a series that is supposed to be about fashion, I found myself wishing it had been more representative of how young women dress now, rather than emulating Carrie Bradshaw's wardrobe but with less panache and far too many berets.
- The Daily Telegraph


Share this:
More Culture & Travel / Staying In