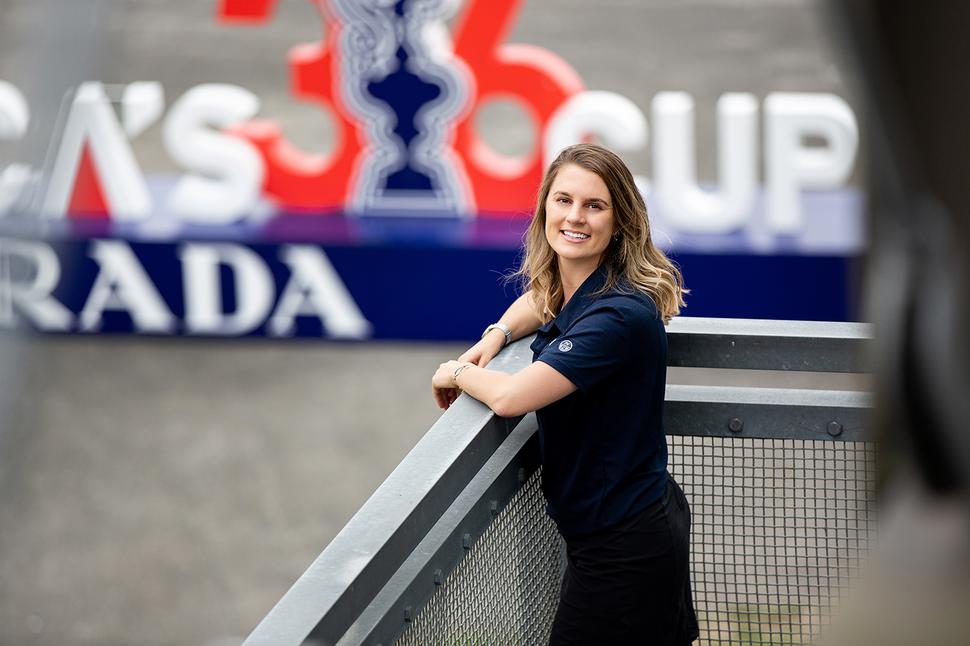 Sails Force: Emily Jay Is The Comms Expert Helping The America's Cup Run Smoothly
As the marketing communications manager for the America's Cup, Emily works to promote the race, the Race Village and keep people up to date on all the Cup action
Friday March 12, 2021
"I'm from Newcastle, Australia, but left in 2015 when I moved to Geneva to work for the United Nations on a climate change project.
"Following that I travelled with Turn the Tide on Plastic in the Ocean Race, then lived in Noosa, while working for Ironman. I've been in New Zealand for 18 months. I feel very at home here.
"You work really hard in sailing but it's a lifestyle that's enabled me to be on the water and in the outdoors, where I'm happiest.
"I'm passionate about using high-performance sport as a platform to highlight important environmental messages, such as ocean protection, and I love that sport unites people.
"My day starts with a team briefing. On race days, I take the race directors' information and communicate to the public and stakeholders (what racecourse will be used, public safety messages, etc).
"We dock-off at 12.30pm and head out to the racecourse. On OWOC [On Water Operations Centre], I'm liaising with media, making updates online and regular announcements on VHF Channel 4 and 16.
READ: Meet Paloma Gomez, The Fashion-Forward Creative Making The America's Cup Chic
"I work very closely with the emergency services, the harbourmaster and others to ensure that the operations are communicated as best we can.
"A challenge of this event is that there is no template or roadmap to work off.
"We've been a relatively small team and we've had to build what you see today from scratch, through trying circumstances — a global pandemic!
"I'm humbled by the talent around me. With Mother Nature determining when racing goes ahead, delays and changes to the course are usual business for our sport and that can be a challenge in itself — but we adapt.
"I've always been fascinated by what's underwater, so I've enjoyed exploring the ocean here.
"I recently learned New Zealand's waters support the greatest number and variety of seabirds in the world.
"I have most enjoyed learning about Maori culture and the native flora and fauna. It's incredibly diverse and impressive.
READ: Viva's Comprehensive America's Cup Cheat Sheet
"I've been fortunate to travel a lot and no doubt New Zealand is one of the most beautiful countries.
"It's also made me appreciate the contrasting wonder and beauty of my home country, Australia.
"Race days are what I love most — it's when we see all the months of hard work come to life.
"I'm confident in our planning and preparation so we are ready for whatever the event holds.
"I feel privileged to be in a role where we are working for everyone to enjoy the spectacle and to be able to do it with a little humour and banter.
"Outside of work, I love free-diving, flying aeroplanes and tackling endurance sport. If I'm not outside, I'm usually playing music.
"As to what I'll be working on next, I'm yet to find out. In the meantime, I'm working with a colleague to get a climate change start-up off the ground."
Share this: